Optimus Prime
Meet The New Boss

Transformers Reveal the Shield Deluxe-Class Toy
Item No.: Asst. 98447 No. 28570
Manufacturer: Hasbro
Includes: Sword
Action Feature: Transforms into truck
Retail: $12.99
Availability: Janaury 2011
Other: Odd Man Out

PREVIOUS
RSS
NEXT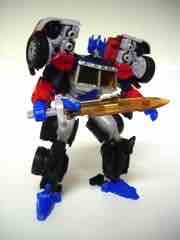 While usually absent from the Deluxe assortments, Optimus Prime makes a triumphant appearance lately with a War for Cybertron release in 2010 and this, a Generation 2-meets-Movieverse design in 2011. It's an odd one though-- the design borrows largely from the original 1990s Laser Optimus Prime toy, which is something of a legend. It was big, fun, easy to transform, and packed with firing guns and disc launchers. In short, it was an incredible toy that collectors went ga-ga over and drove up the price to nigh-unaffordable levels for your average fan. In 2000, Takara (and later Hasbro) repainted it in black as Battle Convoy (or Scourge), making the mold that much easier to get. This one? Well, this one doesn't use any of that old tooling, and is a completely new and much smaller redesign of the legendary G2 Laser Rods toy.
Standing smaller than your average deluxe toy, roughly 5 1/2-inches at the shoulder. Optimus Prime has unique (and smaller) hands which aren't actually big enough to hold his own sword without stressing the plastic, if you own this one, examine the palms of his hands for signs of stressing. If he carries his yellow bladed weapon, the hands will discolor and distort in a matter of hours. Thankfully Hasbro included a backpack to store the weapon, but, unfortunately, it's not as cool as him waving it around in his hands. Also, there's a weird tab on his right shoulder which hinders movement-- you may elect to cut it off as it isn't necessarily important to transforming the toy, although I can't bring myself to intentionally break off a piece of a toy in the name of functionality. It's just wrong.
In robot mode, he has a fair amount of kibble hanging off his person (particularly on the hands), but does a good job of replicating the basic look and feel of the original G2 toy without resorting to cheating. You see, this release has a chest that looks like a windshield and actually is the truck mode windshield. This results in a much more complicated and fidgety transformation than you might be used to, and if you ask me it's a step back from the elegant simplicity of the toy this release tries to recreate.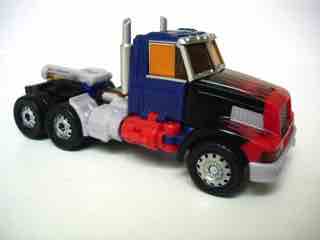 As a truck, he holds together oddly. On top of that, some of his windows are clear while others are painted, and the difference is pretty obvious and unpleasant. In truck mode, his sword becomes his trailer hitch which, while nice, would be more useful if he actually had a trailer.
UPDATE: There are indeed C-clamps on this figure, but they're well-hidden. They're on the back of Prime's forearms, so you only see them in robot mode and even then, you don't really see them.
I would suggest skipping this one unless you're willing to customize the figure and live with some damage. If you want your figures to remain perfect after displaying them, it may be tough with this one. Leave it in the package if you're on the fence, and if you're waiting for the expected black repaint, I suggest you skip that one too.
You might consider the just-released Japanese version instead. It's slightly repainted, with blue windows and a retooled arm peg that doesn't get in the way of mobility as much. I'm not sure how the hands have changed, if at all, but if he can hold his sword better I might just spring for it myself.
--Adam Pawlus
Additional Images

Click here to see more Hasbro figures in Figure of the Day.
Click here to see more Transformers figures in Figure of the Day.

Want to buy this figure? Check Transformers availability at our sponsors:
Entertainment Earth