Warpath
He's On Medication

Transformers Generations Deluxe Figures Wave 8
Item No.: Asst. 98452 No. 28596
Manufacturer: Hasbro
Includes: Rocket
Action Feature: Fires said rocket
Retail: $11.99
Availability: April 2011
Other: The third G1-based Warpath toy mold

PREVIOUS
RSS
NEXT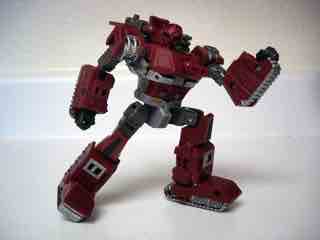 As a kid the original version of Warpath was a favorite toy. Sure he was a little awkward, but with a quick transformation, a strong build, and a tiny size perfect for taking with you everywhere, you just had to love him. The character has received precious few toys since the original around 1985, including a 2008 Universe Legends-scale toy and now this 2011 Deluxe-class Generations toy. Due to Hasbro's oddly never announcing him at Toy Fair and what appeared to be a number of assortments being swept under the rug prior to the movie launch, people were fearful he may end up a de facto online exclusive or a future candidate for a closeout at Ross/TJ Maxx/etc. While he did show up online first, I saw him at Toys "R" Us, so anyone still telling you he never got a retail release is a damned dirty liar.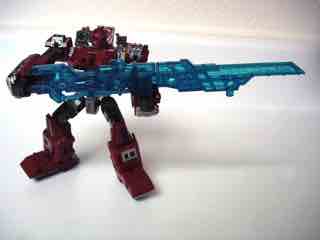 While not full of surprises, Warpath is oddly amazing. He has the standard closed fists and 5mm peg holes, meaning you can hand him most Mini-Cons-as-weapons, Energon weapons, or other compatible gear. (He's modeling Leozack's Energon sword from the Botcon 2009 set.) The range of movement is nothing short of wonderful, as Hasbro and Takara have seemingly decided to make an awesome robot action figure which just coincidentally can turn into a tank. The figure can sit with his legs at a 90-degree angle, or have his knees bent at the same angle. He has no problems standing or sitting, and sitting is downright unusual in your average Transformers toy.
The 5 1/2-inch figure also has the c-clamps or c-joints or whatever the heck you want to call them on his "treads" roughly, one on each limb. As no c-clamp weapons were included, and odds are you don't have any extras, well, there you go. Not very exciting.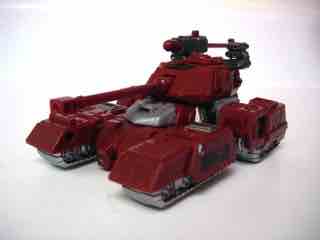 Transforming this toy is actually pretty fun-- while some molds had overly complicated bits, this one is more or less a breeze. Open this panel, rotate this tread, and presto-- all done. There are two notable parts-- one, the hands. The hands need to be rotated out of the treads, and this may be tricky if you don't have fingernails. If you cram something into his fist holes, you can more easily rotate them out. The other neat bit is the head, which has a somewhat automatic element. If you push in the barrel of his turret, it actually causes the head to flip up more or less automatically.
As a tank, there's not much to it-- the vehicle is fairly solid and has rotating wheels under his silver painted treads. (Silver paint, over time, sometimes will wear off more quickly than other colors. Except gold, that tends to rub off too. So be careful.) In addition to the main gun barrel, there's a rocket launcher on his right should which gets some decent distance, and another non-firing weapon on his left. If this isn't enough for you, well, clamp some more funs on there.
Deco fans, take note-- two not remotely subtle references to the character's dialogue on the original series are stamped on his treads. K4-90W (Ka-Pow) and ZOW-333 (Zow-eee) are visible on his robot legs too, and would make excellent vanity license plates. Probably. OK, not really, but it's a nice little bonus in addition to a black Autobot symbol and some silver markings here and there.
If you only buy one deluxe Generations toy, you need to live a little and get a few-- and make sure this is one of them. While Darkmount could get annoying in places, and the bulk of the War for Cybertron toys seemed overly fiddly, this one is simple and works. I don't care if you hate him, get him.
Variations: The only running change I've seen so far is in the instruction sheet. Initial releases show a head strongly resembling the G1 character Hardhead, while subsequent releases have most of the line art replaced with Warpath's head. A few panels were left unchanged.
--Adam Pawlus
Additional Images

Click here to see more Hasbro figures in Figure of the Day.

Click here to see more Transformers figures in Figure of the Day.

Want to buy this figure? Check Transformers availability at our sponsors:
Entertainment Earth