Space Traveller Pheyden
Blue Standard Pheyden

Glyos Founders Figure
Item No.: 1
Manufacturer: Onell Design
Includes: n/a
Action Feature: Take apart, swap limbs
Retail: $4.00 (at press time)
Availability: ca. 2007
Other: One of the first Glyos figures

PREVIOUS
RSS
NEXT

There are three releases of the blue Standard Pheyden and from the pictures, I'm not entirely sure what sets them apart. The coloring and black paint look a little different, and this one came boxed for four bucks-- a bargain! If you own any Glyos figures, you more or less know what a basic figure can do, and this one does it: the figure can be separated at its joints, and Pheyden is made up of 13 pieces. The neck, shoulders, wrists, waist, hips, knees, and ankles all swivel and you can swap out parts with other figures from the line, although it's worth noting that the earlier, boxed releases are made of a harder, less pliable plastic which doesn't pop apart incredibly easily. You have to heat it up, or take some time to finesse it apart. (So to reiterate: this is a toy, for adults, which requires foreplay.) The later editions may have bonus parts or softer plastic, but this one has a box and is priced to move-- and I love getting good toys for a low price.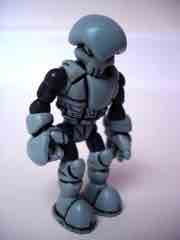 This 2 3/4-inch plastic figure has been redecorated a few times, and remolded/redesigned into other characters like Phanost, Savros, Scar Pheyden, and several others in various colors with a similar construction. The later releases are a bit better as a constructable toy, but as a figure unto itself this Pheyden is pretty neat. The right fist has a small hole, not big enough to plug in a Glyos joint (like the hands on the Buildman or Gobon figures), but the smaller hole is the same basic size as the hands on the Outer Space Men figures that the Four Horsemen put out. But back to this one.
It's difficult to tell if the item was hand-painted or not, but the lines all do a good job bringing out detail and making it look like a drawing come to life. Black lines fill nearly every crevice, plus the figure has fully-painted eyes on its uniquely-shaped head. The paint job isn't perfect, but it's better than many and for a designer figure you can't do any better at this price. I mean, I've looked-- $4 for something in a box and a low run is not going to happen. He can sit and stand with no problems, and unlike later Glyos figures he has no foot holes or backpack hole. As such it's not quite as modifiable as his descendants. You can still plug a gun onto his arm if you buy the add-on pack, or swap heads and limbs with other figures.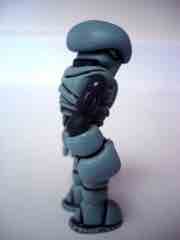 While by no means a Four Horsemen-designed $20 mega-poseable 7-inch Mattel figure, this is a great example of a fan saying "I want to make a cool toy" and then actually doing it. (Speaking of which, did you hear the Horsemen did some work on Pheyden?) This 2007 action figure is easily on par with and arguably superior to similar offerings in the 1980s and early 1990s, and works pretty nicely with most similarly sized toy vehicles.
I keep messing around with these and a Battle Beasts Shocking Shark playset as well as a Star Wars Jedi Force Landspeeder-- but I'm sure any of dozens if not hundreds of existing vehicles would work great with this figure line. It's both modern and retro, an unusual-looking, relatively cheap line of toys. (If you want all of the toys, in every color, it stops being cheap.) If you think you like what you see, it's worth giving a shot-- these are great things to keep on your desk or near the TV so you have something to fumble with during the slow times. Or at least I'd say so... I wish there were vehicles or other larger playsets of some sort but knowing what kind of money that costs, and the limited nature of all releases in this line, I wouldn't expect a Gobon Starfighter or Pheyden Ice Mountain Fortress playset any time soon.
One last thing-- this line has a sizable cult following with a lot of customizers and builders, making their own limbs, heads, or figures based on these designs. If you decide to look up this range, be careful-- there's a lot to take in and it's not terribly easy to consume all the data out there. Even the Onell Design archive isn't (at press time) complete, so prepare to do some homework. The bulk of the backstory for the characters and such can be found in the online game, Passcode, which is about 80% cinematics and story and 20% game.
--Adam Pawlus
Additional Images

Click here to see more Onell Design figures in Figure of the Day.
Click here to see more Glyos Compatible figures in Figure of the Day.