Callgrim Norisar Ambush
Like a Sentinel, but Not

Callgrim Bagged Figure
Item No.: n/a
Manufacturer: RawShark Studios
Includes: 2 additional heads, gun parts
Action Feature: Take apart, swap limbs
Retail: $10.00
Availability: ca. 2010
Other: Very colorful, also grim

PREVIOUS
RSS
NEXT

There are multiple versions of the Callgrim figure from the past few years, and the Callgrim Norisar Ambush is one of a few I picked up just a few weeks ago. The 3 1/4-inch figure is fully compatible with Onell Design Glyos figures, but the character hails from RawShark Studios. The construction and feel of the figure is quite similar to Pheyden, the Buildman, and other Glyos figures but it's notably taller and has a very different design. Since debuting in 2009, there have been over 30 versions of this mold sold, in different colors, just from the Callgrim store-- the parts were also shared with a few Onell Design figures, and some Onell Design molds also made the rounds at the Callgrim store. Ultimately, they're companion lines, with Onell having more stuff overall but Callgrim figures tend to come with great header cards, trading cards, and other little details which set them apart from most Glyos releases.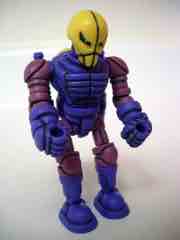 The joints are a little looser than some other Glyos figures, but this is a different figure entirely-- one just as (if not more) suited to being dismantled and rebuilt in other forms, or having its parts switched around with other figures. He's got a yellow plastic molded skull head, but everything else is molded pink or purple, with most parts including some black lining to bring out the detail. This guy has a bunch of space armor covering his body, complete with shoulder and knee pads. (They're the same part.) His hands, like the Buildman or Glyan, each have two thumbs so any hand could double as a right or a left. The added weaponry gives him more of an action figure vibe than some of his cousins.
He can stand fairly well, but the extra gear is something of a liability when it comes to standing. With no gear he's just fine, but slap a backpack on him and you'll need to position his arms as counterbalance. If he's carrying his guns around, though, there shouldn't be a problem. He can also sit well, but as there are no vehicles for him just yet on the mass market, well, you can't really exploit this. He does fit perfectly in the Star Wars Jedi Force Landspeeder vehicle, though, if you were thinking of buying one for him.
Each figure has 27 parts which are used to make the figure, plus a bonus "backpack" made out of two heads and two guns. In short, it's a fun little adventure in a pouch-- if you don't like the skull, there's a head that looks a little like Boba Fett. And if you don't like that, there's a third head which looks like a dome robot from one angle and an insect at another. The figure can be configured in a variety of ways, such as a tiny little robot, a gun-armed warrior, or a freakish bug-like entity. While you can do a lot with a Glyos figure, the Callgrim design has more configurations right out of the box without the need for additional parts. Sure it costs more, but the packaging and extra parts aren't free. (Although Jesse may throw in something in the order. I got a couple of surprises in mine.)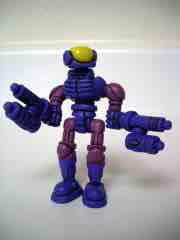 If you've never played with a Callgrim, I'd say it feels like a taller Glyan or a distant cousin of Xevoz mixed with a love for intergalactic bounty hunters.... and other creatures. The packaging is a ziplock bag with a header card (mine all featured character-specific artwork) plus a trading card as a backer, but the trading cards didn't always stay in good condition during the trip over-- some of the ink melted off on the figure on one card, but the ones shipped outside the figure packaging came just fine. I love the trading card concept as a bonus, but I really do wish they were packed outside the bags so the figure wouldn't bend them. I genuinely wish more companies would include trading cards with figures, and if Callgrim creator Jesse Moore is reading, I'd love to see some story about the figure on the card's reverse side in the future. But that's me, I'm a sucker for that kind of thing.
As there are numerous versions of this figure-- including a reverse-colored one called the Caliber Dome Norisar Command-- many of these are out of production and cost a slight premium on eBay. If you're like me and just want to get your hands on one, you can probably still pick up any of a handful of flavors from the Callgrim Shop and give them a spin. (The Elite Sentry Sarvos seems to be about as good as a Glyos Starter Kit as they come.) A story and some games tell slightly more about the character, but all you really need to know is that it looks cool and is reasonably fun to play with. You can do a lot more with a Callgrim than you can with a Pheyden, but it seems the person that will have the most fun with these is someone who buys a few figures. Or a figure and an accessory set-- they sell those too.
--Adam Pawlus
Additional Images

See more Rawshark Studios figures in Figure of the Day:
Day 245: Rawshark Studios Callgrim Norisar Ambush Action Figure
Day 307: Callgrim Grim Squad Armodoc Action Figure
Day 393: Callgrim The Order Triton Action Figure
Day 554: Callgrim Fragarian Action Figure
Day 1,554: RawShark Studios The Order Bobaran Action Figure

Click here to see more Glyos Compatible figures in Figure of the Day.