Inferno
The Flame Man of Mercury

Outer Space Men Holiday Edition Silver Variant
Item No.: n/a
Manufacturer: Four Horsemen
Includes: Ray gun, extra arms
Action Feature: Swap parts with other Glyos-compatible figures
Retail: $40.00 (bundled with Xodiac, Astro-Nautilus, and Metamorpho)
Availability: December 2010
Other: Variant exists-- some have silver flames on the gun, some have gold

PREVIOUS
RSS
NEXT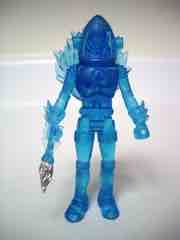 Science fact: blue flames are hotter than red ones. As such this blue version of Inferno, the Flame Man of Mercury is the hottest thing yet... despite having not sold out immediately from the manufacturer. Created in clear blue as a holiday edition exclusive, the exact quantity produced is unknown but it's said to be pretty low.
Standing about 3 4/5-inches tall (at the top of his removable helmet), this figure follows a clear red, a clear yellow, and a fully-painted release. Squeezing the most money out of a mold is always a smart move in the toy business, and it seems to be par for the course with anyone making Glyos-compatible action figures. This sharp blue has an electric glow to it, it's easily one of the best clear figures to be produced in this line so far.
The figure's design is the same as the other figures in the range, not changing the mold from the previous releases. It still has swappable extra arms and the same 13 or so points of articulation, and the main reason to pick this one up is if you're a fan of mixing it up with other toys. The blue really looks good, despite the yellow and red making sense for a "flame man," blue looks extremely cool on other bodies next to other colors.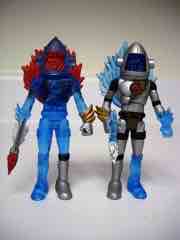 Before this figure was released, the Four Horsemen said that it's worth getting to swap out the parts with the Infinity Phase figure and have a sort of a blue flame man in the suit-- and indeed they were right. Inside the helmet, the blue turns dark and the white eyes really pop nicely. The blue flame on the back looks reasonable, giving the entire figure either an extremely hot vibe or a look like a sort of an intergalactic Mr. Freeze-- you decide! With most of these clear recolors there's not a whole heck of a lot to say other than "here's a figure you've seen in (color here)" but thankfully this one just happens to look a little bit better.
--Adam Pawlus
Additional Images

Click here to see more Four Horsemen figures in Figure of the Day.

Click here to see more Outer Space Men figures in Figure of the Day.

Click here to see more Glyos Compatible figures in Figure of the Day.