Laser Optimus Prime
Autobot Leader

Transformers Generation 2 Laser Rods Leader
Item No.: n/a
Manufacturer: Hasbro
Includes: Sword, discs, rockets, big missles, gun, trailer
Action Feature: Turns into a truck
Retail: $30-$45
Availability: 1995
Other: Considered one of the best Transformers molds of all time

PREVIOUS
RSS
NEXT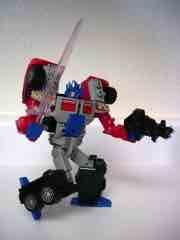 Back during the Beast Wars days it started to feel like Hasbro would never give us another new version of the classic Autobot leader in a vehicle form-- so toys like Laser Optimus Prime shot up in value pretty dang quick. As a plaything and as a collectible, this is an amazing piece. Hasbro did a wonderful job integrating electronics, loads of action features, and lots of articulation in a way that, unfortunately, rarely happens these days. There is no need for excessive force in transforming the toy. He's pretty solid in both modes. He has a trailer, and it works as a battle station for other, smaller toys. Hasbro tried to duplicate many of his features for the large Transformers Armada Optimus Prime in 2002, but nothing really beats this Laser Optimus Prime toy. (For the record, I didn't get mine until about 2002-- so I don't have the nostalgia bug. I overpaid for this toy because it was gorgeous and I like it.)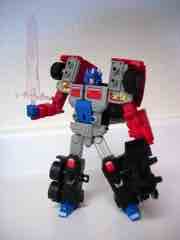 In robot mode this is a fairly simple toy-- the head folds out from the chest, and the legs pull down, and the arms are built in to the nose of the cab. Fold them out and presto, you're done. It should take you mere seconds, and the figure is way bigger than his 2011 counterpart. Seriously, that thing is puny. The original has less in the way of articulation when compared to modern release, but what's there is quite useful. He has shoulder, elbow, neck, waist, knee, and ankle joints. In 1995, this was a pretty huge deal, the range of motion is wonderful and except for gravity, there's very little to complain about. The joints do sag a bit due to weight distribution (subsequent rereleases generally have stronger ratchet joints) so he may need a little help standing up. The pictures in this gallery are completely unsupported, so maybe not.
The sculpting isn't amazing by today's standards, but if you compare it to most G1 and G2 releases he compares pretty favorably. His coloring is just great, but the labels? Wow. So ridiculous. His name appears on his chest decals and his trailer, and for some reason Hasbro (and later Kenner) decided faction labels were dumb and kids hated them, so a lot of toys in the early and mid-1990s lacked the garish Autobot, Decepticon, Maximal, and Predacon markings we crave today.
Prime includes 3 handheld weapons. One is a clear sword, which supposedly lights up through the power of a red LED in his fist. It doesn't look very convincing. A small gun has the same feature and can be plugged in with similar results. A rocket-firing weapon is hidden in his trailer, and this can be mounted to his hand or to the trailer in battle station mode.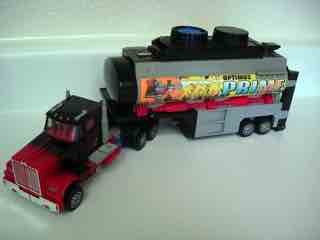 As a vehicle, it's a truck, and it does truck things. Rolling wheels, a firing disc launcher sits on the top, and it just looks neat. For some reason there's a decal of Optimus Prime burning down a forest on the side-- considering the environmentally-aware 1990s, this is particularly bizarre, but hey-- it's a neat illustration, and I don't believe Hasbro has done anything quite like this since.
In addition to the "light-up fist," the electronics button on the roof of the cab also activates a pair of yellow lights in the headlights-- so he actually has working, electronic headlights. This may be a first, it may not be, but I can certainly say that it's quite unusual to have this kind of light as a functioning electronic element.
The Battle Station is pretty incredible too, with multiple rocket launchers, missile launchers, disc shooters, and places to pose and hide smaller figures. This seems designed to fit with the G2 Go-Bots (also Robots in Disguise Spy Changers) but it might look good with your Mini-Cons or some Scout-class toys as well. It's big, loaded with gimmicks, and great fun if you like to shoot things. If you're over 30, it's more of a tough-to-display eyesore. I can appreciate it for what it is, and its spring-loaded transformation is a little jerky and awkward. Still, you owe it to yourself to experience the fun here, and I bet your kids would absolutely love it.
Reissues and repaints: The mold was repainted black and sold as "Scourge" in the USA and "Black Convoy" overseas around 2000. A reissue of this toy with new stickers was sold in Japan in 2006, and looks much less ridiculous than this one. An E-Hobby Exclusive repaint of the mold was made as Ultra Magnus, and is a gorgeous toy I wish I had in my collection. You should be able to get the 2006 Japanese release for under $100, and I'd say that if you can get it at or under $70 you're in for a treat. A purple and yellow repaint as "Toxitron" was proposed, but never released.
Worthless point of history: I actually bought this at an anime shop in (I think) 2002 or 2003 while on a first date. True story. I wasn't thinking it was going particularly well so I figured I'd drop about $100 on a toy in front of someone I decided not to try to impress rather than waste the gas to drive down to that part of town again as I rarely am in that neck of the woods. (This is what this hobby can do to you.) We did have a second date but not a third... I think she moved away a few months later.
--Adam Pawlus
Additional Images

Click here to see more Hasbro figures in Figure of the Day.

Click here to see more Transformers figures in Figure of the Day.

Want to buy this figure? Check Transformers availability at our sponsors:
Entertainment Earth