Powerglide
The Girls Love Him

Transformers Dark of the Moon Cyberverse Commander Class Series 1 Figure 006
Item No.: Asst. 28707 No. 29683
Manufacturer: Hasbro
Includes: Guns
Action Feature: Turns into A-10 Thunderbolt II Attack Plane, more or less
Retail: $7.99
Availability: May 16, 2011
Other: The first small Powerglide since the original

PREVIOUS
RSS
NEXT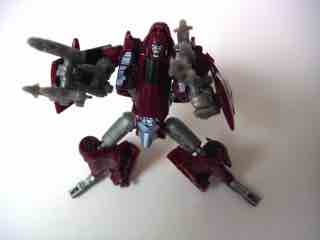 While numerous toys have had essentially the same plane mode, Powerglide has been pretty scarce around the toy aisles since Generation 1 ended. There were a pair of toys in the 2008-2009 Universe line, red as a Wal-Mart exclusive and white for everybody else, but that thing was huge. This new Cyberverse toy? Small. (Bigger than the original, but not by much.)
Part of Hasbro's Cyberverse line, the toy is essentially a slightly larger "Legends"-class toy. It's small, thin, has a few awkward points, but is a pretty decent small-scale item for kids and collectors-- it's also one of very few original characters to appear in Cyberverse and, according to most sources, not the movie. The plane is the same size as your average Scout-class toy (previously "basic") with fully retracting landing gear-- a nice touch at this scale. The weapons under his wings are removable, and fold into hand weapons. He can't hold them both particularly well without posing his wrists oddly, but hey, at least his wrists are jointed for the transformation. But I digress.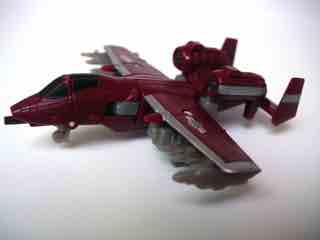 The plane mode looks a lot like an A-10 Thunderbolt colored to match the previous Wal-Mart exclusive Powerglide from 2009. There are some neat silver designs on his wings, including stripes to make the plane go faster, which should do well for everybody.
As a robot, he's a mixed bag-- the head is decidedly old-school, and I appreciate that. The legs feel like a random smattering of parts, particularly the feet. This is one of the things I disliked about the movie, as I actually always liked the more durable looking and incredibly blocky look of the original toys. Still, the new one stands fairly well, and the ball jointed hips are solid enough to keep him standing upright. With jointed knees and elbows, there's not a whole lot to complain about, but it does feel a little kibbly in places with wings and other plane parts getting in the way of some movement.
Transforming is pretty easy, I don't believe you'll need the instructions. It's not G1 Minibot simple, but it's not as weird as Cyberverse Optimus Prime, what with all the weird snapping you have to do to get pieces in place. For eight bucks, he's OK-- previous toys at this price point were bulkier, chunkier, and felt more durable. The thin plastic feels more like a Legends toy than a mighty Scout toy, so there's definitely a feeling of reduced value here. It's not too complicated to be fun, or too simple to be dull, but it does feel like he could have benefitted from a little more heft like a Brimstone or a Hubcap. I'd say if you like what you see, it's worth the purchase, but if you're on the fence you could stand to save a few bucks.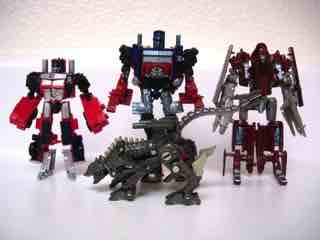 Notes: I've got a few.
The figure's number is series 1, 006 on the back. That sounds like they have an extensive line planned for Cyberverse, or are just very optimistic.
The packaging showcases what seem to be blue eyes, the figure's eyes are a blue which looks quite similar to the silver depending on the lighting
As far as can be told, he does not have a heart
Numerous third-party manufacturers are working on new G1-inspired unlicensed Powerglide-alike toys-- meaning Hasbro might do one, and this one is cheaper
--Adam Pawlus
Additional Images

Click here to see more Hasbro figures in Figure of the Day.
Click here to see more Transformers figures in Figure of the Day.

Want to buy this figure? Check Transformers availability at our sponsors:
Entertainment Earth