Task Force Volkriun Extra Set
Spare Parts

Glyos Upgrade Packet
Item No.: n/a
Manufacturer: Onell Design
Includes: 3 heads, 1 upper torso, 1 lower torso
Action Feature: Take apart, swap limbs
Retail: $5.00
Availability: July 2011
Other: Heads heads heads

PREVIOUS
RSS
NEXT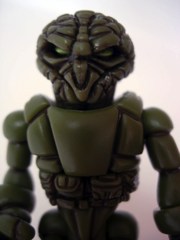 If you follow Glyos you may be familiar with figures called "Echo Morphs," which are a pretty amazing gift set-- these are being phased out for smaller part packs like the Task Force Volkriun Extra Set. An Echo Morph comes with one set of arms and legs, two whole torsos, and four total heads. The "Extra Set" nabs you 3 more heads and a torso, which is good and bad-- you'll need to have arms and legs on hand to make use of the torso, and the heads are appropriately... heady.
Coming to you in a clear plastic baggie, it's pretty much a great upgrade packet, or a way to get the figure you wished you had. A Volkriun Sarvos (which we'll review soon) was sold at the same time as this set, which is where you get your green arms and legs--- you can stick 'em on this torso and swap to heads of your chosing.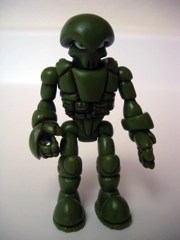 The spare heads include Pheyden (a Scar Pheyden came with Sarvos, so this is your regular one in green), Phanost, and Govorum. Each is just as detailed as before, with clean paint apps that are largely black detail lines with some green. Pheyden's head has some white, as usual.
For five dollars it's an interesting piece-- it requires you to play with and futz around with your figures, because really, what are you going to do with a bag of heads? I love the idea, and I'd be really happy to see this one developed more. Molds are expensive, but I'd go bonkers if I could buy a set like this with monster heads or new characters too. The set seemed to be a slower seller, but it turned out well enough that I'm super-stoked to have one. If you're going to order with Onell anyway, and it's still in stock, it's worth snagging IF you're going to play around with these guys.
--Adam Pawlus
Additional Images

Click here to see more Onell Design figures in Figure of the Day.
Click here to see more Glyos Compatible figures in Figure of the Day.