Kickstart
with Steel Marauder

G.I. Joe Pursuit of Cobra Mech Vehicle Assortment
Item No.: Asst. 24722 No. 24723
Manufacturer: Hasbro
Includes: Mech, rockets, helmet
Action Feature: Firing rockets, opening claw
Retail: $19.99
Availability: June 2010
Other: Arms swap with other mechs

PREVIOUS
RSS
NEXT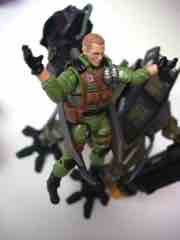 The very notion of a "mech" has been with G.I. Joe for decades now, kicking off with the original SNAKE armor toy in the 1980s. We've seen numerous spins on the robotic suit, and the Steel Marauder with Kickstart is one of the latest incarnations. Along with the Cobra Deviant (which shares much of the body parts), this vehicle is a retooled version of a 2 1/2-inch scale toy from the now-dead Sigma 6 line of toys which, I'm told, has very little to do with ERP as most people know it.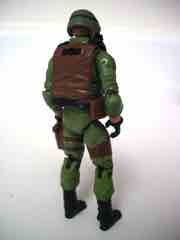 The roughly 4-inch tall Kickstart is a fairly plain looking modern-ish soldier, made largely of existing parts. His helmet came from the recent movie line, and his vest was a reuse of the Cobra Viper from 2008. Ensuring they got the most from their money, if you squint, you can even see the sculpted Cobra logo in black right where his belt should be. The figure's design was cobbled together nicely, and his gloved hands are great for holding weapons. That is, they would be if he included any. Thankfully other Pursuit carded figures are loaded with weapons, so he can borrow a pulse rifle or a railgun as needed.
Since Kickstart is largely recycled parts and a pack-in for a vehicle, he didn't get the attention in sculpting that you see in the recent Destro or Duke toys. He's good, and his face has a nice amount of personality, but the figure itself probably wouldn't strike you as remarkable. I am impressed Hasbro managed to reuse a Viper torso for a good guy, though. It looks great in brown, those grenades fight right in, and that new Joe logo looks great in white. Were I someone to army-build a good guy, I think Kickstart would be a good soldier-type figure and a great basis for a modern greenshirt-style release.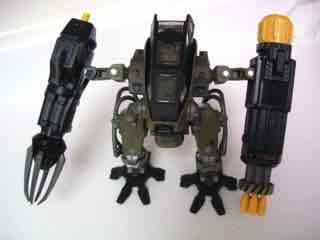 His chief accessory is really big. The Steel Marauder is a retooled Iron Hammer vehicle, which started life as a vehicle for mini-figures. You got more arms and weapons with the smaller-scale release, but the most important thing a G.I. Joe figure can be to most modern fans is scale with other 3 3/4-inch releases, with many going so far as to redesign the interior to fit existing larger figures. You'll be glad to know the Steel Marauder's seat is a perfect fit for Kickstart, and the articulated controls fit right into his hands with no real problem.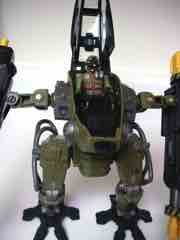 There's a good amount of detail inside this green and black robo suit, however much if it comes from a label sheet. Hasbro lost their minds with Pursuit of Cobra vehicles, including dozens of stickers while other brands like Star Wars eschewed labels in favor of painted details. If you open the Steel Marauder, assembly will take minutes, but label placement? Set aside an hour or so. There weren't any issues with black stickers going on black body parts, but it really is a drag to buy a toy and then realize how much work is going to be put in to it just to have it ready for a kid-- in my case, me-- to play with.
While robots are more or less out of place in the barely-futuristic military world that this line inhabits, it is a fun toy. If you rotate the barrel on one arm, big yellow rockets shoot out in succession. The other arm is a big claw which can g.shtml other figures. The arms sport a good amount of articulation, plus the legs even have articulated ankles. It may not be very Joe-y, but I can't deny that this is one of my absolute favorite toys and it's a rare example of a Joe vehicle that should be more fun for kids than you, the person who reads toy reviews.
I like the figure, and I like the vehicle. At press time I haven't picked up the Cobra Deviant (his companion piece) but I'm told the arms can be swapped between them. Two additional mechs were shown at previous toy shows, but as of yet, no release date has been confirmed-- with that in mind, I'd suggest getting this one. I've seen it as low as $18 at some stores, although I'm sure it would be cheaper had they put it on sale. If you can get this for under $10 somehow, you owe it to yourself to grab one. (Although I can't say the stickers were necessarily worth the effort.)
--Adam Pawlus
Additional Images

Click here to see more Hasbro figures in Figure of the Day.
See more G.I. Joe figures in Figure of the Day:
Day 5: Hasbro G.I. Joe Pursuit of Cobra Spirit Iron-Knife
Day 10: Hasbro G.I. Joe Collector Club Robot Rebellion Cobra Commander
Day 21: Hasbro G.I. Joe Pursuit of Cobra Quick Kick
Day 49: Hasbro G.I. Joe Pursuit of Cobra Cobra Commander
Day 59: Hasbro G.I. Joe Rise of Cobra Pit Commando
Day 64: Hasbro G.I. Joe Pursuit of Cobra Arctic Threat Destro
Day 74: Hasbro G.I. Joe Pursuit of Cobra City Strike Firefly
Day 80: Metallic Cobra Commander Wackly Wobbler
Day 87: Hasbro G.I. Joe Sgt. Slaughter Action Figure
Day 104: Hasbro G.I. Joe Pursuit of Cobra Kickstart Action Figure with Steel Marauder
Day 109: Hasbro G.I. Joe Pursuit of Cobra Snake Eyes #1101
Day 111: Hasbro G.I. Joe Pursuit of Cobra Duke #1102
Day 119: Hasbro G.I. Joe Rise of Cobra Sandstorm
Day 129: Hasbro G.I. Joe Pursuit of Cobra Storm Shadow
Day 146: Hasbro G.I. Joe Pursuit of Cobra Low-Light
Day 156: Hasbro G.I. Joe Pursuit of Cobra Cobra Shock Trooper
Day 160: Funko G.I. Joe "Pimp Daddy" Destro
Day 162: Hasbro G.I. Joe Club Exclusive Adventure Team Air Adventurer
Day 171: Hasbro G.I. Joe Comic-Con Exclusive Cobra Commander
Day 221: Hasbro G.I. Joe Pursuit of Cobra Cobra Trooper
Day 264: Hasbro G.I. Joe Pursuit of Cobra Steel Brigade
Day 284: Hasbro G.I. Joe 30th Anniversary Hazard-Viper
Day 314: Hasbro G.I. Joe Pursuit of Cobra Shadow Tracker
Day 372: Hasbro Jurassic Park G.I. Joe Heavy Gunner Action Figure
Day 419: Hasbro G.I. Joe Pursuit of Cobra City Strike Destro
Day 473: Hasbro G.I. Joe Retaliation Cobra Commander
Day 863: Hasbro G.I. Joe Retaliation Blind Master
Day 1,427: Burger King G.I. Joe AWE Striker with Snake Eyes Vehicle
Day 1,787: Hasbro Revolution First Strike Comic Preview Mega-Set
Day 1,867: Hasbro G.I. Koe Kre-O Collection 2 Dreadnok Ripper
Day 2,241: Hasbro G.I. Joe Classified Series Profit Director Destro Action Figure
Day 2,458: Super7 G.I. Joe Red Ninja ReAction Figure
Day 2,618: Hasbro G.I. Joe Retro Collection Duke Vs. Cobra Commander Action Figures

Want to buy this figure or others like it? Check G.I. Joe availability at our sponsors:
Entertainment Earth