Lugnut
A G1 incarnation of an Animated Decepticon

Transformers Reveal the Shield Voyager Figures Wave 1 (or Gold/HTFD Wave 4)
Item No.: Asst. 98457 No. 28584
Manufacturer: Hasbro
Includes: n/a
Action Feature: Tail holds hidden projectile launcher, spring-loaded punch (of kill everything) action
Retail: $19.99-$24.99
Availability: Spring 2011
Other: A glorious supporter of the Decepticon cause

PREVIOUS
RSS
NEXT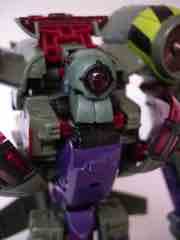 Much like Windcharger yesterday, this Lugnut toy didn't make it to normal US retail store shelves, but was distributed in some of Hasbro's smaller outlets. Specifically, online. Lugnut is based on the Transformers Animated character of the same name, and a comic book Hasbro made in early 2011 places this character in the Battle of Autobot City which was during the original Transformers: The Movie. So if you're wondering where to place this guy, Hasbro's authorial intent seems to be placing it with your existing "classics" action figures. (No, you didn't miss G1 Lugnut before. He's brand-new.)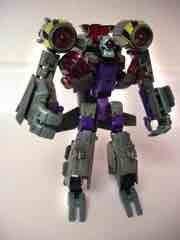 At about 7-inches tall, he's bigger and more thug-like than the other toys that usually go in the classic range. His wings turn into fairly powerful-looking arms, and his articulated head sports an opening mouth. (It's quite the extra.) In addition to his central light-up eye port, he has four other optics (two on each side of the head) as well. The toy takes numerous cues from Lugnut (especially Atomic Lugnut) save for one: this time he has no hand-held weapon. There is a projectile launcher in the figure's "tail" section, but it doesn't add a lot to the toy-- plus it tends to get a little loose.
It's worth noting the figure has the usual quality of plastic, with some extra-soft rubbery bits as well. The area on the chest, next to the cockpit windows, is incredibly rubbery and my sample was misshapen when I opened it. The same plastic is used for the tail gun, which is the flip-up cap of the rocket launcher. If for any reason your sample's is warped, you can sort of force it back into place by dipping it in boiling water and holding it in the position you'd like it to take. (This is, of course, potentially dangerous, so legally speaking I'm required to tell you this: do not do it.) With articulated elbows, fingers, toes, and other pieces it's a surprisingly well-jointed beast of a robot which looks quite different from the other "realistic" or "classic" Transformers in your collection.
You can tell from the pictures that the sculpt is pretty great, but what you can't see is that he has an action feature affectionately referred to as the punch of kill everything on each hand. His giant robo-mitts not only have articulated digits, but sit on a spring-loaded switch which causes them to rocket out and attack lesser toys, specifically Autobots. They seem to be pretty solid, and it's a great little bonus feature on a toy which, as it stood, was already pretty great.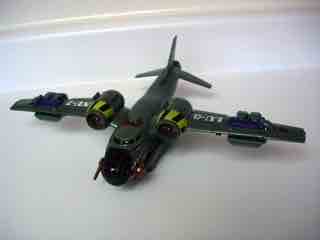 The plane is big. Really, really big. Those wings are particularly wide, and the transformation is both involved and fun. His hands basically wrap around the wings, and his legs fold up into the undercarriage. Lugnut's head goes into the canopy (appropriate) and the lettering LU-6 NU-7 (LUGNUT) appears on the wings. Again, another nice touch, but it's less an in-joke than a name tag so I'd be lying if I said that it was particularly clever.
As a bomber, it doesn't do much. While it does have the swell nose art, and the rocket launcher is accessible, there isn't much else to the toy beyond it looking cool and having rolling wheels for landing gear. Oh- the "punch" mechanism still works in vehicle mode, but due to the position o the hands it just causes the wings to get even longer than they already are. It's nice, but won't make Lugnut's alt mode any more exciting.
For the normal asking price, this is a pretty nice toy. If you find it at Ross or another store on closeout, it's a freaking bargain. Get one if the opportunity presents itself. A Japanese release came out in 2011 with significantly different paint applications, so you might want to compare the two or even consider getting both prior to making your purchase. Given the limited distribution of the US release, it's entirely possible either one will cost you, depending on the direction the future took after I wrote this review. I like it, and I'd say that if you have to track it down odds are you won't be disappointed. I hope some day Hasbro makes a "G1" Bulkhead based on Animated to go with Lugnut here, as it's a fun and meaty toy.
--Adam Pawlus
Additional Images

Click here to see more Hasbro figures in Figure of the Day.

Click here to see more Transformers figures in Figure of the Day.

Want to buy this figure? Check Transformers availability at our sponsors:
Entertainment Earth