John Lennon
The Walrus?

Yellow Submarine Action Figures
Item No.: n/a
Manufacturer: McFarlane Toys
Includes: Love Glove figure
Action Feature: n/a
Retail: $10ish
Availability: September 1999
Other: Released blister or clamshell carded plus as part of a boxed set

PREVIOUS
RSS
NEXT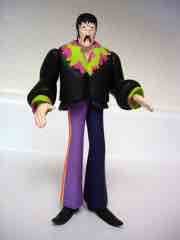 People forget this, but McFarlane Toys went license-crazy before they shifted over to their currently mostly-sports-and-Halo business model. They were the first toy company to really go after musical acts, grabbing Rob Zombie, Alice Cooper, Janis Joplin, Jim Morrison, Jerry Garcia, and even the Beatles. Well, sort of-- the fab four aren't crazy about licensing their likenesses for toys just yet, but they will license animated versions based on Yellow Submarine or their Saturday morning cartoon series. That's why we have this giant John Lennon figure, complete with awesome (if not exactly accurate) mustache.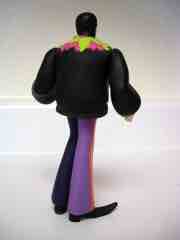 While some online resources list this figure at 6-inches tall, this is a lie-- I just measured it and he's about 7 1/2-inches tall. The sculpt largely speaks for itself, the figure has little articulation and somewhat mirrors the model used in the cartoon and in other licensed products. The head isn't really all that close, but the color palette is pretty spot-on-- McFarlane nailed the character's vocabulary, but can't seem to put together the right sentence. A quick Google image search reveals that the outfit is basically accurate, and the elements of the face are more or less right, but John (and most of the Beatles) aren't as accurate to the movie as some other collectibles, like the Knucklebonz statues scheduled for later in 2011. The unique style of the movie is not easily replicated, and in the case of this figure, isn't really accurately replicated. It's close, though.
The face design and proportions don't really mesh with the stills used, the eyes are a little off and the shape of his facial hair don't quite match up. Were McFarlane to reuse the body with a new head, it'd probably be acceptable, but the character design lends itself to interpretation and this seems to be less the definitive Yellow Submarine John than it is McFarlane's Yellow Submarine John. With that in mind, it ain't bad, and it certainly was good enough to make fans happy thousands of years ago back in 1999.
While initially incredibly hot, the line received a few reissues which eventually took it to the clearance rack at some specialty stores. Today you should have little problem getting him at or under $10. If you're a big spender, though, I suggest you go after the statues.
--Adam Pawlus
Additional Images

See more McFarlane Toys figures in Figure of the Day:
Day 147: McFarlane Toys Yellow Submarine John Lennon Action Figure
Day 155: McFarlane Toys Yellow Submarine Love Glove Action Figure
Day 168: McFarlane Toys Yellow Submarine Ringo Starr Action Figure
Day 184: McFarlane Toys Yellow Submarine Jeremy Action Figure
Day 197: McFarlane Toys Yellow Submarine Paul McCartney Action Figure
Day 357: McFarlane Toys The Maxx Action Figure
Day 1,848: McFarlane Toys Labyrinth Jareth the Goblin King

See more Music figures in Figure of the Day:
Day 147: McFarlane Toys Yellow Submarine John Lennon Action Figure
Day 151: Funko Music Pop! Vinyl Ozzy Osbourne Vinyl Figure
Day 155: McFarlane Toys Yellow Submarine Love Glove Action Figure
Day 168: McFarlane Toys Yellow Submarine Ringo Starr Action Figure
Day 184: McFarlane Toys Yellow Submarine Jeremy Action Figure
Day 197: McFarlane Toys Yellow Submarine Paul McCartney Action Figure
Day 213: NECA Iggy Pop Action Figure
Day 1,865: Playmobil "Fi?ures" Figures Rock Star

Want to buy this figure? Check Beatles availability at our sponsors:
Entertainment Earth