Breakdown
Decepticon Homage

Transformers Botcon Generation 2 Redux Boxed Set
Item No.: n/a
Manufacturer: Hasbro
Includes: Pistol, removable engine assembly
Action Feature: n/a
Retail: $305-$375 (set)
Availability: June 2010
Other: Remold of Universe Sideswipe/Sunstreaker

PREVIOUS
RSS
NEXT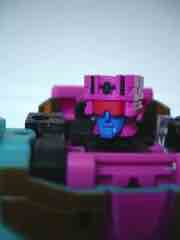 The very first Botcon exclusive Transformers toy was, in 1994, the original Generation 2 Breakdown. Hasbro made a few samples as the line was winding down, and the toy never saw release at retail-- but a few lucky fans got him at the convention and a few samples made it into fan hands over the years. This toy is a remake of the original Botcon 1994 exclusive, and is arguably a little bit better while retaining the same look and feel in terms of eye-bleeding colors. The original G1 Breakdown was a limb of Menasor, the combined form of the Stunticons. (The 2010 Botcon toy cannot combine with other figures.)
The 1994 pinkish purple and neon greenish blue are still here, as are a giant G2 Decepticon logo, a strange blood or ooze pattern on the roof, and the original Scramble City-style head complete with blocky construction and a visor. This is a toy aimed squarely at toy collectors, as your average fan probably has very little recognition of the color scheme, a limited recognition of the character, and no desire to pay for something that stepped out of a toy era that most fans dare not speak of for fear of eternal torment. Heck, Hasbro even left the toy's name on his car door! This thing is clearly meant as a spot-on remake of a toy which, in collector circles, is something of a legend.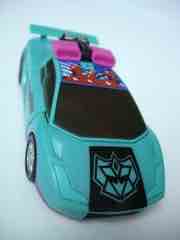 Hasbro hasn't been shy about using in-jokes on a car's license plate, and this one has "BCFW94" on his-- which translates to "Botcon Fort Wayne 1994," where the original G2 Breakdown was distributed as an exclusive. If you own any of the toys which share this toy's body construction (Sideswipe, Sunstreaker, Punch/Counterpunch, Red Alert) you know what to expect and the figure's only real selling points are his head and his ridiculous paint job, both of which are really stunning up close and in person. The extra silver paint on his wheels and bumper really shine, and the clash of his two primary colors are impossible to ignore. Just try to ignore it. I dare you. You can't, can you?
The low edition size of 1,400 sets ensures that the toy is a pretty low-run item. At press time it looks like the going rate for this toy is about $90 on eBay, which is about right given how awesome-- or radical-- this toy looks. This is the toy that really makes the set because anyone who knows Botcon history has a soft spot in their heart for the design, and this one is more fun to play with than the 1994 original. If you aren't picky about the colors or head, just get Red Alert at retail now-- he's only about $10 and from Generation 1... but it's hard to deny that Breakdown's unique appearance is one that's worth your paying the premium price.
Botcon toys do, at times, have quality control issues and mine certainly did. The arm was unable to stay on the main robot due to a peg on the wheel assembly being malformed in the molding process, causing the limb to fall off if you try to pose him or transform him. (Thankfully, the club was able to get me replacement parts.) As such, you might want to consider buying played-with or examined specimens of Botcon toys because they have the added benefit of having been examined by a collector, whereas mint in sealed box or bag toys are harder to examine before purchase and impossible to get replacement parts for after their initial sale.
--Adam Pawlus
Additional Images

Click here to see more Hasbro figures in Figure of the Day.
Click here to see more Transformers figures in Figure of the Day.

Want to buy this figure? Check Transformers availability at our sponsors:
Entertainment Earth