Optimus Prime
Basic/Introductory Kre-O Set

Kre-O Transformers Basic Kit
Item No.: 31143
Manufacturer: Hasbro
Includes: 90 pieces
Action Feature: n/a
Retail: $7.99
Availability: June 2011
Other: LEGO-Compatible, Does Not Include Kreon Minifigures

PREVIOUS
RSS
NEXT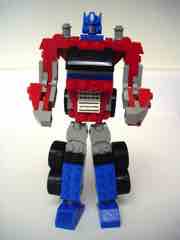 TLDR? Read This!
LEGO-ish feel
Does not tranform, disassembly required
Wheels must be removed from axel pegs, physically difficult
Painted head, stickers decorate other details
Feels like a product in beta
Worth trying, with lowered expectations
I had a longer intro about the brief pre-history of the brand and Hasbro's position in the marketplace, but I canned it after I tried to convert this toy from robot to truck. This simple Optimus Prime kit has only 90 pieces, and they must all be disassembled to get him from truck to robot and back again. This isn't a huge deal, as anyone who played with LEGO can tell you, save for one thing: the wheels. The tires snap on to the spokes, and it feels like it was meant to be a one-time assembly. You have to really pry them off with a lot of force to the point where the toy-- you know, the thing that should be fun for kids?-- fundamentally does not bring you a pleasant experience. I say this after loving it for its robot mode, it's just getting it in that other state is just not a good time.

Hasbro spent a lot of time and money trying to develop bricks that are as LEGO-ey as humanly possible, from the look and feel of the instructions to the ABS plastic bricks. Aside from the lack of LEGO branding, the bricks really do feel like LEGO's pieces, and the rumor is that Hasbro paid good money to hire one or more of LEGO's developers to ensure their brand was as close to LEGO-- the real thing-- as humanly possible. They come real close. The pieces feel right, and look right except for the odd hollow stud on certain bricks giving the toys a more uneven-- but probably more easily copyrightable-- look and feel. The tires roll nicely, and the head is slightly rubberier than the rest of the pieces, and-- most interesting of all-- seems to be a scaled-down version of the Classics 2006 Optimus Prime toy. Aside from the head, the pieces look and feel like typical LEGO pieces, more specifically, older ones. This kit does a great job of replicating a sizable Optimus Prime figure with jointed hips, ankles, elbows, and shoulders, but the movement is somewhat limited due to the hinge joints used in places. Ball-and-socket joints on the hips and ankles give the figures a Bionicle-like movement, but it's not as smooth due to the rubbery coating on the ball part of the joints.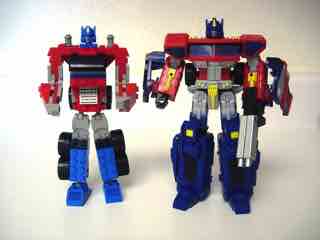 As a toy figure, the 6 3/4-inch Optimus Prime robot looks OK-- it's clearly meant to be a "snack" product to try out the bricks and see if you like them. From the side or the back, it looks great. From the front, it looks like something I might have built on my own with slightly wonky proportions and an iffy windshield. Rather than painted elements, Hasbro opted for stickers-- this was something LEGO has done on and off, depending on the year, but most of the sets I've picked up have very few labels. Prime has several, including an odd one that reminds me of the toys in the 1990s in that there's a nameplate which goes right over his crotch. Which I guess is good if the ladies are trying to figure out which anonymous robot just took them home from a bar. Kids, take a lesson from Op here, tattoo your name over your groin.
After you've taken a good look at the robot and realize he has no hands to speak of (although some of the larger toys in the line do), it's pretty obvious that the bulk of the pieces here are replicas of (or are inspired by) existing LEGO elements. They're fully compatible with the Danish bricks if you're so inclined, so it's possible you'll want to steal this Optimus head assembly for your own customs. If not, and you want to see what the truck looks like, just take it apart to see what the rest of the toy looks like. If you like building-- and not just leaving an item completed after it is finished-- this kind of toy should be a real treat. If you're the obsessive type that likes to fidget with your Transformers to bounce from one mode to another, prepare yourself for dented fingernails and low-level frustration.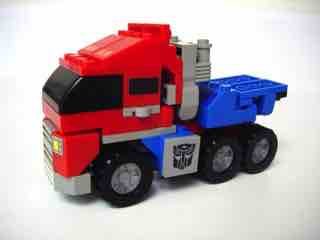 I can not reiterate enough how much I hate dealing with the wheels. These things don't feel like they were meant to come off and I'm sure we're going to see lots of broken spokes down the road-- Hasbro, if you're reading do not ask your customers to dismantle the wheel assemblies. Just include extra tires. I'll spring the nickel for extra pieces if I can avoid breakage.
The truck mode is, as expected, basically a brick. It's a cheaper set so this is probably likely the point-- it let me get the hang of what building a larger set may be like, and it's a lot like LEGO with some unpleasant labeling and disassembly. The tires spin well-- better than on most if not all Transformers figures-- and certain.shtmlects of the robot are kept in the toy form, like visible feet, to remind you that there's a robot in there. It's not a super-clean vehicle, but it's close. The nametag becomes the front license plate in this form, and stickers are required to make up some of the windows on the side. In short, I dig the truck. Were it not for the wheel issue this would probably be a solid "B" toy.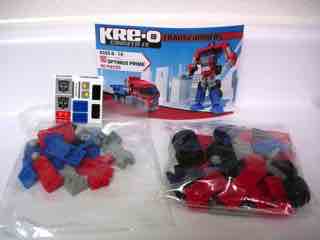 I think a lot of these will sell as gifts, and it's my expectation that unless kids get the Kreo figure collecting bug (or the other sets have less trying disassembly) it might not go on for too long. I appreciate that every kit has 2 modes, if not more, but the situation with the wheels put me off going back to the store to buy another set to review. If you only buy one as a sample, I might suggest getting one with figures to start with-- just don't start here. As a construction toy, it feels like a product in beta and I bet Kre-o gets better as it goes along. If you're a parent looking to buy a gift for your kid, I'd say either get them a normal Transformers MechTech or Cyberverse toy, or get them a regular LEGO set. I understand the appeal of combining the two (it's what drove me to go seek this out) but I kinda wish I kept the eight bucks at this point. These probably aren't any better or worse than other non-LEGO construction kits but even though I can afford an eight dollar dud, I wish I blew my cash on some Alien Conquest set instead. If Hasbro sticks with the line for a few more years, though, they're going to iron out all these kinks. It just remains to be seen if they'll keep experimenting or if they're going to just drop it in a year and change.
--Adam Pawlus
Additional Images

Click here to see more Hasbro figures in Figure of the Day.
Click here to see more Transformers figures in Figure of the Day.

Want to buy this figure? Check Transformers availability at our sponsors:
Entertainment Earth