Spirit Iron-Knife
Tracker

G.I. Joe Pursuit of Cobra Toys "R" Us Exclusive
Item No.: Asst. 24718 No. 21232
Manufacturer: Hasbro
Includes: Bow, arrow, stand, machete, guns, snakes, hatchet
Action Feature: n/a
Retail: $7.49
Availability: June 2010
Other: New head, the body is made from an unreleased Duke torso, Zartan's arms, and Duke's legs

PREVIOUS
RSS
NEXT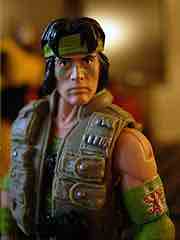 Generally speaking Hasbro's recent Toys "R" Us figures have been pretty uninspired, but this Spirit Iron-Knife shows a lot of inspiration. Combining parts from several existing and unreleased figures, this creation is, for all intents and purposes, a nod to Predator's own Billy as portrayed by the reportedly crazy Sonny Landham. While not a perfect match, the figure is enough of a departure from the 1980s Spirit and there are enough similarities to say that fans of Predator are getting the figures they always wanted... sort of.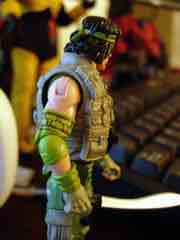 This 4-inch figure has average articulation for the Pursuit of Cobra line of G.I. Joe figures, which is to say plenty-- roughly 16 joints, depending on how you count, bring this character to life with his crazy stare and sharp objects. If you want him to shoot things, he has a gun. If you want him to scare little girls, he has some snakes. If you want him to shoot things with an arrow, he's got that too. Of note, the arrow's tip does indeed fit in a figure's back hole, meaning you can shoot most Cobras or Joes in the back if you're so inclined. For a store exclusive, Hasbro really went the extra mile to put a lot of fun stuff into this package.
I haven't been able to find anything I don't like about this figure. The hands hold the weapons, his hip joints are unrestricted so he could fit in every vehicle I tested with him, and he just looks like he's going to knife-rape someone in the face. I don't even know what that means, but just look at the guy. He's going to cause some problems.

Like this entire Pursuit of Cobra sub-line, Spirit is loaded with gear. The great head sculpt alone makes it worth the purchase, but when you factor in so much extra junk it's almost a crying shame you aren't an 8-year-old who gets this for his birthday. It's a great figure and one of the plastic highlights of the summer of 2010. If you only buy one or two Joe figures in 2010, put this on your short list.
--Adam Pawlus

Click here to see more Hasbro figures in Figure of the Day.
See more G.I. Joe figures in Figure of the Day:
Day 5: Hasbro G.I. Joe Pursuit of Cobra Spirit Iron-Knife
Day 10: Hasbro G.I. Joe Collector Club Robot Rebellion Cobra Commander
Day 21: Hasbro G.I. Joe Pursuit of Cobra Quick Kick
Day 49: Hasbro G.I. Joe Pursuit of Cobra Cobra Commander
Day 59: Hasbro G.I. Joe Rise of Cobra Pit Commando
Day 64: Hasbro G.I. Joe Pursuit of Cobra Arctic Threat Destro
Day 74: Hasbro G.I. Joe Pursuit of Cobra City Strike Firefly
Day 80: Metallic Cobra Commander Wackly Wobbler
Day 87: Hasbro G.I. Joe Sgt. Slaughter Action Figure
Day 104: Hasbro G.I. Joe Pursuit of Cobra Kickstart Action Figure with Steel Marauder
Day 109: Hasbro G.I. Joe Pursuit of Cobra Snake Eyes #1101
Day 111: Hasbro G.I. Joe Pursuit of Cobra Duke #1102
Day 119: Hasbro G.I. Joe Rise of Cobra Sandstorm
Day 129: Hasbro G.I. Joe Pursuit of Cobra Storm Shadow
Day 146: Hasbro G.I. Joe Pursuit of Cobra Low-Light
Day 156: Hasbro G.I. Joe Pursuit of Cobra Cobra Shock Trooper
Day 160: Funko G.I. Joe "Pimp Daddy" Destro
Day 162: Hasbro G.I. Joe Club Exclusive Adventure Team Air Adventurer
Day 171: Hasbro G.I. Joe Comic-Con Exclusive Cobra Commander
Day 221: Hasbro G.I. Joe Pursuit of Cobra Cobra Trooper
Day 264: Hasbro G.I. Joe Pursuit of Cobra Steel Brigade
Day 284: Hasbro G.I. Joe 30th Anniversary Hazard-Viper
Day 314: Hasbro G.I. Joe Pursuit of Cobra Shadow Tracker
Day 372: Hasbro Jurassic Park G.I. Joe Heavy Gunner Action Figure
Day 419: Hasbro G.I. Joe Pursuit of Cobra City Strike Destro
Day 473: Hasbro G.I. Joe Retaliation Cobra Commander
Day 863: Hasbro G.I. Joe Retaliation Blind Master
Day 1,427: Burger King G.I. Joe AWE Striker with Snake Eyes Vehicle
Day 1,787: Hasbro Revolution First Strike Comic Preview Mega-Set
Day 1,867: Hasbro G.I. Koe Kre-O Collection 2 Dreadnok Ripper
Day 2,241: Hasbro G.I. Joe Classified Series Profit Director Destro Action Figure
Day 2,458: Super7 G.I. Joe Red Ninja ReAction Figure
Day 2,618: Hasbro G.I. Joe Retro Collection Duke Vs. Cobra Commander Action Figures

Want to buy this figure or others like it? Check G.I. Joe availability at our sponsors:
Entertainment Earth