Buster of Ghosts
Non-Union Equivalent

Imaginext Series 7 Blind-Bagged Collectible Figures
Item No.: Asst. CDX70 No. ???
Manufacturer: Fisher-Price
Includes: Green blaster, backpack with goggles, brown not-a-PKE Meter
Action Feature: n/a
Retail: $2.99
Availability: 2015
Other: Look for #03 on upper-left of the foil packet on the back

PREVIOUS
RSS
NEXT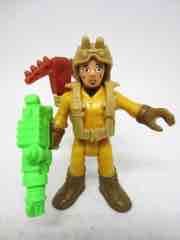 Given Mattel had a license to make Ghostbusters toys, this non-branded Buster of Ghosts is a strange one. Playmobil did a whole line on the movies and cartoons, Mattel did roleplay and action figures, so the move to make a non-licensed generic ghost apprehension action figure is a strange one. The backpack, meter, and goggles reek of the 1984 movie - but the blaster and colors are wholly original. It's so close, with some paint it could be Ray or Peter. At press time I do not see any customs based on either, but maybe we'll see some eventually.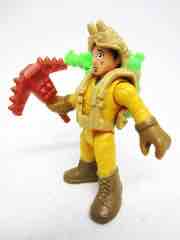 The goggles are connected to the familiar-looking slime blower/proton pack hybrid backpack, which helps you to not lose them. When you slip the harness over the shoulders, the eye gear slides in place on the figure's forehead. The backpack sports a clip for either the green blaster or brown meter accessories, both of which fit perfectly in the 3-inch yellowish figure's hands. Sadly there's no ghost in the packet, but the Headless Horseman in the wave or any of a number of monsters could make good paranormal fodder for this buster's needs to feel good.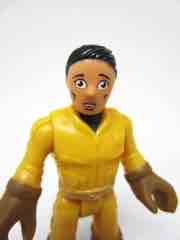 The 3-inch figure itself looks sort of like a rookie ghostbuster. He'a a little worried and the face seems a little thin with slicked (slimed?) down hair and no visible no-ghost markings of any kind. I'm a little surprised the Imaginext "i" was on the boot and not an arm band. Given its strangeness as a 1980s-themed-but-not-licensed character, which seems to be the norm in preschool lines, it's kind of great.
With so many wholly original characters next to cultural staples, toy tuckerisms, and familiar faces of folklore, a sorta-kinda-buster of ghosts is a good fit. This is a type of character fans will recognize from the cultural DNA, although the way it is presented in the packaging you might not even realize it is there. Dad is probably going to have to explain it to the tiny tots - and given these tend to be on clearance if you can still find them, well, that's just as well. It's well worth the few bucks if you're in to such things, and it might fit in well with your haunted Scooby-Doo playsets or other such things. It has no real other home at this time. If you're torn between this and the Playmobil sets, I'd nudge you to the admittedly more expensive Playmobil sets.
--Adam Pawlus
Additional Images

See more Fisher-Price figures in Figure of the Day:
Day 79: Fisher-Price Adventure People Alpha Star Astronaut Action Figure
Day 233: Fisher-Price Imaginext Space Station Toy Set
Day 404: Fisher-Price Imaginext Dinosaur Ankylosaurus
Day 528: Fisher-Price Imaginext Dinosaur Raptor
Day 643: Fisher-Price Adventure People Alpha Star Alien Creature
Day 766: Fisher-Price Imaginext Collectible Figures Diver
Day 796: Fisher-Price Imaginext Collectible Figures Robot
Day 830: Fisher-Price Imaginext Collectible Figures Mummy
Day 842: Fisher-Price Imaginext Space Ion Scorpion
Day 847: Fisher-Price Imaginext Space Ion Crab
Day 853: Fisher-Price Imaginext Space Alpha Blade
Day 954: Fisher-Price Imaginext Dinosaur Dimetrodon
Day 2,002: Fisher-Price Imaginext Series 10 Collectible Figures Spaceman & Alien
Day 2,014: Fisher-Price Imaginext Series 11 Collectible Figures X-Ray Man & Dog
Day 2,018: Fisher-Price Imaginext Series 11 Collectible Figures Radiation Man
Day 2,024: Fisher-Price Imaginext Series 11 Collectible Figures Triple Threat Snake
Day 2,032: Fisher-Price Imaginext Series 11 Collectible Figures M.U.S.C.L.E. Men
Day 2,036: Fisher-Price Imaginext Series 6 Collectible Figures Chicken Suit
Day 2,092: Fisher-Price Imaginext Series 11 Collectible Figures Fishbot
Day 2,096: Fisher-Price Imaginext Series 12 Collectible Figures Big Building Robot
Day 2,099: Fisher-Price Imaginext Series 12 Collectible Figures Clawtron
Day 2,100: Fisher-Price Imaginext DC Super Friends Batman & Swamp Thing Action Figures
Day 2,101: Fisher-Price Imaginext Series 7 Collectible Figures Buster of Ghosts
Day 2,102: Fisher-Price Imaginext Pirates Shark Minisub Figure with Vehicle
Day 2,103: Fisher-Price Imaginext Jurassic World Dr. Malcolm & Dimetrodon Action Figures
Day 2,104: Fisher-Price Imaginext Egypt Mummy Guards Action Figures
Day 2,108: Fisher-Price Imaginext Series 9 Mystery Figures Grim Reaper
Day 2,122: Fisher-Price Imaginext Series 6 Collectible Figures 4 Arm Alien
Day 2,133: Fisher-Price Imaginext Series 7 Collectible Figures Headless Horseman
Day 2,194: Fisher-Price Imaginext Series 9 Mystery Figures Yeti Snowboarder
Day 2,227: Fisher-Price Imaginext Series 9 Mystery Figures Shark Pirate
Day 2,239: Fisher-Price Imaginext DC Super Friends Slammers Arctic Sled with Mr. Freeze Set
Day 2,249: Fisher-Price Imaginext DC Super Friends Slammers Batmobile with Batman Set
Day 2,257: Fisher-Price Imaginext DC Super Friends Surround Sound Batcave Playset
Day 2,306: Fisher-Price Imaginext 20th Anniversary Figures Jett Cosmoblast
Day 2,312: Fisher-Price Imaginext 20th Anniversary Figures FP-636
Day 2,318: Fisher-Price Imaginext 20th Anniversary Figures Shackles McMatey
Day 2,420: Fisher-Price Imaginext Series 8 Collectible Figures Woodland Mystic
Day 2,424: Fisher-Price Adventure People Astro Knight Action Figure
Day 2,449: Fisher-Price Imaginext Series 12 Collectible Figures Explorer
Day 2,452: Fisher-Price Adventure People Clawtron Action Figure
Day 2,455: Fisher-Price Adventure People Firestar I Vehicle with Pilot Action Figure
Day 2,457: Fisher-Price Adventure People Opticon Action Figure
Day 2,460: Fisher-Price Adventure People X-Ray Woman Action Figure
Day 2,464: Fisher-Price Imaginext Series 9 Mystery Figures Invisible Man
Day 2,468: Fisher-Price Imaginext Monsters Figure Pack
Day 2,487: Fisher-Price Imaginext Lightyear Hyperspeed Explorer XL-01
Day 2,522: Fisher-Price Imaginext Toy Story 4 Bunny & Buzz Lightyear
Day 2,542: Fisher-Price Adventure People X-Ray Man Action Figure

See more Ghostbusters items in Figure of the Day:
Day 498: Mattel Ghostbusters Zuul Action Figure
Day 801: Mattel Ghostbusters Slime Blower Ray Stantz Action Figure
Day 1,164: Funko Hikari Vinyl Ghostbusters Pink Stay Puft Marshmallow Man
Day 1,538: Mattel Ghostbusters Ecto Mini Rowan
Day 1,543: Mattel Ghostbusters Ecto Mini Cockroach Ghost
Day 1,576: Mattel Ghostbusters Ecto Mini Ray Stantz
Day 1,731: Playmobil Ghostbusters 9222 Slimer
Day 1,791: Playmobil Ghostbusters 9221 Stay Puft Marshmallow Man
Day 1,813: Playmobil Ghostbusters 9223 Venkman and Terror Dogs
Day 1,861 Playmobil Ghostbusters 9224 Spengler and Ghost
Day 2,076: Playmobil The Real Ghostbusters 9387 Zeddemore with Aqua Scooter
Day 2,082: Playmobil The Real Ghostbusters 9386 Spengler with Cage Car
Day 2,101: Fisher-Price Imaginext Series 7 Collectible Figures Buster of Ghosts
Day 2,144: The Coop Handmade by Robots Ghostbusters Slimer
Day 2,168: The Coop Handmade by Robots Ghostbusters Stay Puft Marshmallow Man
Day 2,197: Hasbro Transformers x Ghostbusters Collaborative Ectotron Action Figure
Day 2,310: Mattel Ghostbusters Walter Peck Action Figure
Day 2,328: Playmobil The Real Ghostbusters 9388 Stantz with Sky Bike
Day 2,375: Playmobil The Real Ghostbusters 9385 Venkman with Helicopter

See more Imaginext figures in Figure of the Day:
Day 233: Fisher-Price Imaginext Space Station Toy Set
Day 404: Fisher-Price Imaginext Dinosaur Ankylosaurus
Day 528: Fisher-Price Imaginext Dinosaur Raptor
Day 766: Fisher-Price Imaginext Collectible Figures Diver
Day 796: Fisher-Price Imaginext Collectible Figures Robot
Day 830: Fisher-Price Imaginext Collectible Figures Mummy
Day 842: Fisher-Price Imaginext Space Ion Scorpion
Day 847: Fisher-Price Imaginext Space Ion Crab
Day 853: Fisher-Price Imaginext Space Alpha Blade
Day 954: Fisher-Price Imaginext Dinosaur Dimetrodon
Day 2,002: Fisher-Price Imaginext Series 10 Collectible Figures Spaceman & Alien
Day 2,014: Fisher-Price Imaginext Series 11 Collectible Figures X-Ray Man & Dog
Day 2,018: Fisher-Price Imaginext Series 11 Collectible Figures Radiation Man
Day 2,024: Fisher-Price Imaginext Series 11 Collectible Figures Triple Threat Snake
Day 2,032: Fisher-Price Imaginext Series 11 Collectible Figures M.U.S.C.L.E. Men
Day 2,036: Fisher-Price Imaginext Series 6 Collectible Figures Chicken Suit
Day 2,092: Fisher-Price Imaginext Series 11 Collectible Figures Fishbot
Day 2,096: Fisher-Price Imaginext Series 12 Collectible Figures Big Building Robot
Day 2,099: Fisher-Price Imaginext Series 12 Collectible Figures Clawtron
Day 2,100: Fisher-Price Imaginext DC Super Friends Batman & Swamp Thing Action Figures
Day 2,101: Fisher-Price Imaginext Series 7 Collectible Figures Buster of Ghosts
Day 2,102: Fisher-Price Imaginext Pirates Shark Minisub Figure with Vehicle
Day 2,103: Fisher-Price Imaginext Jurassic World Dr. Malcolm & Dimetrodon Action Figures
Day 2,104: Fisher-Price Imaginext Egypt Mummy Guards Action Figures
Day 2,108: Fisher-Price Imaginext Series 9 Mystery Figures Grim Reaper
Day 2,122: Fisher-Price Imaginext Series 6 Collectible Figures 4 Arm Alien
Day 2,133: Fisher-Price Imaginext Series 7 Collectible Figures Headless Horseman
Day 2,194: Fisher-Price Imaginext Series 9 Mystery Figures Yeti Snowboarder
Day 2,227: Fisher-Price Imaginext Series 9 Mystery Figures Shark Pirate
Day 2,239: Fisher-Price Imaginext DC Super Friends Slammers Arctic Sled with Mr. Freeze Set
Day 2,249: Fisher-Price Imaginext DC Super Friends Slammers Batmobile with Batman Set
Day 2,257: Fisher-Price Imaginext DC Super Friends Surround Sound Batcave Playset
Day 2,306: Fisher-Price Imaginext 20th Anniversary Figures Jett Cosmoblast
Day 2,312: Fisher-Price Imaginext 20th Anniversary Figures FP-636
Day 2,318: Fisher-Price Imaginext 20th Anniversary Figures Shackles McMatey
Day 2,449: Fisher-Price Imaginext Series 12 Collectible Figures Explorer
Day 2,464: Fisher-Price Imaginext Series 9 Mystery Figures Invisible Man
Day 2,468: Fisher-Price Imaginext Monsters Figure Pack
Day 2,487: Fisher-Price Imaginext Lightyear Hyperspeed Explorer XL-01
Day 2,522: Fisher-Price Imaginext Toy Story 4 Bunny & Buzz Lightyear