Refraktor
WFC-S36

Transformers Generations War for Cybertron Siege Deluxe
Item No.: Asst. E3432 No. E4497
Manufacturer: Hasbro
Includes: EMM Distortion Blaster, HPR Telefocal Shield, Bioscale Compression Rotor
Action Feature: Transforms from Robot to 33% of a camera that you can pretend is a space ship of some sort
Retail: $19.99
Availability: July 2019
Other: One for the price of three

PREVIOUS
RSS
NEXT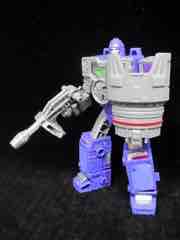 As something of a rarity in the line, Refraktor is the rare season one Decepticon that doesn't get a lot of toy love. There's the original toy from over 30 years ago, a tiny accessory from five years ago, the BotCon exclusives we shall not speak of, and now this guy. And he'll be followed by a three-pack with three unique robots. This one is just a single "clone" robot like on the original cartoon, with the additions of a blaster and a riot shield.
This figure is one of few "army builders" in the line of transforming toys. There aren't a lot of characters that warrant buying multiples for the purpose of filling out your ranks, with this specific Reflector update and Sharkticon Gnaw being members of a pretty short list. There were a few shots in the original cartoon with more than three of Reflector lined up, so you can reasonably buy three of this retail figure, the three-pack, and maybe more if you want. I'm not here to judge you.
The 5-inch robot feels small and lacks the gratuitous battle damage deco on earlier figures. It does have a few nice paint applications, like a chest that folds in on itself and a few stripes on the shield and legs. The relatively simple robot lacks a lot of kibble, and looks a lot like the animation model in most episodes of the series. It's a purple dude with grey limbs and a little helmet, complete with chest window. He has double-jointed elbows, swivel biceps, tilt ankles, and other surprising bits of articulation to make him feel like a nicely posable action figure. All the "ship" bits tuck in nicely, and you'll need to do some squinting and pretending to see its alt mode.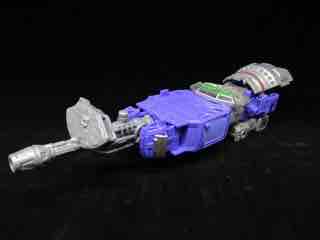 The transformations is pretty painless, but you'll want instructions. They're clearly fudging for an alt mode. This clearly should have been sold as a three pack from the outset, as the gun is 1/3 of the tripod and the shield is 1/3 of the lens. You're going to have to use your imagination to see them as satellite parts as you make a wonky futuristic remote control out of them all.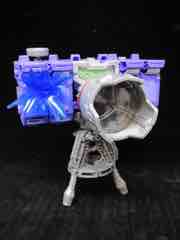 I appreciate the detail shoved in the weird vehicle mode, with landing skids and the folding-out robot chest adding some detail to an otherwise totally laughable alt mode. Whoever did this made something out of nothing - even the camera mode is something you'll need to use your imagination to fully see. It's cute, but I think Hasbro knows the score here. You need three of this guy if you want the camera mode, but you might also be better served buying the 3-pack for its extra parts and pieces.
I applaud Hasbro and Takara-Tomy for trying something different here. He's a small figure for a Deluxe, and it would have been nice to have some blast effects or something else ot plus up the small, relatively sparse figure. I planned on getting three from the word "go," and I'm not sure I truly need six figures based on this mold - but I'll probably have seven of the Siege Seeker mold before September so really, why am I complaining since this guy has pretty decent camera mode functionality? If you're a goofball who needs lots of robots, do yourself a favor and buy a set of three, or one of these and the upcoming three-pack. Owning only one of this mold is ultimately a waste of your time.
--Adam Pawlus
Additional Images

Click here to see more Hasbro figures in Figure of the Day.
Click here to see more Transformers figures in Figure of the Day.

Want to buy this figure? Check Transformers availability at our sponsors:
Entertainment Earth