Outlandish Mini Figure Guys Series 2
Cuddlehard, Cry-Borg, Puke Knight, Shirtle, Grimm Gourd

Outlandish Mini Figure Guys (OMFG) Series 2
Item No.: n/a
Manufacturer: October Toys
Includes: 5 figures
Action Feature: n/a
Retail: $10.00
Availability: December 2012
Other: Available in multiple colors, including Rotofugi's exclusive blue, UofMuscle's yellow, Little Rubber Guys' green, Kickstarter exclusive black, and Luke's Toy Store Gold

PREVIOUS
RSS
NEXT


About a year ago we got series 1 of this line, and now we've got Outlandish Mini Figure Guys Series 2. Five all-new figure sculpts are here, and mine just showed up last Friday. Last time the line kicked off with about five or six colors, and series 2 (so far) has something like 13 colors. Right now. You've got options. I decided to kick off with "flesh" and went ahead and got black through Kickstarter, the latter of which will likely remain packaged.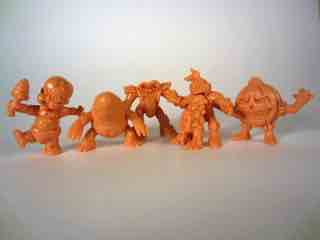 If you're new here, here's the skinny of what OMFG is and Kickstarter, too. Basically, a bunch of talented people on the October Toys forums said "let's make some figures!" And they designed a bunch of characters, voted on them, sculpted them, and prototyped the lot of them. At this point they go to a page called Kickstarter and say to you "Hey toy fan, pledge some money. If we reach our goal, we make these figures and your credit card gets charged. You'll get your figures in a few months. If we don't reach the goal, it costs you nothing." Since the October Toys folks have a good rep, it's hard to say no to them. They're nice people. So I kicked in $25 and got a box with a flesh color set, a black plastic set, a sticker, and two business cards. That includes shipping in the USA. Individual sets of 5 are (usually) $10, but price varies according to who's selling it to you. Series 2 is so new you probably won't see basic flesh in stores for at least a few weeks.
Series 3 is already in the works, the figures have been selected and those are coming... uh... soon. I don't know when. But the voting is done and now we're just waiting to see a kickstarter announcement, for now you can buy series 1 or 2. Let's look at series 2. (Fair warning, there's a strong smell absent from series 1 on these guys. It's not terrible. But it's hard to miss.)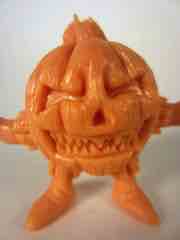 Easily the sharpest sculpt in the set, Grimm Gourd, designed by Greg Merrighn Jr., Monsterforge, and Mike Fleming Jr. worked on this one. At about 1 3/4-inches, this chubby figure is has a fangly grin, creepy eyes, arms and legs breaking out of the pumpkin shell, and a little stem for "hair." The texture is really something, and the figure has a lot of personality. I assume it was made (and selected) as it is effectively a mascot for October Toys as a little pumpkin appears on their packaging, but even if it wasn't, it's still a solid figure.
An orange color is not available at this time but is probably coming as an Artist's Proof figure later. (It happened with series 1.) As a one-color little plastic figure, it's worth mentioning that this guy begs to be painted. The eyes and mouth would probably benefit from a little color, if you have that level of skill to apply paint. I don't. While many of the figures feel like a throwback to smoother, simpler 1980s sculpts Grimm Gourd's detail feels very modern and it's a high-quality little dude. You'll like it.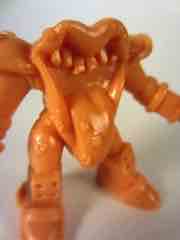 The other "mascot" figure is turboPISTOLA's swell Cuddlehard, another example of a figure exceeding its mandate. It's pretty neat, and a fine example of the kind of quality of figure I was hoping to see. Were it not for the lack of articulation, this figure is practically an original 1980s Battle Beasts toy. It's almost heartbreaking that it doesn't have shoulder joints and open hands, it's just so amazingly old-school that I almost feel like I should be able to move his arms when I look at it. The armor detailing on the kneepads is perfect, the warts on the lips and tongue are... I don't know what to say here. STI-esque? They're gross. As a 3D incarnation of the line's mascot, it turned out great and for some reason, he's wearing a belt. This one feels like it's on its way to becoming a small action figure, and if they ever do a "deluxe" take on this guy I'd buy it.
Like Grimm Gourd, he begs to be painted. The mouth, teeth, and tongue are sculpted in such a way that each element really pops. The light dances off the teeth just right to make them really stand out from the rest of the mouth, although I bet you can thank the color of plastic as much as the sculpt for that one. It's worth noting these fleshy series 2 figures are a little less pink and a little more shiny than their series 1 counterparts, but it's not like it's distractingly different.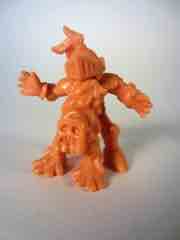 A leftover concept from series 1's entries, the descriptively named Puke Knight is two whole figures. Really! Jared "RedJaroJam" DeCosta submitted this one for the first batch and after some refinements, we now have him. Er, them. Each figure can stand alone, with the knight at a hair under 2-inches tall and the puke being about 1 1/4-inches tall. They fit together, but not securely-- one stands in front of the other, and they can touch but don't exactly connect. There's no fit or joint here, they just stand nicely next to one another to create the illusion of a vomiting knight. This allows you to swap vomit between colors, so if you get a green Puke Knight, you can give him green puke. Sexy!
The sculpt is good, with the puke being bulbous streams of barf. It's oozy and gross, a really good fit for a 1980s-minifigure line. The barf stands on his hands and is sculpted all over. If you look at his backside, it's still pretty nasty in there. His teeth and what are basically eye holes are visible as well, giving the figure as much personality as you've ever seen in fake vomit. The knight part is similarly well detailed, with no shortcuts. The "chin" of the helmet is missing so the puke can be fitted in there, but other than that he's fully sculpted. There's a nice plume on the top of his head, swell gloves, and even a little cross hidden behind the puke piece. I don't think any other figure in this series better captures that wonderful "gross" aesthetic of 1980s boy's toys, so this double figure really hits all the right notes. The fact that you get two figures for the price of one is a nice bonus.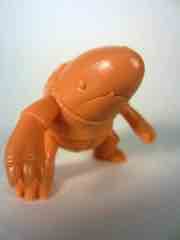 From Kenjitron (and sculpted by George Gaspar) Shirtle is pretty adorable. It looks like his arms are separate glued-in pieces, and this wide figure stands 1 1/3-inches tall. Like Stroll, the adorable little guy begs to be customized. You see, Shirtle has a t-shirt, and while it's a little small you could probably decorate it pretty nicely. The figure's smooth sculpt goes beyond the solid concept of "shirt-wearing turtle" to add a few other details like a bandage on hits face, a shark's fin, and a very Jaws-esque mouth design.
The decision to have a shark's fin pop out of the turtle shell was a good one, although it does blur the nature of the creature a little bit. It's as much of a land shark in a shell as it is a turtle, and his big, wide arms have claws and fairly smooth skin. I like this one. It's a keeper.
Last and certainly not least is Cry-Borg, the #1 vote-getter from round 2. Standing on one foot, this precariously balanced big-headded baby holds a rocket rattle and is covered in armored plating. Also, his belly button is an "outie." Designer Andrew "RuFuS" Scribner did a nice job here, I continue to be amazed that he can stand on one foot. Granted I'm writing this about five or so hours after it got dropped off, but still. Usually I get pretty jaded in those first ten minutes.
The 1 3/4-inch toddler is mostly smooth, with a few ridges and plates in there for maximum robocity. The feet have robotic joints sculpted on them, and his soles are both textured. This is unusual, all the other OMFG releases have completely flat feet with no detailing. Other notable details include a hinged jaw, a baby bottle backpack, and a trapdoor on the back of his diaper for, uh, letting loose I suppose. He has an added robotic eye and an evil glare, making this yet another winner in an already great toy line.
I didn't vote for any of these guys (I picked a few non-winners) but I have to say I love how they all turned out. I'm worried that I might just be so in love with the concept that I may not be judging these fairly, but $10 for 5 low-run "indie" mini-figures seems like a good deal, and the quality of each is certainly worth $2 per.
OMFG likely remains the gold standard of mini-figure fun for another year just due to its diversity and its decision to adhere to the old expression "always leave them wanting more." As I said last year, my only real gripe about these guys is the irregularity of the releases. Or maybe it's the regularity. I got 5 at the top of 2012, and now I got 5 at the top of 2013. What would it take to convince October Toys to do a "Trash Can" like the original MUSCLE line, or a boxed set of maybe 10-15 figures? At $2 per figure I'm getting my money's worth. I like SLUG Zombies, but I love OMFG.
--Adam Pawlus
Additional Images

See more October Toys in Figure of the Day:
Day 315: October Toys Outlandish Mini Figure Guys (OMFG) Series 1 Minifigures
Day 481: October Toys Outlandish Mini Figure Guys (OMFG) Series 1 Glow in the Dark Minifigures
Day 494: October Toys Zillions of Mutated Bodies Infecting Everyone (ZOMBIE) Series 1 Neon Orange Minifigures
Day 570: October Toys Outlandish Mini Figure Guys (OMFG) Series 2 Minifigures
Day 590: October Toys OTMF Baby Deadbeet Mini-Figure
Day 751: October Toys Zillions of Mutated Bodies Infecting Everyone (ZOMBIE) Series 1 Blue Glow in the Dark Minifigures
Day 775: October Toys Outlandish Mini Figure Guys (OMFG) Series 3 Minifigures
Day 813: October Toys OTMFG Zombie Pheyden Mini-Figure
Day 885: October Toys OTMFG Brocotal Mini-Figure
Day 909: October Toys OTMF Glow in the Dark Toy Break Mini-Figure
Day 929: October Toys OTMFG Flesh 3DRetro Robot Mini-Figure
Day 943: October Toys OTMFG Glow in the Dark Baby Deadbeet Mini-Figure
Day 1,113: October Toys OTMFG Glow in the Dark Brocotal Mini-Figure
Day 1,142: October Toys Outlandish Mini Figure Guys (OMFG) Series 2 Glow in the Dark Minifigures
Day 1,184: October Toys Skeleton Warriors Bone Titan Skeleton Action Figure
Day 1,191: October Toys Skeleton Warriors Baron Dark Action Figure
Day 1,214: October Toys Skeleton Warriors Glow-in-the-Dark Titan Skeleton Action Figure
Day 1,300: October Toys Outlandish Mini Figure Guys (OMFG) Series 4 Minifigures
Day 1,261: October Toys October Toys Mini Figure Guys (OTMFG) Brainwaves Minifigures
Day 1,547: October Toys October Toys Mini Figure Guys (OTMFG) Glow-in-the-Dark Mini Gwin Minifigure
Day 2,324: October Toys Outlandish Mini Figure Guys (OMFG) Series 3 Glow-in-the-Dark Minifigures

See more Outlandish Mini Figure Guys (OMFG) in Figure of the Day:
Day 315: October Toys Outlandish Mini Figure Guys (OMFG) Series 1 Minifigures
Day 481: October Toys Outlandish Mini Figure Guys (OMFG) Series 1 Glow in the Dark Minifigures
Day 570: October Toys Outlandish Mini Figure Guys (OMFG) Series 2 Minifigures
Day 775: October Toys Outlandish Mini Figure Guys (OMFG) Series 3 Minifigures
Day 909: October Toys OTMF Glow in the Dark Toy Break Mini-Figure
Day 1,142: October Toys Outlandish Mini Figure Guys (OMFG) Series 2 Glow in the Dark Minifigures
Day 1,300: October Toys Outlandish Mini Figure Guys (OMFG) Series 4 Minifigures
Day 2,324: October Toys Outlandish Mini Figure Guys (OMFG) Series 3 Glow-in-the-Dark Minifigures