Horroscope
The Woman from Saturn

Outer Space Men Alpha Phase San Diego Comic-Con Exclusives
Item No.: n/a
Manufacturer: Four Horsemen
Includes: Helmet, staff, ray gun, bent arms
Action Feature: Rotating tentacles on multi-piece head
Retail: $60.00 (sold as a set with Colossus Rex and Ohproatem)
Availability: July 19, 2013
Other: The First Glyos-Compatible Horroscope

PREVIOUS
RSS
NEXT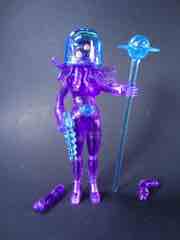 While Terra Firma was forged from the stuff dreams are made of, Horroscope is more on the nightmare side. The head was originally designed for a male variant of Xodiac, which probably would be a lot less sexually confusing for any young men who stumble on this one in their dad's collections. (Generally speaking, if you see something involving large breasts and tentacles, these elements are not on the same person. Or so I've been told.)
Horroscope's construction is basically Terra Firma, with a couple of exceptions - the belly jewel now looks like Saturn, the head is different, and her upper-torso has a neck rather than the bottom portion of a helmet. As such, the torso is currently unique to this character. Articulation is the same as the others - 13 joints - and the parts are all swappable at each joint. If you want orange limbs, you can swap them out with Terra Firma's thanks to the Glyos system.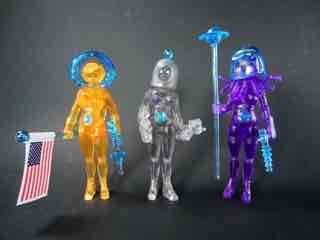 As with the other ladies, her range of motion is limited by the hip joints - she can sit, but it's at a roughly 135-degree angle. This means she can sit in some toy vehicles, but not all. It's a shame, a little freedom on the hip joint would allow this 3 3/4-inch space lady to fit inside countless vehicles from other toy lines rather than leaving her as basically shelf candy. She looks great - huge orange eyes peer from behind an icy blue helmet, with the aforementioned Saturn symbol poking out of her belly. The color here works better than on most figures, as the eyes are nice and big rather than tiny dots which get absorbed by the plastic.
If you care for such things, the figure's head can be swapped for Xodiac's, allowing you to customize a male version of the character. It's not a perfect fit either way, but it's close enough that I suspect a few customizers out there probably have some pretty awesome designs by now.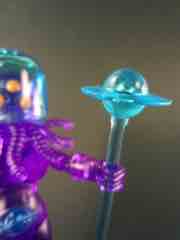 If the Four Horsemen stick to tradition, we'll have one or two more flavors to go before the end of the year. An all-white Horroscope was sold at New York Comic Con, and a fully-painted one is expected in the next few months. Tradition also dictated a Galactic Holiday edition figure with chrome accessories, but we're seeing some adjustments made to the release schedule and to the products so it's possible that release pattern may be changed from here on out. She's a unique figure - seriously, you won't ever see anything else like it - so grab her in purple or wait for a color that's more your speed. The fully-painted one has an orange suit and a blue head, and is just as terrifying. At this rate it's possible this could be the only clear version, but I'd bank on another before the end of the year. If you're collecting this line, get this figure - even though she's not a remake of a classic 1960s space alien, I sincerely doubt you have anything else quite like her in your toy collection today.
--Adam Pawlus
Additional Images
Additional Outer Space Men 2013 Alpha Phase SDCC Exclusive Images
| | |
| --- | --- |
| | |
| | |
| | Note: at SDCC 2013, the figures were packaged and distributed in the swapped boxes - so Gamma X, Jack Asteroid and Terra Firma came in a box with the characters Ohprometam, Colossus Rex, and Horroscope pictured on the front and vice-versa. |

Click here to see more Four Horsemen figures in Figure of the Day.

Click here to see more Outer Space Men figures in Figure of the Day.

Click here to see more Glyos Compatible figures in Figure of the Day.