Zombie Pheyden
Designed by Matt Doughty/L'amour Supreme, Sculpted by George Gaspar

OTMFG Mini-Figures
Item No.: n/a
Manufacturer: October Toys
Includes: n/a
Action Feature: n/a
Retail: $2.00
Availability: October 2013 (Kickstarter supporters)
Other: Available in "Flesh," "Gold," and "Black" so far

PREVIOUS
RSS
NEXT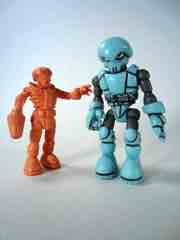 Mine came for free from Kickstarter. Fun fact - Zombie Pheyden, based on Matt Doughty's Glyos figure Pheyden, was shown at Comic-Con a couple of years back as part of Z.O.M.B.I.E. series 2. For whatever reason the series was sadly abandoned, but its most shining star was saved from oblivion earlier this year. The 2 1/8-inch figure comes up to a Glyos Pheyden figure's shoulders, and has no articulation.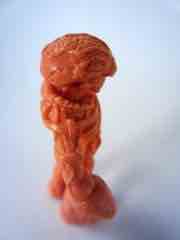 Rather than just translate a normal Pheyden with some gore, the Gaspars cranked out a fun variation with a phase arm on his right fist. The figure is generally similar to the original Pheyden's form with a knobby knee, big boots, and the unmistakable hands with its proportions adjusted slightly.
The character of Pheyden is something of a mystery, and this interpretation shows us that his head isn't a helmet but is the actual organism. We can see some meat inside his head, and the face has some decay that reveals his teeth. Little cracks in the armor give way to a chunk of his body being gone, showing everybody Pheyden's skeleton and a few wormlike entrails. Gross.
The figure has no problems standing, but that's all that he can do. Compared to other OMFG, OTMFG, and OTMF releases he's one of the tallest. Also, grossest.
I like this figure because it's rare that we see interpretations of indie figures from other lines, and I'd love to see other three-dimensional takes on Pheyden from other sculptors. If you collect Glyos and OMFG figures, this is arguably the greatest thing ever. I still can't get over how cheap these are - at two bucks a whack, it seems like it wouldn't even be worth October Toys' while to send them out. But they do, they're neat, and I'll keep buying them as long as they're interesting. There are few toy lines with a large cast like October Toys' Mini-Figures, so I don't imagine getting bored any time soon.
--Adam Pawlus
Additional Images

See more October Toys in Figure of the Day:
Day 315: October Toys Outlandish Mini Figure Guys (OMFG) Series 1 Minifigures
Day 481: October Toys Outlandish Mini Figure Guys (OMFG) Series 1 Glow in the Dark Minifigures
Day 494: October Toys Zillions of Mutated Bodies Infecting Everyone (ZOMBIE) Series 1 Neon Orange Minifigures
Day 570: October Toys Outlandish Mini Figure Guys (OMFG) Series 2 Minifigures
Day 590: October Toys OTMF Baby Deadbeet Mini-Figure
Day 751: October Toys Zillions of Mutated Bodies Infecting Everyone (ZOMBIE) Series 1 Blue Glow in the Dark Minifigures
Day 775: October Toys Outlandish Mini Figure Guys (OMFG) Series 3 Minifigures
Day 813: October Toys OTMFG Zombie Pheyden Mini-Figure
Day 885: October Toys OTMFG Brocotal Mini-Figure
Day 909: October Toys OTMF Glow in the Dark Toy Break Mini-Figure
Day 929: October Toys OTMFG Flesh 3DRetro Robot Mini-Figure
Day 943: October Toys OTMFG Glow in the Dark Baby Deadbeet Mini-Figure
Day 1,113: October Toys OTMFG Glow in the Dark Brocotal Mini-Figure
Day 1,142: October Toys Outlandish Mini Figure Guys (OMFG) Series 2 Glow in the Dark Minifigures
Day 1,184: October Toys Skeleton Warriors Bone Titan Skeleton Action Figure
Day 1,191: October Toys Skeleton Warriors Baron Dark Action Figure
Day 1,214: October Toys Skeleton Warriors Glow-in-the-Dark Titan Skeleton Action Figure
Day 1,300: October Toys Outlandish Mini Figure Guys (OMFG) Series 4 Minifigures
Day 1,261: October Toys October Toys Mini Figure Guys (OTMFG) Brainwaves Minifigures
Day 1,547: October Toys October Toys Mini Figure Guys (OTMFG) Glow-in-the-Dark Mini Gwin Minifigure
Day 2,324: October Toys Outlandish Mini Figure Guys (OMFG) Series 3 Glow-in-the-Dark Minifigures

See more October Toys Mini Figures (OTMF) and October Toys Mini Figure Guys (OTMFG) in Figure of the Day:
Day 590: October Toys OTMF Baby Deadbeet Mini-Figure
Day 813: October Toys OTMFG Zombie Pheyden Mini-Figure
Day 885: October Toys OTMFG Brocotal Mini-Figure
Day 909: October Toys OTMF Glow in the Dark Toy Break Mini-Figure
Day 929: October Toys OTMFG Flesh 3DRetro Robot Mini-Figure
Day 943: October Toys OTMFG Glow in the Dark Baby Deadbeet Mini-Figure
Day 1,113: October Toys OTMFG Glow in the Dark Brocotal Mini-Figure
Day 1,261: October Toys October Toys Mini Figure Guys (OTMFG) Brainwaves Minifigures
Day 1,547: October Toys October Toys Mini Figure Guys (OTMFG) Glow-in-the-Dark Mini Gwin Minifigure