Gemini
The Man from the Twin Star Algol

Outer Space Men Galactic Holiday 2012 Exclusive
Item No.: n/a
Manufacturer: Four Horsemen
Includes: Ray gun, staff (with helmet and head), alternate arms, twin helmets
Action Feature: n/a
Retail: $50.00 (sold as a set with red Cyclops and blue Orbitron)
Availability: December 2012
Other: Third release of Gemini in this line, accessories come in green or red

PREVIOUS
RSS
NEXT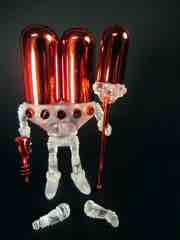 I personally do not.shtmlire to collect clear colorless action figures (or white plastic ones) due to how they sometimes age, so I got Gemini as part of a set. And it's really pretty, so I'm keeping it out of the sunlight in hopes it'll stay clear and colorless for years to come. Sometimes these plastics discolor, although it seems my few Glyos figures are crystal clear so far.
Like the other 2012 Galactic Holiday figures, this oddly came mint with package. The figure itself came in a sealed clear unmarked plastic bag, with a clear unused ziplock bag plus header and backer cards. Usually the Four Horsemen ship out fully assembled product, so this was a surprise. I don't much mind as I open everything, so having mint, flat unused packaging is more exciting than having to pull some staples out of a bag and then decide if it's worth hanging on to the cards or not. Also, it's a fun bit of trivia to write about because after 50 of these damn things there's so little different you can say. This is the third of (so far) four Gemini figures, and it's nice to see that the vac metal gear does bring it some new life. It looks like he's wearing energy drink cans on his head, and I like that.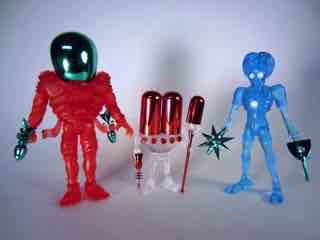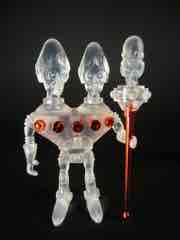 As with before, the figure has about 9 points of articulation, counting the double neck joints. Each head sits on a sort of a saucer on the neck, which adds no real additional movement but it looks pretty cool. Also, the red circles are fully removable pieces connected by Glyos pegs, but I haven't had the guts to sacrifice my thumbs to pop them out. I love the light blue eyes on the clear faces, as it looks wonderful in a well-lit area with a dark backdrop.
For those keeping tabs, this figure brings your clear colorless Outer Space Men collection to three figures. So if this is your thing, there are matching aliens in Xodiac and Electron+. Also, fans of dork lore may be amused that Gemini comes from a planet near Algol, the Demon Star. (A very real star, with no real demons.) The name is taken from the Arabic and more or less translates to "ghoul," and also has a similar name to the Batman villan Ra's al Ghul whose name translates to "Demon's Head." That was fun. See, we all learned something.
For those with more money than varied interests, this is a great figure to add to your collection. The price was acceptable and the deco is pretty good, all things considered. I sort of wish they would drop the "holiday" conceit and just do whatever color strikes their fancy, but these guys don't look half bad. Citizens of the future: I'm writing this before the delivery of my painted Gemini, so I'm saving more comparison photos for that review. I won't say this is my favorite release of the mold so far, but it's pretty good. The clear yellow and orange are slightly more fun, but the vac-metal red pieces really pop against the clear plastic... so I guess just go ahead and buy them all. Supposedly the edition sizes for the bulk of these guys are in the low hundreds, so you'll be one of the few people with a complete set anyway.
--Adam Pawlus
Additional Images

Click here to see more Four Horsemen figures in Figure of the Day.

Click here to see more Outer Space Men figures in Figure of the Day.

Click here to see more Glyos Compatible figures in Figure of the Day.