Zecora
Exclusive to Toys R Us, sold by Entertainment Earth at Comic-Con

My Little Pony Friendship Is Magic Toys R Us SDCC Exclusive
Item No.: No. A0964
Manufacturer: Hasbro
Includes: Horse
Action Feature: n/a
Retail: $10
Availability: July 2012
Other: Glows in the Dark

PREVIOUS
RSS
NEXT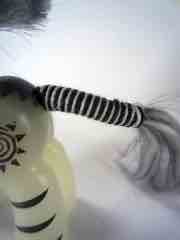 Fun story: as a kid I had a few My Little Pony toys, because as a child of the 1980s I asked for (and in some cases, got) a bunch of stuff. I haven't really seen any of Friendship Is Magic and I only got Zecora here in a goodie bag, which came from a cohort who had no real use for the bulk of the items in it. I figured I'd keep it, because glow in the dark is always yes. Hasbro rarely makes glow in the dark toys these days, and based on conversations I've had with them it seems to be something of an internal stigma - they see glowing toys as a bit of a cop-out, from a few random conversations I've had over the past fifteen years. It does not appear to be a championed feature.
Zecora blew through the Entertainment Earth booth at Comic-Con (as that's how Toys R Us sells their exclusives at the show), and it seemed to do quite well after the show - it was pretty expensive on eBay until the price dropped after the show's buzz and heat finally wore off. The toy itself is nothing spectacular, but if you collect ponies or enjoy glowing toys I think it's right up your alley. With her considerable mane, the figure is about 4-inches tall - not counting the rooted hair, it's closer to 3-inches tall. Her only moving part is her head, which is a swivel joint at the neck.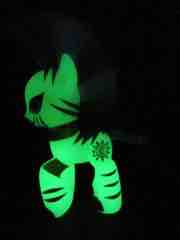 The figure is a basic, more or less plain pony body in glowing plastic with painted jewelry. A mini-figure version of the figure had fully-sculpted earrings and other elements, so this figure's most distinctive non-deco elements are the braided tail and striking, severe haircut. The deco is sharp, with grey stripes on her skin, and a tri-color eye that just turned out perfectly. Her "cutie mark" is a sun design that looks like it came out of The Lion King, although for all I know it's based on an actual African symbol and I'm just an idiot.
For $10, this was a great little convention exclusive - it's cute, you'll like it. At $20-$30, I'm not sure I'd be quite as enthusiastic - but I'm glad I have her, and while I could've dumped her on eBay I didn't feel like parting with her. As someone who mostly collects male action toys, this is definitely a departure for me - but I like it, and I don't suspect it will make me chase down other pieces but I don't think I'd turn them down if they show up. Did you know there's an Andy Warhol-inspired Pony? The people behind this line and its TV show are incredibly clever people who know how to grab the attention of parents as well as kids.
--Adam Pawlus
Additional Images

Click here to see more Hasbro figures in Figure of the Day.
See more My Little Pony figures in Figure of the Day:
Day 752: My Little Pony Friendship Is Magic SDCC Exclusive Glow in the Dark Zecora Figure

Want to buy this figure? Check My Littly Pony availability at our sponsors:
Entertainment Earth