Combat Hero Optimus Prime
Shared Online Exclusive

Transformers Generations Ultimate Gift Set
Item No.: No. A1069
Manufacturer: Hasbro
Includes: Sword, Thundercracker, Motorbreath, Autobot Jazz
Action Feature: Transforms into Unmade Truck
Retail: $29.99
Availability: October 2012
Other: Repainted 2011 Reveal the Shield Optimus Prime

PREVIOUS
RSS
NEXT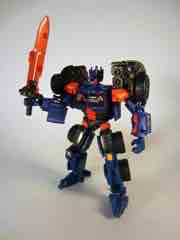 Originally released in 2011 in a different paint job, Combat Hero Optimus Prime pulls double-duty as an update of a never-released toy of the same name and as a redeco of the resculpt of Laser Optimus Prime, arguably the most beloved toy of anyone who bought Transformers in the 1990s. Have I lost you yet? I hope not.
So this new toy is a shared online exclusive, and it's a resculpt in spots. The shoulders lost a few nasty tabs which got in the way of posing the figure, so in many respects it's an improvement over the 2011 mold. The deco is unreal, throwing out vague connections to a hybrid G2/movie deco and bringing in something almost wholly Generation 2 with a G1 symbol and circuit design on the windshield for no readily apparent reason, plus G2 sigils on the doors. Brilliant.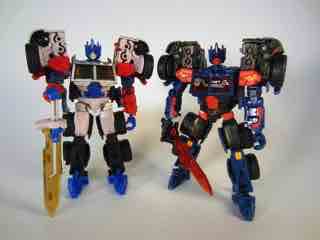 The figure is a mix of blue and red, a stark contrast from early photos which showed Optimus with a silver face plate. It's red this time, and his dark blue head with dark red eyes make him seem almost eyeless. Added black paint around the eyes adds to the illusion, making this "combat hero" pretty creepy and vaguely evil looking. He has some bright orange inside his red shoulders, and the figure has a little brightness sprinkled liberally on his person. There's a little silver on his head, too, but on the whole he's pretty much red and blue. Articulation is strong, with roughly 18 points of articulation.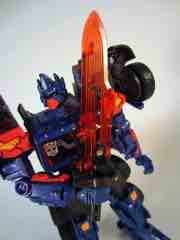 This time around, his sword is a delightful clear red with a dark handle. The previous version of this mold in the USA had an orange one, and in Japan it was blue. Oh, and there are other redecoes of this mold as well... BotCon/Transformers Collector's Club made Shattered Glass Ultra Magnus, Shattered Glass Optimus Prime, and will make Scourge using the same mold. I think at some point Hasbro just gave up on making good repaints for Walmart exclusives, which is a shame because at $10-$20 each I'd buy all of these.
And once you truck yourself, the vehicle has rolling wheels that more or less roll nicely. The grille is clear red, as are the headlights, so really any attempt to make a realistic truck were mercifully chucked out the window. It's meant as an update of an ugly, unreleased toy and that's why I think it's worth getting. The truck looks great, if a little fantastical.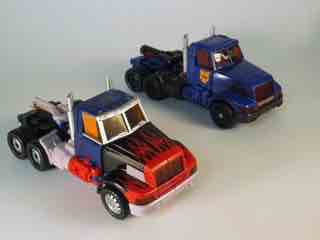 This figure fixes many problems I had with the original release, as it seems the transformation is less wonky, the range of movement is better, and (so far) the sword doesn't seem to stress the figure's hands. I'm also not ashamed to say I'll buy anything G2 if the price is right. For what this costs (particularly as Amazon prices were in flux) it's pretty good, if by any chance you can get the boxed set for $20-$25 you really owe it to yourself to do so. I only wish Hasbro applied new, unique paint jobs to the Legends-scale figures in this set so it'd be the best thing ever instead of just a pretty good thing for the price.
--Adam Pawlus
Additional Images
Additional Hasbro Transformers Generations Shared Exclusive Ultimate Gift Set Images

Click here to see more Hasbro figures in Figure of the Day.

Click here to see more Transformers figures in Figure of the Day.

Want to buy this figure? Check Transformers availability at our sponsors:
Entertainment Earth