Nano Shell Iron Man
Suitcase Armor, But Browner

Iron Man 3 Basic Figures
Item No.: Asst. A4081 No. A4074
Manufacturer: Hasbro
Includes: 2 Arm-Mount Blasters
Action Feature: n/a
Retail: $5.99
Availability: August 2013
Other: Cheep

PREVIOUS
RSS
NEXT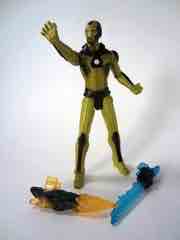 I was really excited to see Nano Shell Iron Man showing up in stores, until I got a close look at it. I like it, but the paint job tended to be a little sloppy - so it took a few weeks before I found one with what I would consider to be above-average paint. The bright lights of Walmart make it pretty obvious when there's excess splatter.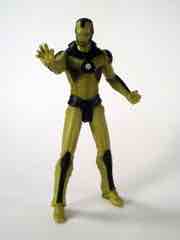 The five-jointed figure is marked 2013, so I assume it's a new sculpt - it doesn't seem to be packed in with any existing vehicles, but it is inspired by the Mark V Suitcase Armor from Iron Man 2 in its overall look and feel. While the figure's various repulsors are undecorated, he is in a nifty action pose with one fist and one hand extended out. The legs are more or less posed in an inactive manner, with lots of sculpted panels to resemble that previous movie design in nearly everything but color.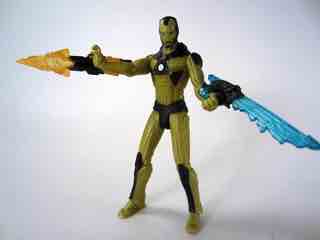 For whatever reason, this 4-inch scale figure is a golden brown color with dark grey, almost black highlights. A white ARC reactor and eyes give this figure some nice personality, and the black outline around the eyes does wonders in making the figure look a little more expensive. It's a good one.
I assume most people will whine about how it's not from the movies and it's some made-up weirdness, but I grew up with Tec Shield Batman and I go for this kind of thing sometimes. The made-up whimsy of the designers works well here, with the "fire" and "ice"-themed blasters adding more personality to the figure. The energy blasts barely fit right, but they look cool and made me want to buy this figure when I saw it in the stores. I'm glad I did - he can't sit very well, but the design stands well and looks good on my desk. Get one if you are so inclined!
--Adam Pawlus
Additional Images


Click here to see more Hasbro figures in Figure of the Day.
See more Iron Man figures in Figure of the Day:
Day 4: Hasbro Iron Man 2 Iron Man (Blast-Off Figure Stand) Action Figure
Day 34: Hasbro Iron Man 2 Iron Monger (Comic Series) Action Figure
Day 55: Hasbro Iron Man 2 Iron Man (Original) Action Figure
Day 60: Hasbro Iron Man 2 Iron Man Silver Centurion Action Figure
Day 70: Hasbro Iron Man 2 Deep Dive Armor Iron Man
Day 75: Hasbro Iron Man 2 Hulkbuster Armor Iron Man
Day 84: Hasbro Iron Man 2 Comic Series War Machine
Day 115: Hasbro Iron Man 2 Comic Series Guardsman
Day 124: Hasbro Iron Man 2 Movie Series Iron Man Mark V
Day 154: Hasbro Iron Man 2 Movie Series Iron Monger
Day 209: Hasbro Iron Man 2 Comic Series Iron Man #30 Action Figure
Day 249: Funko Marvel Universe Pop! Vinyl Iron Man Vinyl Figure Bobble Head
Day 652: Hasbro Iron Man 3 Assemblers Iron Patriot
Day 702: Hasbro Iron Man 3 Assemblers Striker Iron Man
Day 703: Hasbro Iron Man 3 Assemblers Ghost Armor Iron Man
Day 747: Hasbro Iron Man 3 Assemblers Crosscut Iron Man
Day 773: Hasbro Iron Man 3 Nano Shell Iron Man
Day 812: Hasbro Iron Man 3 Strike Eagle Iron Man
Day 872: Hasbro Iron Man 3 Marvel Legends Iron Man Mark 42
Day 878: Hasbro Iron Man 3 Marvel Legends Iron Monger
Day 1,011: Hasbro Guardians of the Galaxy Marvel Legends Infinite Series Iron Man
Day 1,021: Hasbro Iron Man 3 Marvel Legends Heroic Age Iron Man
Day 1,094: Hasbro Iron Man 3 Marvel Legends Lieutenant Colonel James Rhodes
Day 1,484: Hasbro Captain America Civil War Spider-Man, Captain America, and Iron Man Action Figures
Day 2,438: Hasbro Marvel Iron Man Action Figure
Day 2,516: Hasbro Marvel Legends 375 Iron Man Action Figure
Day 2,536: Hasbro Marvel Legends 375 Iron Man (Stealth Armor) Action Figure

Want to buy this figure? Check Iron Man availability at our sponsors:
Entertainment Earth