Glyan Squad Verihex
Mean, Green

Custom Action FIgure
Item No.: n/a
Manufacturer: Seth Longmire
Includes: Alternate head, blaster
Action Feature: Take apart, swap limbs
Retail: n/a
Availability: October 2011
Other: Small, Fun, You Can't Get One

PREVIOUS
RSS
NEXT

Welcome to day #600! Let's look at the Glyan Squad Verihex figure, which is an edition size of (I believe) five. In a series of back-and-forthings and trades, this nifty release found its way into my toy shelves and stands next to my other Glyos figures. The creator's blog is here if you want to read that. The creator has done numerous Glyos customs, including a matching Armodoc and several light-up pieces. Neat stuff. If you have the chance, grab one. Matt Doughty's Glyos line is unique in that it's super-limited and a big chunk of it is sacrificed to provide the canvas to the creativity of others, which is what makes some of these guys even more special. Something really awesome ceased to be so that this could happen.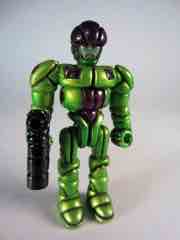 This Glyan was a repainted white figure, covered lovingly in Monster Kolor paint and sealed so the whole thing has a weird, shiny, and expensive look. It's really amazing to see what the right paint can do to a figure, a $8 figure that's perfectly nice has been transformed something that, were it sold for $28 and had Japanese on the box, would be considered a bargain. The metallic green figure has a head that sports a blue face and red eyes, with tiny little details which were hand-painted and look pretty great. I'm not just saying this because the creator is going to read this, but it's pretty stunning to see this up-close under the unforgiving lights of the room in which I crudely snap photographs for this column.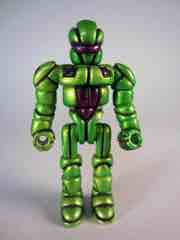 Since Monster Kolor is not known for being a kid toy-friendly paint, I don't play with this one much. He hangs out with my other Glyos figures, and the other head looks really sharp. Purple highlights bring the guy to life, and he has lines throughout his being. It's an interesting mix of color which rides the line between something Onell Design might do mashed up with what the designer vinyl and Kaiju people might crank out. It's sharp, and seeing this rich, metallic paint on a plastic figure is sort of sobering. The big guys could paint their figures to add a sense of value (or expense) to a toy much like we saw in Takara's BinalTech Transformers range (and like we didn't see in Transformers Alternators), although this sort of thing seems like it misses the point for an Onell Design mass release. For a limited run or custom, it's gorgeous though.
This is one of the many figures from the Glyos line which I do not feel I properly display. This sort of thing needs a well-lit all-white room which, I think, doesn't exist outside THX-1138 or whereever it was Q took Picard to in "Tapestry." Anyway, it's awesome, I dig it, thanks for reading our first 600 columns! Or some of them, at least.
--Adam Pawlus
Additional Images

See more homebrew and hand-molded toys and figures in Figure of the Day:
Day 68: Sucklord Glyos-Compatible Sucklord Grey Helmet Head
Day 255: 1SHOT Toys Glyos-Compatible He-Man Thermal Color Change Head
Day 512: The GodBeast Customs Glyos Dark Purple Crab Head Glyos Accessory
Day 532: The GodBeast Customs Glyos Green CyberGator Head Glyos Accessory
Day 555: The GodBeast Customs Glyos Green Glyos-Compatible Skull Head Glyos Accessory
Day 600: Seth Longmire Custom Glyos Glyan Squad Verihex Action Figure
Day 657: The GodBeast Customs Glyos Grey CyberRhino Head Glyos Accessory
Day 700: Elly Font Art Elephant Magnets Overview
Day 889: TheGodBeast Customs Glyos Red Sharkorvor Head Glyos Accessory
Day 1,597: The Octavirate Forge Shapeways Botcon Laser Rod Electrons/Electro 4.5mm Sword
Day 1,601: The Octavirate Forge Shapeways NES Inspired Zapper Gun 5mm Grip

Click here to see more Glyos Compatible figures in Figure of the Day.