Naspoth Sarvos
Maroon and Pink

Glyos Action Figures
Item No.: n/a
Manufacturer: Onell Design
Includes: Bonus surprise Phanost head
Action Feature: n/a
Retail: $8.00
Availability: December 12, 2012
Other: The One You Regret Not Buying

PREVIOUS
RSS
NEXT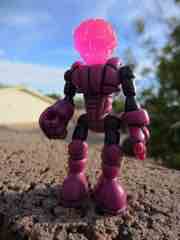 It's pretty interesting to watch Onell Design's marketing, as they put out some pretty gorgeous comics featuring toys which have already sold out. It's brilliant but also frustrating, as you read something like The Council of Travelers which tells you that the figures you ordered were the wrong ones and what you really wanted was Naspoth Sarvos. Who knew?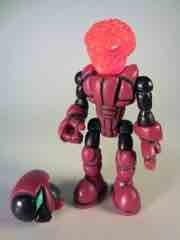 Sarvos figure deco has been improving as of late, and this one pretty much is about as good as they get. The figure has a light torso and hands, with dark thighs and biceps. The big surprise comes from the comics, in which "Naspoth" is revealed to be another character "Phanost," whose real head is under a cracked Sarvos helmet. (Someone did a nice custom of this.) If you aren't pretty hardcore into Glyos, you probably don't know who the heck is who, as the story can be a little tricky to decipher as nobody has published an easily-procured Bathroom Reader Guide to the Glyos Universe yet (although I'd take that job). What matters is that they toy turned out pretty well.
Oh, and I should also point out that in the comic "Naspoth" combined with the Rig Killer Argen MK VII. Argen's upgraded left arm and head were worn by Phanost during a brief exchange with a nasty Syclodoc Neutralizer, sold separately.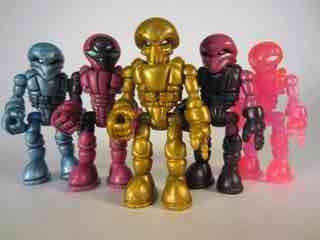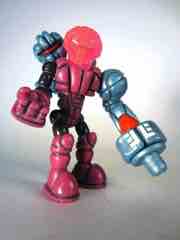 This figure is packaged with the Phanost head attached, which wasn't advertised when you bought the figure since the comic gave away the surprise. That's actually a pretty fun idea. The day-glow pink Phanost head is really stunning, the pink plastic is quite different from the "Nonilla" glittery color used earlier in 2012, as it's positively electric. There's no glitter this time around, but the pink is this eye-meltingly great color you rarely see in toys. It's awesome.
Sarvos' default head is included as well, cast in a plum-colored plastic with a dark purple face and grey on his neck. It's a nearly perfect paint job, with blue eyes. Supposedly Sarvos figures with non-white eyes are "special" according to the rumor mill, but I really don't fully understand what that means. I do know they make for great figures, though, I'm really happy with this one.
The figure sold out in minutes, so trading or eBay are your only hope at this point. It's a really fun one, and I'm enjoying futzing with it. One point of frustration is that these little guys often include 2 heads, so it makes it difficult if not impossible to choose which one you display and which one you store away. I guess on the bright side, it does make it pretty easy to determine that it's a good figure and a pleasant surprise in 2012's non-stop batch of Glyos goodies. All the "Traveler" figures are a lot of fun, but since we got to see this one have more of a story, he's more fun. So go get this one, if you can.
--Adam Pawlus
Additional Images


Click here to see more Onell Design figures in Figure of the Day.
Click here to see more Glyos Compatible figures in Figure of the Day.