Frenzy and Ratbat
Series 01 #002

Transformers Generations Legends
Item No.: Asst. A1421 No. A1423
Manufacturer: Hasbro
Includes: 2 Data Disc Cases
Action Feature: Transforms from Data Disc to robot/bat
Retail: $10.99
Availability: December 2012
Other: 01 Series 002

PREVIOUS
RSS
NEXT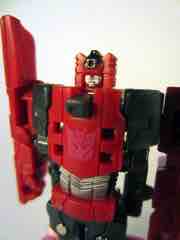 Frenzy and Ratbat ain't bad, but they aren't great. For $11 I'm not complaining too much. Stores want a higher entry-level price point, so a $6 Legends toy isn't going to cut it. Now they want the buy-in closer to $10, but at least they're giving you more toy for your money here. $10 or $11 for two of these guys isn't terrible, although I assume one might take issue with the entire assortment having the same exact alt mode in different colors and, when you get right down to it, 6 different discs with 3 different transformations. Having said that, this is the best 2-pack to get as of launch.
Frenzy's robot mode is about the size of a Legends/Legion Cyberverse robot, plus he has the same 3mm compatiblish hands as your recent Cyberverse purchases. His head is unusually small, particularly when compared to the G1 counterpart. If his head were bigger I bet he wouldn't seem so tiny. He has articulated shoulders, which give the robot mode some play value beyond the (admittedly fun) spring-loaded transformation.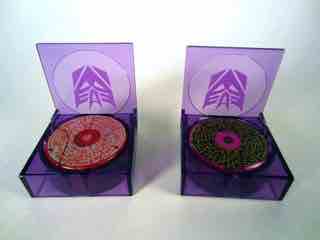 Transforming him is pretty easy. Drop the disc on the ground, and you're 90% of the way there. Now just flip out the feet and rotate down the arms. Congratulations: you've now done everything you can do with this toy. Sure, you can give him guns from other toys, but with no accessories of his own his Bakugan-like play pattern may wear thin quickly before he takes up residence inside Soundwave or your shelf.
Ratbat is pretty good and is based on the Buzzsaw/Laserbeak design. Unlike the robo-vulture, Ratbat benefits from having at least some paint on his head. The eyes are gold, the ears are black. It looks wonderful. It's basically the same toy as Laserbeak/Buzzsaw, but there is quite a bit of retooling. The purple parts are seemingly all new and different, while the transformation and black elements are pretty much the same.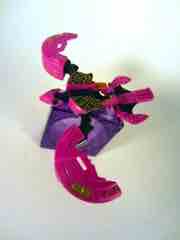 If you're collecting this line, or even just playing around with them, Ratbat, Laserbeak, and Frenzy are currently the best and least frustrating discs. Unfortunately there's very little you can make them do aside from transforming them, but that was true of many of the G1 tapes as well. If you could slap a couple of silver guns on their backs, you'd be all set. That's the only piece which I feel is missing from the new data discs in this set. To avoid accidental transformation, disc cases are included which look vaguely like old-school Energon Cubes. The purple boxes have a hinged lid and a hole in the bottom, so it hugs the toy nicely while preventing accidental auto-transforms in your pocket. Kudos to Hasbro for this as I'm sure it will help prevent breakage and loss during these toys' lifespans.
At $11 they don't pack a ton of fun, especially compared to a similarly sized LEGO box. Trying to reconcile that 2 Soundwave repaints and 6 total discs cost me about $70 with tax is difficult. I really do like that Hasbro brought back the classic Soundwave play pattern with his minions back to stores, and I hope these do incredibly well so we can see other attempts at toys like this in the future. The discs really do feel very 2-3 years old in terms of other toys which have been out there, but still, it's new to Transformers and it's nice to see something so toy-ish and different in this line for a change. (I still demand better Classics Frenzy/Rumble toys in the US though.)
--Adam Pawlus
Additional Images

Click here to see more Hasbro figures in Figure of the Day.

Click here to see more Transformers figures in Figure of the Day.

Want to buy this figure? Check Transformers availability at our sponsors:
Entertainment Earth