Galvatron
WFC-GS27 - Shared Online Exclusive

Transformers Generations War for Cybertron Trilogy Selects Voyager
Item No.: No. F1809
Manufacturer: Hasbro
Includes: 2 blasters, green Creation Matrix, sticker sheet, arm cannon
Action Feature: Transforms from Cannon to Robot
Retail: $52.99
Availability: September 2021
Other: Toy Deco / Galvatron II from the comics

PREVIOUS
RSS
NEXT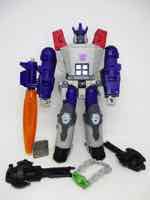 I can never fault Selects for trying something fans would like. For example, this Galvatron aims to do the character in his comic book and 1980s toy colors. On the cartoons he was purple, and that's how a lot of fans remember him - but if you had the original toy it looked a lot more like this. Hasbro included an optional set of foil stickers, which I am opting to not use because I like how he looks as it is. (And the crown stickers don't seem to cover the purple very well.) Putting the decision in the hands of the fan was most welcome, and as I am a little twitchy I'm just going to leave him as he is.
The mold is pretty good, and Hasbro has sold multiple versions of it - there's a clear purple "reformatting" version, a battle-damaged Kingdom version, a clean Legacy version, and this Selects version in gray with purple arms - and some fans may want him twice so they can sticker one and not sticker the other. It's worth noting there's a hidden rubsign pre-affixed in his arm that you wouldn't see until you transform him. It's a nice toy, but ultimately not accurate to anything in particular. It's a good pastiche.
Click here to check availability at Entertainment Earth.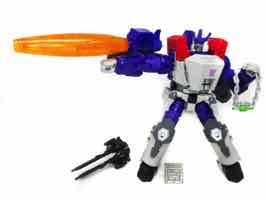 Robot mode looks a lot like the old comic books. While his crown is usually grey (to match the helmet), here it's purple and a separately molded element. It stands out nicely, as do his red pylon shoulders and purple limbs. I didn't like how the face looked in pictures, but in person it's absolutely perfect. The red eyes pop nicely, the green comic Creation Matrix is a great accessory, and the red shoulder pylons are, sadly, painted. This means you should take care as to not scrape them, although it may not be entirely up to you as time and play could cause wear and tear.
His cannon is pretty nifty, but mine had paint scraping on the purple part before I even opened the box. (Aren't you glad Hasbro is moving to more closed-box packaging?) Thankfully the orange barrel is stunning, bright orange with glitter - just like the older toy. This looks like it could've been a 1980s toy, but the original had nowhere near the articulation, nor did it have as much purple. I also appreciate the painted Decepticon logo on his chest, but there are more on the sticker sheet if you feel like covering it up for some reason.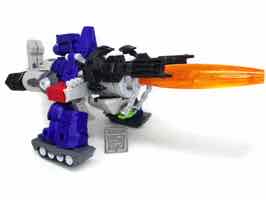 Transformation is a bit of a puzzle, but it's doable - you can kind of make a gun out of it, or a cannon, or whatever floats your boat.
You can make a cannon with a kind of a seat, and it's colorful and looks great. The Decepticon ship guns plug on the sides, you can hang (and plug in) the Matrix around the barrel... and it looks fine. Some electronics or a rocket launcher would have been fun, but we seem to have evolved out of fun play features. A pity. It still looks good, I just wish it was more fun to futz with. It does a great job of looking like the original toy, even without the stickers. There's a rubsign sticker! Isn't that lovely?
Hasbro's many takes on this particular Galvatron are all appealing for different reasons, but it can be tough to justify spending $200 or more for all of the flavors. This one - and one of the two purple ones - feels almost essential, unless they make a better one later. If you've got the cash, it's worth picking up because it's striking and new toy color Galvatrons are far and few between since the cartoon purple has eclipsed the original toy deco. I love the glitter, and I appreciate the options. Get it before it gets expensive - right now, it seems some places even have it on sale.
--Adam Pawlus
Additional Images

Click here to see more Hasbro figures in Figure of the Day.
Click here to see more Transformers figures in Figure of the Day.

Want to buy this figure? Check Transformers availability at our sponsors:
Entertainment Earth