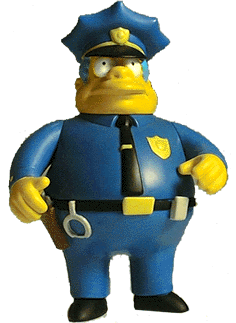 The elder Wiggum, Chief Wiggum, was scaled down to a good if not great action figure that looks a great deal like the character on the show.

Wiggum comes with three accessories (donut, coffee cup, nightstick) and has four points of articulation.

The rotund police chief of Springfield turned out to be a colorful, appealing figure. Rather than molding the face in color, the figure's face is painted the yellow color, which seems to give an appearance closer an animation cell than most of his non-painted counterparts. The figure moves more or less like one would expect, and overall turned out particularly well.

The accessories are a marvel. The nightstick is adequate, looking like a nightstick, but unfortunately unable to attatch to his belt or anything like that. The donut is very colorful, looking like a 3D rendition of a 2D animated donut. Visually, it's quite striking for a figure accessory. The biggest winner in the bunch, though, is Wiggum's styrofoam coffee cup. Sure, it's simple, and probably really easy to do. But the thing looks like a miniature styrofoam cup, texture and all. Easily, Wiggum's accessories trump all of his fellow figures' in year one, setting a high bar for detail and just all-around old fashioned good figure-ness everywhere.

Additional pics available via the box below the image. Please allow for some loading time. Please take note that some images were altered slightly in order to show detail which that would be otherwise lost.
Chief Wiggum
5 inches
Playmates Toys
2000