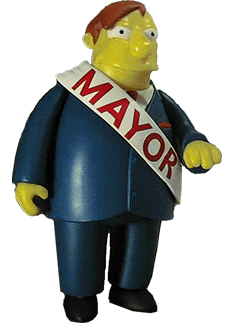 Quite possibly the least interesting character available at the time of his release, Mayor Quimby actually turned out pretty well.

Quimby comes with four accessories (briefcase of cash, "Vote Quimby" sign, sash, gavel) and has four points of articulation.

It seems a little early for a character like this to be released (especially given the interest in... oh, anybody else) but it's nice to see that the figure turned out pretty well. For a guy in a suit, they did a good job, as the figure looks right at home behind the podium in the Town Hall playset. He doesn't do much, he doesn't say much, but he turned out pretty well.

Quimby's accessories all make perfect sense, and for the most part they work out well. The sash fits just fine, the gavel can be held like one might expect, the handle on the briefcase is a little iffy, but still cool, and the sign is a nice bonus to have someone else carry around. All in all, a nice package.

Additional pics available via the box below the image. Please allow for some loading time. Please take note that some images were altered slightly in order to show detail which that would be otherwise lost.
Mayor Quimby
4.8 inches
Playmates Toys
2001