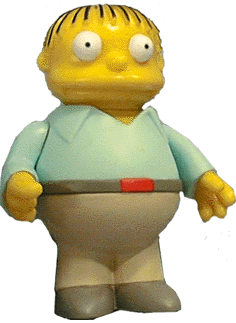 Highly anticipated and worth the wait, Ralph Wiggum is truly a special figure.

Ralph comes with four accessories (rocket, keys, comic book, books) and has four points of articulation.

Seeing as how Ralph and the Comic Book Guy were early requests, this figure's release is no surprise, nor is the figure a disappointment. While not immediately noticable in the package, the figure can in fact pick his nose! This may very well be the first figure designed with this in mind, we can't be sure, but we can hope. The head sculpt is excellent except for the hair-- the raised strands are only painted black on the top, leaving particularly high yellow walls on his head that, in the right light, looks awkward. Still, this is a great figure.

Ralph's accessories are mostly new. While the books were obviously swiped from Lisa (an odd choice given Ralph's knowledge of the written word), the comic book only looks like it was swiped from another figure. It's the same mold as the Radioactive Man comic from Sunday Best Bart, but it's a new sticker, technically making it a new accessory. The model rocket and key ring are both new for this figure. Ralph has no problem holding any accessory, except for the stack of books.

Additional pics available via the box below the image. Please allow for some loading time. Please take note that some images were altered slightly in order to show detail which that would be otherwise lost.
Ralph Wiggum
3.25 inches
Playmates Toys
2001