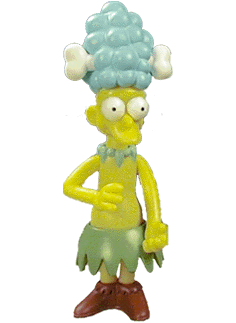 The haughty replacement for Sideshow Bob, Sideshow Mel is a welcome, wacky addition to the calvacade of whimsy that is Krusty's show.

Sideshow Mel comes with two accessories (a cannon and a slide whistle) and has four points of articulation. Also, the waist "skirt" piece is movable, but not removable.

Mel is definitely constructed better than Bob, as he doesn't lean over or seem nearly as flimsy in the leg department. The sculpt is great, the figure is colored well, and there's just the right amount of detail here-- not too much. The bone in his head is a separate piece from the hair, so it's not just a part of the head which could be easily mispainted. His pose, however, is a little odd since he was designed to hold his slide whistle, something our sample did not do adequately.

The accessories fit the figure, but they don't interact as well as one might hope. The cannon is carried over from the Krustylu Studio set, and Mel cannot be crammed inside. Since the cannon does nothing, it's essentially just scenery... and if you have the playset, it's redundant. The slide whistle looks nice, but our sample of Mel isn't able to hold it properly. With some fidgeting, it looks halfway decent, but it's far from being perfect. After nearly 50 figures, one would hope this sort of thing wouldn't crop up, but if they can pull a Millhouse anything can happen. Still, the figure looks great, and is definitely worth a look.

Additional pics available via the box below the image. Please allow for some loading time. Please take note that some images were altered slightly in order to show detail which that would be otherwise lost.
Sideshow Mel
4.85 inches
Playmates Toys
2001