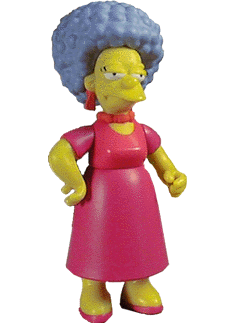 Marge's sisters may not be the most interesting characters, but Patty turned out pretty well.

Patty comes with three accessories (framed photo, Laramies, clipboard) and has four points of articulation.

Patty is, unfortunatley, another in a proud line of figures that really can't do much of anything. Her right arm is posed in a manner that, if moved, it will look bad. Her left arm can hold things, alas, nothing she's given really looks good. But all that aside, just standing there, she's a more than fair representation of the character and if a Patty figure is something you'd want to buy, than you would be a fool to pass on this one.

Patty comes with a mixed bag of accessories. First, the recycled photo frame now features an image of Principal Skinner. Next, there's the recycled clipboard, complete with Otto's driving test. Lastly, there's the Laramie Pack-A-Day Workout. It's a yellow rectangle plastic thing with a sticker. Patty can hold any of these accessories, however none of them look particularly good when joined with the figure. If you like the picture, buy the figure-- reposing her won't improve it any.

Additional pics available via the box below the image. Please allow for some loading time. Please take note that some images were altered slightly in order to show detail which that would be otherwise lost.
Patty
5 inches
Playmates Toys
2001