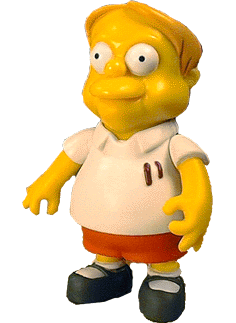 The brain of Bart's class, Martin didn't wind up the Campbell's Kid lookalike that was shown to us in early photos-- it would seem he just doesn't photograph well.

Martin comes with five accessories (apple, clipboard, books, magnifying lens, cookie tray) and has four points of articulation.

The Martin figure is nothing spectacular, but it's a fair representation of the character. He's tubby, has his pens in hos pocket, and sculped to do what you might want him to do... like raise his hand, or reach out for something. There's not much to note, other than our sample had very limited neck movement.

Martin comes with five accessories, one of which is entirely new. The apple is the new one, and Martin is not capable of grasping it. The cookie tray is like the one in the Living Room Playset, but it seems to have been tweaked slightly and look a lot better and feels notably sturdier. The clipboard has an IQ test sticker (with his score, as Homer read 912), and the magnifying glass is the same as Grampa's but missing a black marking to show... something or other. The stack of books is the same one offered with Ralph Wiggum and Lisa, but painted differently. There's no paint wipe on the pages, and some details are left unpainted. It's much brighter, and the overall result is a better looking accessory.

Additional pics available via the box below the image. Please allow for some loading time. Please take note that some images were altered slightly in order to show detail which that would be otherwise lost.
Martin Prince
3.3 inches
Playmates Toys
2001