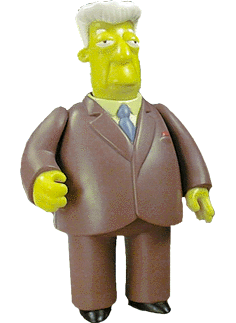 Filling the void of the obscure, Kent Brockman answers the question, "Do we need reporter toys?"

Kent Brockman comes with three accessories (clipboard, microphone, donut) and has four points of articulation.

Kent looks a lot like Mayor Quimby, but upon closer observation the two figures don't share a similar sculpt. There's nothing remarkable about the figure, but it is an accurate representation of the character, if a little stocky. The figure's left hand is a little bizarre, but hey, as a toy you can do far worse.

All of the accessories are new as of the figure's release. Well, technically not the clipboard, but it does have a new label. The donut looks similar to previous versions, but it's a new sculpt-- note the hole. The microphone is new as well, and Kent can hold all of his accessories without a hitch. Overall, the figure's a good one-- if this is one of your favorite characters, don't pass on it. Considering the fanbase for this character is undoubtedly small, though, he should always be easy to find.

Additional pics available via the box below the image. Please allow for some loading time. Please take note that some images were altered slightly in order to show detail which that would be otherwise lost.
Kent Brockman
4.625 inches
Playmates Toys
2001