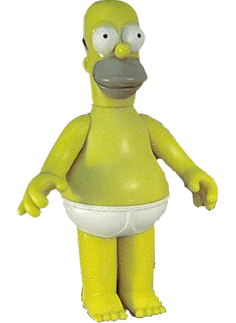 Surprising yet not unwelcome, Casual Homer fills the much-needed nudity void to confuse those around him.

Casual Homer comes with four accessories (shades, Salty Snax, Duff Beer, and a remote control) and has four points of articulation.

Casual Homer's sculpt is mostly new, except he has the same head as Sunday Best Homer released just months earlier. The yellow plastic is uniform throughout, and there's not much to comment on... after all, it's Homer in his undies. No snap-on furry slippers, no cloth robes, just a solid figure in his briefs. It's up to you if this is worth the $5 or so investment.

Every accessory with Casual Homer originally came with the original Homer figure, except for the removal of the donut and the addition of sunglasses, which are new to this figure. The accessories more or less work with the figure, but if ever a figure needed something extra, this was it. A cloth bathrobe, perhaps slippers, just something else would have made this into a pretty fantastic figure.

Additional pics available via the box below the image. Please allow for some loading time. Please take note that some images were altered slightly in order to show detail which that would be otherwise lost.
Casual Homer
5 inches
Playmates Toys
2001