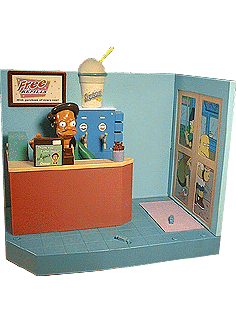 What every fan needs, the Kwik-E-Mart playset offers a popular locale, a must-have figure, and some decent sound bytes all in a nice package..

The Kiwk-E-Mart comes with Apu, a squishee, and a tofu dog. The top of the Squishee Machine is a removable piece.

While not spectacular, it's a nice set. There's some nice details here, but one can't help but think the counter could be lower and that the playset would be much better if it were just a little bit larger. The sound clips are quite good, and the sculpting isn't bad for what this is. Like some of the other playsets, it looks like this environment could have been fleshed out a lot by a deluxe treatment.

Additional pics available via the box below the image. Please allow for some loading time. Please take note that some images were altered slightly in order to show detail which that would be otherwise lost.
Kwik-E-Mart Playset
Approx. 5 x 7 x 8 inches
Playmates Toys
2000