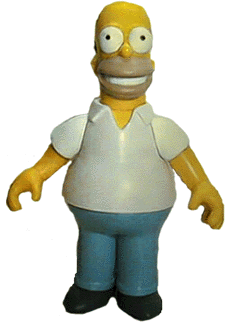 With the most recognizable animated character of the 1990s, one should expect its figure to arrive in the third dimension with a look that's not too different from its origins, and in the case of Homer Simpson, it seems the transition went particularly well.

Homer includes four accessories (a donut, Salty Snax, Duff Beer, and a remote control) and is posable in four places.

The figure itself is a great representation of the character, easily one of the best of Homer so far. Unfortunately, the facial expression is a little unusual, making this a case for an alternate noggin or a new sculpt if ever there was one. Additional articulation at some spots, namely where the shirt meets the arm, would've done a lot to help the figure's shelf presence, because as things stand now he can almost-just-barely make the food accessories reach his mouth. All in all the figure's a winner, even though it doesn't do much.

The accessories, surprisingly for Playmates, are excellent. Each accessory has paint or a label when appropriate to flesh out the miniature prop. Unfortunately, the sticker is often only on one side of the item... but still, one's better than none.

Additional pics available via the box below the image. Please allow for some loading time. Please take note that some images were altered slightly in order to show detail which that would be otherwise lost.
Homer Simpson
5 inches
Playmates Toys
2000