April Fool's? No.
April 1 2004
Review: Playmobil Bison


Because we love Playmobil and toys that seem to be vaguely anatomically correct, today's review is their nifty Bison. Available in sets and by his lonesome, he's part of the now more or less retired Western theme of toys, and while chunky, is quite awesome. Well, if you like big plastic things that represent much bigger furry things. If you like Playmobil or are looking for toys to stampede your other figures, be sure to check out today's review!
--AP
Mattel Re-Ships More Batman?

In what may be a fluke sighting, we saw the first issue of Robin and Mr. Freeze at a Wal-Mart yesterday afternoon, and for the very first time. While it's possible these are old stock, it's also possible they're shipping again. As such, keep your eyes peeled.
--AP
And in other news...

While not our usual focus, or area of interest, we found this to be interesting: apparently the final episode of Friends will be on DVD the Tuesday following its airing on NBC. And The Simpsons Season 4 aired, what, 12 years ago?
Al Franken and the new Air America Radio launched in a few markets at noon yesterday and from what we heard, it wasn't half bad. To say the least, it's entertaining, and any show whose purpose is to egg Bill O'Reilly (or any individual for that matter) can't be all that bad.
--AP
Pudding.
April 2 2004
Review: Star Wars Republic #62


Today at Galactic Hunter we look at Star Wars Republic #62, which finally reunites Anakin with Obi-Wan Kenobi after the Jedi Master was kidnapped and presumed dead. Good story, good art, and the departure of a great new character are all a part of this issue, which you can read all about in today's review!
--AP
Energon Sharkticon Images, Robots in Disguise DVDs

52Toys posted a gallery of what we assume is a production model of the new Sharkticon toy from TransFormers Energon.
Also, Seibertron is reporting that The TransFormers.Net (no link due to really obnoxious pop-up) has received word that the Robots in Disguise animated series will be coming to DVD. In the UK. So British fans of the robots, this July should net you the first five episodes.
--AP
Simpsons Actors Strike

A Yahoo report is indicating that the cast of The Simpsons is asking for a hike in pay for its 16th season. The cast's salary is fairly low especially considering how many parts each actor plays and how much a similarly paid sitcom star makes.
While it doesn't seem likely that this could kill the show, stranger things have happened.
--AP, thanks to SC
Playmobil Clearances at Target

It seems that at least a few Target stores are unloading old stock. The large Knight's Castle (5725) is down to half price in a few locations, down to just under $18. The Police Boat that includes a guy on a waterski and a trio of water-bound cops is down to $9.98 from $24.99, and has a motor to let it move through the water. This is in addition to the sale on Playmobil Specials, which are still $1.24 for a little while longer.
More information as we find it.
--AP
And in other news...

April Fool's Day wasn't as rampant and crazy as previous years, and Homestar Runner posted a great gag involving he ever-popular Stankoman X. 20X6, baby.
Looks like we're in the midst of a great season for movies, minus the movies themselves being guaranteed "great." Today, movies like the supposedly great Shaolin Soccer are opening alongside Hellboy, which is apparently is better than expected. Word on the street is that Disney's last hand-drawn venture, Home on the Range, is teh suck. Which is, well, unfortunate. We were all excited to see Shaolin but it looks like it won't be in our market for a while, but here's hoping it'll show up soon.
--AP
Hellboy? Yes.
April 3 2004
TransFormers Official Convention Shake-Ups

It seems the guys behind the OTFCC can't catch a break lately. The exclusives for this year's conventions have been announced, and if you consider news of a repaint a spoiler, you shouldn't follow this link. One of the toys was cancelled for this year and will come out in 2005, so you get to know in advance what you'll be getting. Also, it seems Mega Zarak will no longer be a hotel exclusive. Cool stuff!
There's also some stuff on the hotels... go to the con's official site for more.
--AP
Video Game News Round-Up

Item: Halo Edition Xbox. GameSpot is reporting that a really spiffy new bundle with a green Xbox and controller is comiing with Halo for about $170. A good deal, surely. The Xbox had a price drop earlier this week, dropping to $150.
A bundle of Nintendo announcements were also mentioned. Release info for new games, a GameBoy Advance wireless adapter, more games, and a lot more were announced... so be sure to check this out. Metroid Prime 2, anyone?
--AP
And in other news...

We saw Hellboy Friday night in a theater that most certainly wasn't filled to capacity, but it seemed to be filled with an approving audience. The costumes were mostly good, the effects were pretty great, and while the plot had a few holes, overall, it was a good flick. Worth your time and money, definitely.
--AP
We'll Be Lucky if I Don't Bust Out Cryin'
April 4 2004
Hot Wheels Cereal Cars

After tackling Batman, it seems Hot Wheels is now producing cars with cereal graphics on them in their normal assortments. We spotted a Trix edition on Friday and have been trying to find the others, but have yet to see them. Through some research, we found the Cereal Crunchers series to include:
Frankenberry Camaro
Cocoa Puffs Pontiac GTO
Honey Nut Cheerios Plymoth GTX
Trix Lincoln Continental
Lucky Charms 8 Crate

These are roughly a dollar each at stores when found, so if you want something goofy and cheap, these are pretty slick from what we can see.
--AP
Bionicle Buckets Ship Again

When originally spotted, the 700+ piece Bionicle Bucket seemed too good to be true at $19.99, when the average $9 Bionicle kit had about 50-60 parts. Well, we saw over a dozen at our local Toys "R" Us on Saturday night, so we're happy to say they're making the rounds. Happy hunting!
--AP
And in other news...

Well, it looks like we're about to outdo ourselves this week, as one of our articles is starting to end up with a whopping 88 images created for it so far. This includes thumbnails, a couple of special review graphics, and even some spiffy desktops that you can use on your very machine to get a good look at a toy far cooler than anything you're likely to have yourself. Not to toot our own horns... but this feature is turned out to be way better than anything we've ever done, and significantly more extensive.
That said, this week at 16bit.com we've got a nice trio of reviews tentatively lined up for you. On Monday, you can seea review of the Luxochamp CD A+B, a super-indie effort combining modern punk and 80's new wave sensibilities. Tuesday will bring forth a feature on the Zoids Zi-Comm Unit, an electronic device that brings out additional lights, sounds, and other effects from select Zoids action figure parts. On Thursday, we will be proud to present you with a review of the Playmobil Golden Nugget Saloon set, a bar filled with bottles and all sorts of extras. We dare say it's our best yet, so be sure not to miss it, especially if you want a desktop image of a drinking, possibly hallucinating toy hobo.

At Galactic Hunter, we'll be posting our Q&A on Monday. On Wednesday, a review of , better known as Gold Leader. For Friday, be sure to stop by for a look at the new TIE Fighter Pilot.
--AP
I'm a Science Fair Superstar
April 5 2004
Playmobil Pals: Reissued Specials

Courtesy of a number of fine folks from Playmoboard, we've got news (and a picture) of six reissued Playmobil specials. Now called Playmobil Pals, the same toys are coming in new, less pink boxes with the same set number. Here's the lowdown.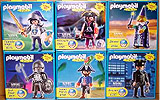 Champion Knight (4616) - Originally released in 2003 as the Blue Knight.
Pirate with Skull (4580) - Originally released in 2000 as Pirate and Skull.
Sorcorer (4594) - Originally released in 2001 as Magician.
Dark Knight (4517) - Originally released in 1995 as the Dark Knight.
Captain Peg-Leg (4548) - Originally released in 1997 as the Sea Robber, this set is also available through Playmobil's direct mail service in a plastic bag (7668) for $2.99.
Detective (4580) - Originally released in 2000 as Police Officer.

According to the thread at Playmoboard, these sets showed up at a Target. As Target stores have been selling Specials sets with a special sticker over the barcode, and is also blowing them out at the moment, it's safe to assume this is a new mass-market replacement for the line. Seeing as how some of these sets have closed on eBay as high as $30, this is surely a good piece of news for new fans of Playmobil. The rest of you either won't care or are mad you overpaid.
For those only closely familiar with Playmobil, this is notable because the Specials range of individually boxed figures are a highly collected sub-set of the toy line and they tend to be phased out rather quickly with some commanding fairly high prices. Only two of the six items being released in the Pals range are easily found in our neck of the woods, so for fans of the toy line, and there are maybe twelve, this is a pretty big deal.
--AP, special thanks to Holly for not minding that we stole this image
Star Wars Q&A Updated at Galactic Hunter


Galactic Hunter has posted their weekly Q&A column by yours truly and, as always, I'm eagerly looking for new questions. So, feel free to send any in.
This week's highlights include why I don't know what next year's convention exclusive is, more on Clone Wars, which Elan is the rare one, and some other stuff. I think there's something in there about Queen, I wasn't paying attention. Rock of Ages, baby.
--AP
New Harvey Birdman on April 18

Last night on Cartoon Network's Adult Swim, the programmers announced several new episodes of Harvey Birdman: Attorney at Law were to start airing on April 18, a Sunday. New highlights include a Jetsons-themed episode, as well as numerous other episodes which may include a party for Avenger.
--AP
And in other news...

The 1990s were filled with great music, most of which never ended up being heard on the radio or by the fans that would appreciate it. Today we look at the self-titled album from Luxo Champ, a six-track garagey new wave marvel featuring the entirety of The Rondelles with some other guy singing and on keyboards. The fun, goofy lyrics permeate a kind of pseudo-pop sensibility you can only find on an indie label that no longer exists, making this woefully out of print CD a real blast to listen to... and it's not too hard to find. You haven't heard it, and the label decreed it shouldn't cost more than eight bucks, so read about the next CD you should buy in today's review!
--AP
You Can't Just Take Anybody to See Your Rats
April 6 2004
Review: Zoids Zi-Comm Gauntlet


The end of a line can often yield awesome and unusual items, and this Zi-Comm Gauntlet is definitely one of the latter. This item basically was released direct to clearance at stores like Toys "R" Us and Target, probably to litter the shelves for a while until someone finally takes pity on them and makes them go away. We found it interesting, but not great, and if you'd like to see more about this very peculiar children's toy be sure to check out today's review!
--AP
Da Ali G Show on DVD

The very funny HBO comedy Da Ali G Show (or "The Ali G Show") is coming to DVD this Summer. The six episodes created for HBO will be in one $29.99 package. TVShowsOnDVD.com reports some amusing features, extras, and confirmation of more Borat, but no word of his UK offerings.
--AP
And in other news...

The new They Might Be Giants CD EP comes out today, and it's called Indestructible Object. It's only five tracks, but it seems a lot of places will be stocking it for around five bucks, so it balances out.

Our friend Timmy pointed us to a great site today in which wordless Penny Arcade strips were given to Japanese students in an English class. The students were instructed to fill them out, and the results are on this site. The results are quite funny and in many cases of a laugh-out-loud quality.

--AP
I've Never Been More Sure Of Anything
April 7 2004
Review: Star Wars Dutch Vander (Gold Leader)


Today at Galactic Hunter we look at Dutch Vander (Gold Leader), a relatively minor Rebel from A New Hope that piloted a Y-wing fighter and was never heard from again. For a reasonably minor character, and a human at that, this is one mighty fine figure with a great amount of attention paid to detail and articulation. While the head looks a little funky, the rest of it is fantastic and you can read all about this helmeted hero in today's review!
--AP
Bonus DVDs with Several Ninja Turtles

Wal-Mart stores in Arizona are starting to receive multiple cases of Teenage Mutant Ninja Turtles action figures with bonus DVDs. Unlike previous reports, it seems that virtually the entire line is shipping with one of two DVDs. While we didn't see the likes of April or the Foot Fire Mystic, there were dozens of Turtles and variants, Splinter, Leatherhead, and many new figures. These seem to be shipping in endcap cases like the Batman figures with bonus comics or the first batch of Masters of the Universe figures with bonus videos. The price fluxuates from store to store but hovers between $5.60 and $5.90. For what these are, they're an excellent deal.
--AP
New TransFormers Toy Images

This thread at the 2005 Boards has images of the Alternators Silverstreak in and out of the box, what may be a Universe Blurr repaint, and a surprise Energon Landmine repaint. All of these look excellent, and the strange dark faced Silverstreak that appeared at Toy Fair seems to have been a fluke.
--AP
Crash Dummies Multi-Packs

The new Mattel Crash Test Dummies toys are now showing up at Target in (presumably) exclusive multi-packs. Like Hasbro's, two regular carded toys are packaged together in a large cardboard sleeve (or envelope, if you will.) If you're a fan of the line-- and as these are pretty iffy figures in terms of quality, you shouldn't be-- be sure to look these up.
--AP
And in other news...

The Onion has updated with an excellent AV Club section update and a hillarious normal section. As always, be sure to check it out.

The new They Might Be Giants CD, Indestructible Object came out, and it's a doozy. The band goes off in multiple directions and covers an old Beach Boys tune as well as one of their own, hard-to-find b-sides. The CD is showing up at a number of larger stores, even Best Buy, so it should be a snap to track down.

--AP
Our Longest Review Ever
April 8 2004
Review: Playmobil Golden Nugget Saloon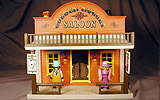 Every now and again something so amazingly cool is released that even a decade after its release, it's still one of the best things ever. The Golden Nugget Saloon is one of these items. It's a bar, with a bartender, singer, spittoon, loads of alcohol, and all sorts of amazing pieces that make you wonder just what happened over at Playmobil HQ to make them stop cranking out sets of this quality. If you like Playmobil, or even if you can't stand it, we can guarantee today's review will be a most amusing experience.
As a bonus, we included six desktop wallpapers of the set featuring the Hobo and many other items. We have more in the works and will post those when they are ready.
--AP
Energon/Super Link Wing Saber, Divebomb Repaint Revealed

A number of fan sites are linking to a pair of images from Great Toys.net. These come from a Japanese toy catalog. One has Wing Saber, a robot that should bring to mind the classic Japanese Cybertronian leader Star Saber. The other is a Divebomb repaint in dark blue with yellow energon bits.
--AP
Zoids Death Stinger Online for Under $10

The Death Stinger has hit Boscov's, a department store's Web site, for $9.99. It's a large kit and is compatible with the Zoids remote control unit, and at this price is borderline ridiculously great. If you have the means, it's well worth the money.
--AP
Cheap Masters of the Universe at KBToys.com

A number of items have hit the toy store's Web site at insanely low prices, assuming you care for such things. $3 figures, $10 Castle Grayskull, $5 Slime Pit, and much more, including a playhouse for $25 and a bean bag chair for $20. Those last two didn't make the rounds much before, so for the die-hard MOTU fan, this is a deal definitely worth checking out. Prices at Kay Bee's Web store tend to fluxuate up and down, so be sure to check them for the latest rates.
--AP
Get Out Of Here Nebulon, Nobody Likes Your Style
April 9 2004
Review: Star Wars TIE Figter Pilot (Battle of Yavin)


Today at Galactic Hunter we look at a brand new TIE Fighter Pilot, and this is his first resculpt from the ground-up since 1996. Hasbro really did a spectacular job the first time, and this new edition is superior in every way with better articulation, sculpting, and paint bringing it to life-- well, as much life as a space suit can have. Sure, it's mostly black, but it still looks great and you can learn all about it in today's review!
--AP
More Space Ghost, Aqua Teen DVDs This Fall

New boxes for Aqua Teen Hunger Force and Space Ghost: From Coast to Coast are hitting DVD stores this Fall, so says TVShowsOnDVD.com. Volumes 3 and 2, respectively, are both currently slated before Thanksgiving.
--AP
TransFormers Official Q&A Update

Hasbro returns with a brand new Q&A this week. This week, they let us know that they have no plans to release information on the upcoming movie at this time, and they also have some positive word about the smaller Japanese version of Super Link Galvatron appearing in the states.
--AP
And in other news...

Homestar Runner added a new short animation, powered by The Cheat! Be sure to check it out.
--AP
Tceles B Hsup
April 10 2004
Numerous TransFormers News Items

It seems Friday was a huge day for news, as several lists, images, and more made the rounds for Universe, Energon, and Alternators from many unofficial sources.
Some Cyberjets from Generation 2 are coming and can be seen in this auction, labeled Air Ride and Space Case. As these are not packaged toys, any of a number of things could change between now and their release. Also labeled Universe, but most likely Energon releases, are Cyclonus and Demolishor auctions, both for the toys in their Super Link colors. The last auction for today shows a recolor of Landmine, this time in colors strikingly similar to the great Armada Hoist toy. All of the auctions show the toys in both modes, so if you have yet to see them in multiple forms these are must-see auctions.
TFW2005 discovered that the recently announced Energon Mini-Cons pack featuring the Sea Team and Adventure Team are not recolored toys but rather are the toys as they appeared in their initial appearances from Armada. This set is currently exclusive to Amazon.com, as far as can be told, and is the third such pack of Mini-Cons. The 2005 boards added a couple of new threads with new images as well, such as a packaged Universe set of Crystal Widow vs. Oil Slick and packaged shots of the Energon toys Shockblast and Cliffjumper.
Lastly, TFW2005 posted a list of a ton of new items from a Hasbro China sell sheet. A number of very unusual names and cryptic descriptions were listed, but it looks like a ton of Beast Wars toys are returning in Universe, Alpha Q may be released in toy form, and a number of repaints are on the way for Energon. We'd say more, but best to let the list speak for itself.
--AP
New G.I. Joe "Movie" This Fall

Hasbro has confirmed a Valor vs. Venom movie is being released to VHS and DVD later this year. There's also some nifty wallpaper up, but as of now it seems there's no word as to how it will be sold. Presumably, it will be packaged with toys again, but this remains to be seen.
--AP
Final Fantasy I & II Coming to GameBoy Advance, Target GBA Sale Ends Today

Target stores in the USA have a number of games, including three classic arcade compilations, on sale this week for as little as $10. If you're in need for a cheap diversion, be sure to pop in and see what's left at your local store.
And in a news sending your humble news editor in hysterics, GameSpot has confirmed that the very first two Famicom Final Fantasy titles will be ported to the GameBoy Advance on a single cart. From the sound of things, it's almost like a port of the Playstation's Final Fantasy Origins disc, with upgraded games and more modern gameplay. The double-whammy RPG compilation is due in Japan this July, but no release date has been announced for the English speaking world.
Keep in mind that recent announcements for the Nintendo portable also included eight US-bound NES ports as well as a recently released R-Type III. Retro gaming love, thy name is GameBoy.
--AP
I Need Some Floor Wax
April 11 2004
Dead Rapper Pez

Sometimes it's hard to tell if a link is a joke or not, and with this in mind, we present to you Fallen Rapper Pez with prototypes of Tupac Shakur, Biggie Smalls, and Eazy-E. This site includes shots of the prototypes being made and the correspondance with the author and the Pez company. Amusing, to say the least.
--AP, thanks to SC
TransFormers Playstation2 Game Details

Apparently the new game coming from Atari is going to be jam-packed with the kind of extras you expect on DVDs BWTF reports some "Knowing is Half the Battle" shorts were produced back in the '80s and are to be included as bonus content in the game. There's also a ton if pictures and other information on a recent party to celebrate the game, so be sure to check it out.
--AP
And in other news...

Due to the exhausting nature of the reviews last week, we've only two planned reviews this week. On Monday, we'll be posting a look at Wall of Voodoo's The Index Masters CD featuring their first EP and a bunch of otherwise unavailable live tracks. Later this week, come back for a look at three nifty pieces of Hellboy Merchandise from the recent film's promotional campaign.

Galactic Hunter will see a new Q&A on Monday, with all sorts of questions on recent hot topics like the cartoons and the ever-nebulous future of the franchise as a whole. Reviews this week will be of Captain Antilles and Holographic Luke Skywalker.
--AP
Splendiferous
April 12 2004
Star Wars Q&A Updated at Galactic Hunter


Galactic Hunter has posted their weekly Q&A column by yours truly and, as always, I'm eagerly looking for new questions. So, feel free to send any in.
This week's highlights include our lack of knowledge on international CommTech chips, three-packs, silver Clones, more Ephant Mon observations, and yes, the end of the line, a subject we'll be temporarily retiring after this column.
--AP
More New TransFormers Statues Revealed

The fine folks of TFW2005 has posted shots of the newest Palisades statues as revealed at last weekend's Cybercon Expo. Wheeljack and Starscream were shown for the first time, and we must say, ol' Screamer never looked better There are also some shots of Soundwave and Laserbeak, so be sure to check these out.
--AP
And in other news...

The band Wall of Voodoo released precious few albums in their time together, many of which are out of print and unfortunately collector's items of sorts. Today we look at The Index Masters, a CD from 1991 that combines a previously released live show from 1979 with their first six-track EP from 1980. This out-of-print disc is a great introduction to the band, but as you're unlikely to see it, odds are it won't be your first exposure to the group. It's a great release and still surprisingly fresh by today's standards, and you can read more about it in today's review!
--AP
The Shrekening
April 13 2004
Shrek 2 Merch Begins

It seems a number of items are starting to hit stores for this Summer's sequel to Shrek, entitled Shrek 2. We spotted dozens of figures from what must have been several large cases at a Phoenix area Wal-Mart last night, which included a fifth figure that has not yet appeared on eBay or elsewhere to our knowledge. The new figure, Dragon, is pictured in her packaging below. Fully assembled, she's easily over a foot long and may actually be better than the hard-to-find McFarlane Dragon from the first film.
The Dragon requires some assembly to fit in the package, and comes with a baby Dronkey, so you can guess some interspecies relations went on before the first two films. The toy comes sealed-- not taped-- in a plastic bag which we assume is to hide the scent. The smell from the Dragon alone kept me from opening the accessory at this time. A full review of the Dragon with Dronkey is on tap for late this week or early next week.
Other figures currently shipping include Shrek, Puss in Boots with Three Blind Mice and The Gingerbread Man, Fiona, and Donkey. The big gimmick for this series is scented toys, and as you can see, some advertise "I Stink!" on the package. Donkey's waffles, for example, are scented.
The toys aren't on par with the bulk of the McFarlane product, and the toys from the first movie will probably continue to appeal to collectors far more than the new crop. With the possible exception of new characters and this really nifty Dragon, of course. These Hasbro figures are about eight bucks per. Also shipping are some sprinkler toys and other typical blockbuster cash cow tie-ins.
--AP
New 12" Joes Available

A different Wal-Mart tonight revealed that new 12" G.I. Joe Valor vs. Venom figures are shipping, notably the BAT which supposedly ships alongside the new Cobra Commander, the latter of which we did not see. Happy hunting!
--AP
McFarlane 12" ALIEN, Predator Coming

If you haven't seen it, an official page from McFarlane Toys shows images and full-body sculpts of their upcoming 12" ALIEN and Predator figures. This is not the first time these figures have been released in a large scale, as Kenner and Hasbro have made several versions of the ALIEN in 10", 12", and larger sizes alongside two differently colored 10" Predators.
--AP
And in other news...

Like candy? Wal-Mart, Target, and many other stores have all their Easter sweets at half price this week.
--AP
I'm A Scientist
April 14 2004
Review: Star Wars Holographic Luke Skywalker

Today at Galactic Hunter we look at a brand new Holographic Luke Skywalker, a clever use of the molds used to make Luke Skywalker (Jabba's Palace) minus a couple of accessories and paint operations. If it's well lit, it looks great, otherwise, it's just OK. You can see a lot more about this new nicely jointed figure in today's review!
--AP
Playmobil Pals Found Locally, Impressions

Tonight at one of the huge Target Greatland stores, we spotted all six of the recently released Playmobil Pals (see earlier this month for more news on these.) All six were available, some were already bought, and they cost a mere $1.99 each, which is less than some of these cost initially when released a few years ago.
The packaging combines the modern Specials style with the measurements of the figure and the grid on the back of the packaging with new coloring and a new tab on top to hang the figures on pegs, only this time it's permanently sticking up instead of able to be folded up or down. The photos on the packaging are, in fact, new. Some of which are completely new, while others are simply modified or flip-flopped, like Captain Peg-Leg. (You'll notice his peg leg and eyepatch are reversed on the front of the box.) The Dark Knight and Pirate with Skull have new posed figures on what seem to be the backgrounds used for the Specials releases.
Also notable is that the line art generic Playmobil figure head that appears on the boxes has been dropped. On the top, it was replaced with a partial head that seems very similar in style to the Hasbro Smiley they've been using since late 1998. The rest of the heads were replaced by fully colored heads with a baseball cap reading "P."
The biggest surprise, though, is the inclusion of a printed US choking hazard warning. This is notable because previous Specials released through Target or elsewhere had a sticker, and this makes for more America-friendly packaging despite having text on the back in something like 20 languages.
But enough of that for now. We'll be doing some more impressions and reviews and stuff in the future.
--AP
Lost Skeleton of Cadavra DVD

Recently released cult favorite The Lost Skeleton of Cadavra has been confirmed for a June 22 DVD release. The film is basically a low-budget 50's sci-fi flick that was made in the 21st century. Our sources tell us it's pretty slick. Read more at DVD File.
--AP
And in other news...

The Onion has updated with an excellent AV Club section update and a hillarious normal section. There's a great David Byrne interview.

--AP
I'm A Scientist
April 15 2004
LEGO Selling Own Spider-Man, Harry Potter Product Early

A number of new or just-released-and-we-didn't-see-it-yet items are up for sale from LEGO via eBay. We've never heard of a toy company selling advance toys at MSRP early, but here's a number of early Harry Potter and the Prisoner of Azkaban and Spider-Man 2 items up for grabs now, like this Draco's Encounter with Buckbeak set that has an owl, some figures, and a horse modified into a hippogriff. We don't expect other companies to follow suit with this kind of preview sale, but hey, this is a really great thing to see if you want stuff early. (Note: the auctions end today so they may be gone by the time you read this.)
--AP
Big Convoy to come to Universe?; Painted Sample Shown

A fairly nifty redeco of the Japanese mammoth toy is supposedly coming stateside, and a painted sample has shown up on the 2005 boards. The final product is different than the original, of course, but is by no means bad. Fans of the original toy might get a kick out of the new look, which has yellow in it but still seems to look pretty great.
Also, the sixth and long awaited final issue of the War Within: The Dark Ages series hit stores yesterday and more or less wraps things up nicely.
--AP
Nintendo to show 30 DS Games at E3?

It seems that there are 30 games to be shown for Nintendo's new double-screen portable this May. While this seems unlikely, as Nintendo rarely shows more than a handful of new games with new hardware, it will be interesting to see how it all turns out this May.
--AP
And in other news...

One of our Snakemen cases came today. Quick rundown of the three we opened: The General (Rattlor) is great as he actually has a rattle and is an all around great figure. Snake Crush Skeletor is excellent, far better than he has any business being. King Hsss is teh suck. Full reviews may be coming up later, we're undecided.

--AP
I Have The Power!
April 16 2004
Review: Star Wars Fan's Choice #5: Captain Antilles


Today at Galactic Hunter we look at a the fifth and possibly final Fan's Choice figure as we review Captain Antilles. Rather than repainting a previous figure, Hasbro went all out to create a brand new and yes, chokable action figure with a great sculpt and some marvelous new parts. Sure he has the face and haircut of a young boy, but if you leave the helmet on you'll hardly notice. Read more in today's review!
--AP
Lord of the Rings Ultra Markdowns at Some Targets

If you've been to Target stores lately, odds are you've been to one that has an endcap full of Gollums and Aragorns from Return of the King. Well, now you might have a reason to buy one, because they're selling for about $1.44 at several locations alongside a now-75% off Warg.
--AP
Shrek 2 Operation, More Games

We found the action figures earlier this week, and on last night's trip to buy tin foil, we saw Shrek 2 versions of the classic Operation as well as a few others which we forgot because we still haven't bought a notepad to keep track of this stuff. Possibly Shrekopoly. But be sure to check out the Shrek Operation, as I believe it may be the first licensed character version of the game and the box art is fairly amusing.
--AP
TransFormers Universe Soundwave, Spacecase Revealed

Hasbro added new shots of two new figures. Soundwave is a recolor of the US Machine Wars Soundwave, and Spacecase is a G2 Cyberjet. Both have lots of yellow, as required by law, we assume. Check 'em out, the colors aren't half bad!
--AP
Metroid Prime 2 Screenshots for GameCube, 10 More NES/Famicom Games for GameBoy Advance

GameSpot is reporting another 10 games are coming for the Famicom Minis series in Japan, and that Series 1 is being phased out soon. The 10 new games are:
Adventure Island
Balloon Fight
Clu Clu Land
Dig Dug
Dr. Mario
Ghosts 'n Goblins
Mario Brothers
Mystical Ninja Goemon
Stinger
Wrecking Crew
With Konami producing a couple of titles, there's still hope for Castlevania or Contra ports down the road.
Also, GameForms has a story on Metroid Prime 2 as well as some screenshots. And there's multiplayer.
--AP
And in other news...

More Snakemen cases came today. Battle Fist is awesome, as is Zodac, Kahn, and even the Serpent Claw Man-At-Arms. Snake Hunter He-Man ain't so great. We have yet to open the rest.

--AP
Time Shock!
April 17 2004
Masters of the Universe Toothpaste

Last night at Wal-Mart's clearance racks, we spotted Skeletor and He-Man Colgate toothpaste, which we had not seen previously. It has decent art and should amuse the He-Fan in all of us. Or at least of our teeth.
Also, Wizard posted an unpainted prototype of She-Ra from the waist up. Apparently a better shot appears in the new issue of ToyFare.
--AP
Coming soon: Polysics Or Die!!!

A number of Japanese music importers based in Japan are now accepting preorders for Polysics Or Die!!!, a new best-of collection featuring songs from most of their albums. Good news, surely, for those who haven't heard most of their output. And that'd be most fans.
--AP
And in other news...

An amusing interview with Bob Odenkirk on the subject of the ill-fated Mr. Show movie, Run Ronnie Run, has been posted at Chunklet, a great magazine that's fairly irregularly published.
--AP
Loco Pantalones!
April 18 2004
DVD News: Garfield, Batman, Superfriends, Buffy, More

It seems PREVIEWS, the catalog from which finer comic stores do their ordering, has added a number of DVD TV series releases to a recent catalog, so says a report from the nearly-omnipotent TVShowsOnDVD.com. Check it out for the full scoop.
--AP
Stan Ridgway: Snakebite Available

Fans of the ex-Wall of Voodoo frontman, rejoice. Apparently copies of the new album Snakebite are shipping early-- as in now-- and two minute previews of each song on the album are up at CD Baby. More information at the homepage of Stan Ridgway.
--AP
And in other news...

Next week, we'll be looking at the delayed Hellboy merch feature as well as the figure Battle Fist from one of the final waves of Masters of the Universe. Our Monday music feature will The Leisure Experiment from The Tiki Tones.

Meanwhile in a galaxay far, far away we'll be looking at R2-D2 with the drink tray and General Dodonna. Q&A will be up on Monday, as always.
Last night, we checked out Kill Bill Vol. 2, which was excellent, as well as some ASU comedy festival with the ever... "clever" ASU troupes. Also present was a very talented group from Chicago called Schadenfreude. We were amused by a number of their sketches including one "Loco Pantelones," which featured a crazy man in crazy pants. It was also entirely in Spanish, which was pretty amusing. Also preesnt was the University of Arizona's own Comedy Corner, who were goodly enough to write a sketch in which two men were fighting for the sexual affections of a cactus.
--AP
Shoot the Core!
April 19 2004
Star Wars Q&A Updated at Galactic Hunter


Galactic Hunter has posted their weekly Q&A column by yours truly and, as always, I'm eagerly looking for new questions. So, feel free to send any in.
This week's highlights include the possible success of The Clone Wars, what the Jedi may or may not have seen coming, and the life and death of the characters leading in to the final film.
--AP
Harry Potter 3 Toys Hit

The action figures for Harry Potter and the Prisoner of Azkaban are hitting Toys "R" Us stores now. We spotted three figures, a couple of Harrys and a Werewolf. A fourth figure, not named on the cardback, looks a lot like a Wraith. The figures seem a little larger than before and come on dark blue cardbacks.
--AP
Spider-Man 2 12" Two-Pack

Wal-Mart stores are getting a 12" two-pack of Doc Ock and Spider-Man with cloth outfits. These are not to be confused with the 12" walkie-talkies.
--AP
New Energon Mini-Con Six Pack in Stores

Toys "R" Us stores are receiving another six pack of Mini-Cons from Armada, but in Energon packaging much like those at Wal-Mart. This set includes the Adventure Team and the Sea Team, and the artwork of the characters has been taken from the Japanese releases right down to the yellow Sea Team weapons.
--AP
More He-Man Clearances

More Masters of the Universe toys are hitting the clearance racks. Toys "R" Us has now marked down most of their existing stock nationwide, while Kay-Bee stores are getting new cases of product. Based on what we're seeing in these parts, it seems to be cases of mostly Spin Blade Skeletors. Other new figures may be hitting eventually, though, and as such we advise you to keep your eyes peeled and see if you can spot something good.
--AP
And in other news...

The band The Tiki Tones put out a few polynesian-inspired instrumental albmus before releasing The Leisure Experiment, which sounds like it belongs as a soundtrack to some movie from the 1960's. The band put a fair amount of energy into this six-track release and as such should delight anybody looking for something a little different. It's not exactly a fabulous deal at about ten bucks, but it's quite entertaining and you can read all about it in today's review!
--AP
Why Do You Always Have To Hit Stuff With A Stick?
April 20 2004
Batman Animated DVD Art, Specs

TVShowsOnDVD has a feature on the upcoming Batman: The Animated Series DVDs. It's shaping up to be a decent deal, boasting half the first season spread over four discs for $44.98 MSRP, meaning it'll probably be closer to $30 in stores. Select commentaries will be available, as well Spanish and French audio tracks. Looks like a winner!
Our meager research indicates the first season is 60 episodes, so if you assume the box will include 30, that's roughly 15 hours of stuff to watch. Consider that 13 episodes of TransFormers will set you back $30-$50, it's quite the deal.
--AP
ALIEN Soap Dispenser

A certain Swiss surrealist probably could only dream of the day his fearsome creation would be turned into a 7" tall soap dispenser. Sega is releasing a vaguely adorable soap dispenser, and this page has pics, pricing, and preorders. It's cute enough to see, I gotta say.
--AP
Final Fantasy III (Japan) To Maybe Sorta Come Out?

GameForms has a fairly vague report on the one game in the Final Fantasy series that hasn't been released for the PlayStation, and that's the original Japanese Final Fantasy III. Apparently there's some buzz it might be rereleased in the near future, and you should read this story from the
--AP
50th Anniversary DVD for Destroy All Monsters

ADV is releasing a new release of Destroy All Monsters, according to this article at Monster Zero News. It doesn't seem to differ too much from the current release aside from a slightly higher price and a bonus soundtrack CD with 30 tunes for your amusement. I assume this is to be used to make home movies of your guinea pigs and iguanas attacking a small model city. (If any of you make one, please let us know.)
The release date is expected to be May 18, just in time for... uh... Memorial Day.
--AP, thanks to EK
And in other news...

Mike Nelson of Mystery Science Theater fame is contributing a commentary to yet another DVD rerelease of Reefer Madness, which streets today. Online, it can be had for under $10 and it seems like the disc is targeted at $13 in stores.
--AP
Ain't It Fun
April 21 2004
Review: Masters of the Universe Battle Fist

Today we're looking at the new version of Fisto, rechristened Battle Fist last year when released as part of the Snakemen series of Masters of the Universe figures. He's a modified version of Ice Armor He-Man, but he is chock full of nifty little features and added articulation that should please a number of fans. You can see more in today's review!
--AP
Review: Star Wars R2-D2 (Jabba's Sail Barge)


Today at Galactic Hunter we look at the long-expected R2-D2 (Jabba's Sail Barge), or Bartoo-Deetoo. He's based on the great R2-Q5 but is painted up like R2-D2 and has a new hole in his head so he can carry a number of drinks. More images and commentary follow in today's other review!
--AP
And in other news...

Don't forget to check out updates at The Onion and Homestar Runner.
--AP
Chopping Wood? That's Ignorant.
April 22 2004
Godzilla Returns to Xbox, PS2 (and not GameCube); Old GameBoy Game Price Drops

A report at GameSpot has images from and information on an upcoming Godzilla game from Atari, which is slated for the Xbox and PS2. No mention of a GameCube port was made, which is notable as the last Godzilla game from Atari is on GameCube and seemed to be a decent seller.
Also, some rummaging around a local GameStop has revealed that a lot of the classic GameBoy games-- you know, the four-shades-of-grey classics from 1989-1998-- are dropping in prices. Some decent titles are about four bucks now, so if you remember reading about a decent game in Nintendo Power about a decade back it might be in used game shops on the cheap. (No boxes or manuals, unfortunately.)
--AP
Star Trek DVD Picard Box Set

Now here's an oddity-- Paramount is releasing a box with seven episodes of The Next Generation featuring Captain Picard. For $20, it's a decent alternative to the $100+ season box sets. You can read all about it at TVShowsOnDVD.com.
--AP
Ghostbuster Bobbles Hit

The first-ever movie version of Slimer was released recently with the new Ghostbusters Head Knockers from NECA. The other figure in the assortment was the Stay-Puft Marshmallow Man, and these are showing up at the likes of Suncoast and Sam Goody. Action figures of these characters, Gozer, and the two demon dogs are coming later this year from the same company.
--AP
And in other news...

The Official MST3K Info Club has an amusing story regarding a colorized Three Stooges DVD. While colorizing things is a sin and must be punished, there is a notable blurb that is good news. "What makes this DVD notable is that the shorts will be introduced by The Film Crew--aka Mike Nelson (Moe), Kevin Murphy (Larry) and Bill Corbett (Curly). No release date has been announced."
--AP
New Leader of the Decepticons
April 23 2004
Review: Star Wars General Dodonna


Today at Galactic Hunter a review is available for one of the best known obscure Rebels, General Dodonna. As far as obscure characters go, he was one of the lucky few to have two outfits and several speaking parts, but for reasons unknown he vanished for the sequels and, as of yet, prequels. While he's basically an old white guy in a long coat, you can read lots more about him and see pictures in today's review!
--AP
New TransFormers Universe from Hasbro; Takara's Own Universe Too; More Masterpieces?

Last night, Hasbro added some new jets to its Universe roster, and posted a new and very vague Q&A.
And over at TFW2005, a number of retooled and repainted Beast Wars items are being revealed alongside what appear to be miniature versions of Optimus Prime (Masterpiece Edition) and Starscream (new sculpt), but at this time no additional information is available. This new line, apparently called Robot Masters, looks like it will include super-wonderful toys for about $20. It seems that Robot Masters answers the question "What if TransFormers Universe was done really really well?"
There's a Beast Wars Convoy that seems to have been dolled up to look like the TV show version, and as an added bonus, there's a Megatron that seems to have been updated as well. The other figures are repaints and remolds of characters that might not interest you in the slightest, but these four larger toys look to be quite interesting. If these new molds for Optimus Prime and Starscream from their classic editions turn out well, this could be a whole new and significantly better turn of events for fans of the original TransFormers. What next, perhaps a Cyclonus?
--AP
More Masters Microbusts

An update at He-Man.org has revealed three new additions to NECA's line of Microbusts. The newest additions to the Masters of the Universe lineup will include He-Man, Beast Man, and Orko.
--AP
Copper, you'll never be gold.
April 24 2004
New TransFormers Robot Masters Images

Japanese magazine Dengeki Hobby released a photo spread (hosted at TransFandom) featuring a prototype of the new Robot Masters G1 Convoy (aka Optimus Prime) hsowing its articulation, and shows the mini Superlink Grand Convoy model kit. There's also a shot of Robot Masters artwork, more Smallest TransFormers graphics, and another DVD Mini-Con..
Also, retailler Action HQ posted a number of pictures from the line, including a group shot showing the relative size of some of the toys. Looks like Optimus might be comparable to an American $10 toy if not a little larger. The site also showed some packaged images, which seem to be pretty ornate and reveals these to be packaged in robot mode. (This is fairly unusual as most toys, save for the likes of Beast Wars Metals Ravage, were in their beast or vehicle modes or in non-window boxes.)
If we didn't make it perfectly clear yesterday, we'd like to gush some more about those new Robot Masters toys. Well, at least four of them really rock.
--AP
More Harry Potter 3 Toys

A number of role-play wands, large figures, mini figures, and action figures are hitting Target Stores as well as elsewhere. The sculpts do not seem much improved from previous efforts, but hey, it's something new. It seems the bulk of the toys don't have any movie title on them, but merely read "Harry Potter." It seems Mattel is moving away from text on their packaging which makes it look more and more like a bootleg.
--AP
More Shrek 2 Playests, this time Miniature

A series of miniature $9.99 playsets from Hasbro are hitting Toys "R" Us stores in preparation for Shrek 2. So far, two are available, and to avoid spoilers, you'll have to go see them for yourself.
--AP
Don't Forget to Save It!
April 25 2004
New TransFormers Universe Nemesis Prime; Energon Demolishor, Arcee, Insecticon Found

And now we know that the Big Convoy toy we've been seeing is actually Nemesis Prime. You can see the full gallery at TFClub.
Also spotted today at local Wal-Marts are the following figures.
Demolishor is, as far as we can tell, the first sighting of the toy in the United States. The toy was changed from the releases that showed up in Hong Kong as the giant Decepticon logo on the truck bed is now entirely purple instead of purple with silver at the bottom of the "face." The toy itself is quite slick and stable standing up, which is a plus. Demolishor comes with the normal trading card with the character's stats and not the card with the biography that has been appearing with Megatron and other Deluxe figures.
Arcee is a nicely jointed, well-painted, nifty motorcycle of goodness. Insecticon is chunky but sturdy. All were worth snagging. The basics, we should note, were on sale at Wal-Mart for $1 off.
With these releases and other recent leaks and announcements, our semi-official Energon Checklist has been updated for your enjoyment and/or mirth.
--AP
More Easter Eggs Shipping

Several Learning Express stores in Phoenix received their cases of the 2004 Easter Eggs late, including the likes of the Pirate with Monkey for a hair under $5. Get while the getting is good.
--AP
And in other news...

This week at 16bit.com, we'll be reviewing the new Demolishor (previewed above) as well as the new Shrek 2 Dragon with Dronkey. On Monday, we'll be posting another DVD review-- TransFormers Season 3 part 1.

After Monday's Q&A, Galactic Hunter will receive reviews of the Ewok with Glider as well as Rappertunie, so stay tuned for those.
--AP
Almost
April 26 2004
Star Wars Q&A Updated at Galactic Hunter


Galactic Hunter has posted their weekly Q&A column by yours truly and, as always, I'm eagerly looking for new questions. So, feel free to send any in.
This week's highlights include the custom merchandise once offered by Star Wars.com, stormtrooper differences, and why you'll never see Freeze Frame Weequay in a store again.
--AP
New TransFormers Energon Mirage Found

It a piece of good news/bad news, we spotted a Mirage at a Phoenix area Wal-Mart last night. We took shots of it boxed, and after opening it, we realized our sample was molded missing the eyes. There's just a giant hole in its head. We assume this is an isolated thing, but we're depressed all the same as we were so proud of having found all the new Energon toys. (If your sample is like this too, let us know.)
The good news is that the toy is pretty slick and is a $19.99-ish price point, smaller than we previously thought. It looks a lot like Cyclonus from the original series, which, coincidentally, is the subject of today's review below. The robot has a ton of articulation, and really looks fantastic even though he's got two giant boat pieces hanging off of his backside. It's like TransMetals 2 Cybershark and Robots in Disguise Sky-Bite, except a wee bit neater.
--AP
Review: TransFormers Season 3 Part 1 DVD


Since we're on a TransFormers kick, today we look at TransFormers Season 3 Part 1, which has 16 episodes of toy commercial goodness. There's a crazy leader who shoots his men in the face, a boring leader on the side of good, a birthday party, and yes, robot psychiatrists. The characters are often given more to do in these few episodes than in the first seasons of the show, so be sure to read all about it in today's review!
--AP
And in other news...

The season finale of Arrested Development aired on FOX last night, and featured cameos by Kevin McDonald of Kids in the Hall and a few cast members from Mr. Show. This episode was great, as usual, and as of yet it is unknown if it will also be the series finale.
--AP
I Got A Headache in my Whole Body
April 27 2004
Review: TransFormers Energon Demolishor

Today we're looking at the the reformatted Demolishor, a new Energon dump truck. He's green, not so lean, but definitely mean. Obviously, a toy like this skews young, but fans of robots in disguise should get a kick out of this bulky, nifty construction vehicle. You can see more in today's review!
We also found a replacement Mirage today, and we must say it's excellent when it has its full head. Pick one up if you have the means.
--AP
Metroid Prime 2 Info; Konami Classics: Package Change

It seems that the Konami Arcade Classics collection for GameBoy Advance has been given a facelift. Once an orange box with text, now character art and a revised logo have been added to give it a little zing. Both boxes can be found at most Wal-Marts for around ten bucks, and the orange box version is available all over for $15 or so.
Also, GameForms added plot information and more official screenshots from Metroid Prime 2: Echoes There are also screenshots in the newest edition of Nintendo Power, and ours came in the mail today.
--AP
Batman: Animated Series DVD Episode Guide

The entire rundown of all 28 episodes has been posted to TVShowsOnDVD.Com. Each disc boasts seven episodes, which isn't at all bad.
--AP
Kids in the Hall Season One DVD: Due Today

Check your local or online storefronts today for the newly released Kids in the Hall Season One box set. The Canadian sketch troupe's first box will be the test for additional season box sets, and it's available cheaply. According to Best Buy's Web site, it should be around $36.
--AP
And in other news...

Don't forget to check out Homestar Runner, as a new Strong Bad email has been added.
--AP
Who Will Win This Baby?
April 28 2004
Review: Star Wars Rappertunie


Today at Galactic Hunter we look at an alien spawned of the Return of the Jedi Special Edition, Rappertunie. This fairly large frog-like critter has no pants, but does have a base, an instrument, and quite a bit of articulation considering that he really doesn't need any to serve his purpose. He looks great, has a great paint job, and should delight alien fans everywhere, but you can just read today's review for more images and commentary.
--AP
G.I. Joe Value Pack Clearance at Target

The Value Pack of small G.I. Joe toys at Target which includes three figures, a vehicle, and a comic book is now marked down 30% off, to roughly $6.98. The set isn't a bad one for what you get, so toy fans might want to snag one before they dry up.
--AP
More TransFormers Energon, Universe Repaints

Over at eBay, you can see an auction for a repaint of Armada Jetfire, but in the colors of the original American Astrotrain toy.
Also, a repaint of the just-released Mirage toy has surfaced here through the work of the 2005 boards.
Lastly, the new issue of the comic Generation One Volume Three is due out today, so be sure to check your local comic shops for that.
--AP
And in other news...

Don't forget to check out updates at The Onion update, which features some great new interviews and movie reviews.
--AP
I Gotta Right
April 29 2004
Review: Shrek 2 Dragon with Dronkey

One of the neater fairy tale creatures in the first Shrek was a great purple beast of legend, and this set of Dragon with Dronkey, both delights and disturbs this toy critic. She's big and purple, breathes fire, and flaps her wings and is a whopping 14 inches long. Her companion is an odd result of interspecies dating and smells like something is burning, as is the intent-- his package boasts "I Stink!" We would like to be sure that you realize that this packaging, in this case, is most accurate. You can see more in today's review!
--AP
TransFormers: Robot Masters Preorders

Looks like people are getting on the preorder bandwagon for these new toys, which is especially interesting as it seems people aren't completely sure if they're coming to the USA yet, and prices are varying from store to store. Robot Masters, for the record, is the line that incorporates new and old characters along with new molds of old characters like Starscream.
Right now, we're seeing preorders at Big Bad Toy Store and Action-HQ. It's assumed that many of these will make their way to the States, but as of yet, we don't know. As such, preorder at will.
--AP
And in other news...

Mezco Toyz added a new forums area today and unveiled their San Diego exclusive Hellboy toys for Comic Con International this summer. One of the figures is a rotocast Hellboy, and we can't tell if these are based on the comics, or if the movie figures are just taking on a lot more in the way of comic-like proportions.
--AP
Now She is the Leech Woman
April 30 2004
Review: Star Wars Ultra Ewok with Attack Glider


Today at Galactic Hunter we look at one of the more maligned races from Return of the Jedi with the latest Ultra figure, Ewok with Attack Glider. While a partial retool of 2001's Teebo, he has a new head and has enough new bits that you probably won't know or care that he's partially recycled material. He looks great and even a little mean, and you can find out more in today's review.
--AP
Lord of the Rings: Future, Far-Off Future DVD News

An interview at TheOneRing.Net pretty much says it all. There's a three-piece set of theatrical DVDs coming in a special slipcase, and news on the upcoming Extended Edition of Return of the King as well as news on the rumored (with signs at Toy Fair) mega Trilogy Box set.
--AP
Zoids: The Lost Line of 2004

We recently were forwarded a PDF of Hasbro's 2004 catalog, which has numerous previously unseen G.I. Joe and Zoids toys. This is especially notable as Hasbro has officially said that the line will be rested in 2004, which means there's a good chance that a lot of these toys will never come out. Some new figures and some 80's kits in new colors were shown, and we plan to have the lowdown-- with pictures-- for you in just a few days. There's even a large electronic Gojulas Giga action figure in there, so be sure to stay tuned.
--AP
Masters of the Universe: Saved by Deutschland

According to information from German He-Fan sites by way of He-Man.org, it appears that the final figures are appearing on sell sheets in Germany. While this is no guarantee that the final versions of Orko, Stratos, and He-Man will be produced, it's starting to look like a strong possibility.
--AP
More World's Smallest TransFormers, News

The fine folks at TFW2005.com have translated a Japanese page with information and images on the Convinience Store edition of Japan's World's Smallest TransFormers line, complete with new Rodimus toy. Check it out, after all, it has pictures.
Also, Hasbro announced Swerve with Roadhauler from TransFormers Universe, which are repainted Armada toys Blurr with Incinerator.
Lastly, we spotted the newest set of TransFormers Tiny Tins last night. There are three Mini-Cons individually packaged that together form the original version of the Skyboom Shield, and sell for $3.99 each. The logos on the package read "TransFormers Universe, Robots in Disguise" but make no mention of Armada. Given the price and the fact there's nothing new here than the tins, we opted to pass.
--AP
And in other news...

Because it's important to us, it's important to you. Several outlets today are reporting that Tom Waits has gone into the studio to record his next album, "Real Gone". The real kicker is who will be on the album with him-- two Primus alums, Les Claypool and Brian Mantia. You can read more about it here and a number of other places.
--AP
Click Here For News From March!