You Attacked This Routine
September 1 2005
Star Wars Q&A Updated at Galactic Hunter


Galactic Hunter has posted a Q&A column by yours truly. We look at all sorts of crap.
More Q&A on Monday. We also found the Target exclusive jumbo wings TIE Fighter yesterday and we're quite pleased-- a review is coming.
--AP
Big Lots Animated Batman Assortment (with new Penguin)


Now at Big Lots: a new animated Batman assortment. Not "The Batman," mind you, but the good one, or more specifically, The New Adventures of Batman & Robin. There are five figures, four shiny silver redeco figures (Batman, Batgirl, Robin, Nightwing) and a fifth that you'll actually want-- a normal looking, plain jane, excellent Penguin. The prices are about $2.99 a pop and we've spotted these at several LA area Big Lots stores.
--AP
Revealed: Cybertron Soundwave Test Shot


What appears to be a Hasbro test shot of Soundwave from Cybertron can be seen on this eBay auction! While it's currently valued at roughly triple the selling rate of this toy when it eventually sells stateside, you might want to see it just for a number of hi-resolution shots of the (seemingly) finished toy and his sidekick.
--AP
Xbox Live "Next" Pricing Deatails


Want to know the pricing details of what is currently being called "Xbox Live 2.0"? Of course you do. GameSpot has a story on a number of pricing tiers as well as some ways to get a free month with a pre-pay plan.
--AP
Filler Fridays
September 2 2005
Revealed: Cybertron Primus, Beast Machines DVD


What appears to be a Hasbro test shot of Primus from Cybertron has been examined at length at Tfans, with many photos and close-ups and all that jazz. If this toy interests you in any capacity, go take a look. The current rumored release date, though, is mid-2006... so enjoy an advanced first glimpse!
Also, numerous sites are reporting that Warner Bros. (who owns Rhino) will be releasing a complete Beast Machines DVD soon-- the whole series over a few discs. While Rhino told us in 2003 that such a project was indeed in the works, we assumed the license lapsed recently. Perhaps not? Stay tuned!
--AP
New Gentle Giant Stuff at Entertainment Earth


Want to buy some stuff? Sure you do. We added scores of new crap to the store, such as:
Gentle Giant Darth Maul Statue, Gentle Giant Lando Calrissian Mini Bust, Gentle Giant Luke Skywalker on Tauntaun Statue. Neat stuff.
--AP
An Intruder Has Penetrated Our Defenses
September 5 2005
Star Wars Q&A Updated at Galactic Hunter


Galactic Hunter has posted a Q&A column by yours truly. We look at all sorts of crap.
So much crap, in fact, that we have to do two updates this week-- so come back on Thursday to see more!
--AP
Armorhide Hits Stateside


Last week, Entertainment Earth received a small shipment of new Scout cases from Transformers Cybertron which included Armorhide, Brakedown, and Undermine. Undermine seems nearly identical to his Galaxy Force cousin Dino Shout, while Brakedown's facelift has the dark brown paint from Autolander replaced by a brighter and better copper color. Armorhide just plain rocks. If we had one ourselves, we'd review it, so we're hoping to get one soon.
Also, David "It's Walky" Willis posted an amusing photo which is impressive as it is awe-inspiring. Behold, his Hot Shot Shrine, stuffed with various American and Japanese (and other) versions of the character from Armada onward.
--AP
Something of Interest on the PSP


37 playable characters will appear on the upcoming Playstation Portable Street Fighter Zero 3 Double Upper from Capcom, so says this image-filled report from The Magic Box. Expect the entire case of SFZ3 and more-- here's hoping it comes out in the USA and has unlockables from other Capcom games too!
There's also back of package art for the Zelda DVD with the whole animated series on it. Oh, and the back looks like crap too.
We spent most of the weekend playing Salamander again. The Sega Saturn port. It's very good if you have the means to play Japanese games, and cheap enough that if you like Konami shooters we advise you pay for it.
--AP
Throw yourself at the ground, and miss
September 6 2005
DVDFile Reviews Hitchhiker's Guide to the Galaxy


The guys over at the recently revitalized DVDFile posted a full review of last Spring's big screen adaptation of Douglas Adams' Hitchhiker's Guide to the Galaxy. The movie was good, but not great, and it appears the DVD is the same way. Check out their review or just wait for the DVD to come out on September 13.
--AP
In Package Shot of Orion Pax


Remy at TFans has a thread with Orion Pax in the box! He's due to come out this month and for those who don't know, the toy is just a fancy limited (quantity TBD) repaint of Kup, aka Char in Japan. Orion Pax is Optimus Prime before he becomes reformatted and upgraded to fight Megatron, and this set includes his buddy Dion (a repainted Wheelie) as well as a targetmaster assistant, which, we believe we heard, is some sort of loading tool. As a bit of a tool for Optimus Prime toys, we preordered one and will let you know how it is.
--AP
Closet Cleaning: Buy Some Crap


At 16bit.com labs, we have a lot of toys, and now we're putting some up for sale or the trading block. Almost 150 Star Wars Saga figures from 2002-2003 are up for grabs, as are some Clone Wars figures. Highlights include Sith Training Darth Maul, AOTC Plo Koon, Endor Rebel Troopers, Darth Vaders, Lukes, Jar Jars, you name it. Just help us make them go away-- tell us what you want and we'll figure out a price. (With a couple of exceptions, we're looking to sell these for less than $5 each. Much less if you take a lot of them.)
So if you need Star Wars figures on the cheap this holiday season, please do remember The 16bit.com "Store", accessible on the list of links on the left.
--AP
Check This Ride
September 7 2005
Review: Star Wars Target Exclusive TIE Fighter


Today at Galactic Hunter, we look at the first new Trilogy-based vehicle of 2005. The TIE Fighter is back for another helping, this time with extra-large and more accurate wings. In today's review, we look at this figure-with-vehicle pairing, which combines a fan requested item and a fan unrequested price of about $40. Is bigger better? Today's review has the answer.
--AP
Tim Burton's The Nightmare Before Ill-Timed Licensed Product


Some announcements are surprising, others shocking. Some make sense. Others are like The Nightmare Before Christmas Trading Card Game from NECA, and you really don't know what the heck to say. Hasn't everybody's subscriptions to Inquest and Scrye long since lapsed? Isn't it Yu-Gi-Oh (or the upcoming Warcraft game) or bust at this point?
While some card games are legendary, and others have become known as incredible sources of lore on numerous properties... uh... we're at a loss. Next, please.
--AP
Botcon to host "Rarest Figures Ever" Panel


J.E. Alvarez over at TFW2005 announced his panel at Botcon, and it's a doozy! He'll be showing off rare Transformers. While at first this may not sound too interesting, he has a diverse collection of Lucky Draw items, prototypes, odd factory samples, and other things you may never have seen. We're hoping very much he writes a big article about it with lots of photos because it sounds superbly interesting. Read the announcement for some preview images and more information, as it sounds like a heck of an awesome panel!
--AP
Final Days for Summer Blowout at Entertainment Earth


Ah yes, another plug. Entertainment Earth has a giant blowout and has marked down something close to 600 items down by about 50-80%, or more in some cases. The sale prices expire on September 8, and that's when the prices go back up. As such, you might want to comb through the remaining statues, bust, figures, and cards for something god. Like the Kelly Bundy Maquette-- $49.00 even. Or an Attakus Chewbacca for $200 off. There's a lot to be had, and as I want to watch TV, you'll have to see what's left yourself.
--AP
Doh It Again
September 8 2005
Star Wars Q&A Updated at Galactic Hunter


Galactic Hunter has posted a Q&A column by yours truly. We look at all sorts of crap.
Lots of questions about vehicles, dioramas, and more this time so don't miss out! We also briefly look at the recently released Jedi vs. Separatists Battlepack, and while most figures are reruns and head swaps, it appears Hasbro made two "new" lightsabers too! Read on!
--AP
Wal-Mart & the Future of Alternators


Via the Transfandom forums, a big letter type thing from a Wal-Mart employee has the alleged plans for the future of the Alternators line. While none of it is confirmed at this time, some of it conflicts with what we've heard while other bits and pieces fit in nicely. Is it true? Or a fantastical hoax? We can't be too sure, but damned if we don't expect to find out before October! Read on for a giant menu of "hmmmm"s.

Some of the toys mentioned in this email include US versions of the BinalTech Asterisk series of toys, which, if you don't know, are actually quite awesome. The toys include a Subaru Red Alert, a Dodge Viper Sunstreaker, and a Scion XB "Broadblast," aka Blaster, all with specially scaled anime "babe" driver figures that can actually fit inside. A different version of Sunstreaker has been confirmed for the USA, but not all American fans have seen the Japanese version, which is missing his racing stripes and such. Thankfully, eHobby put up images of Alert with Ai and Sunstreaker with Junko which you should look at and drool over and if not announced at Botcon, buy.
We'd also like to BEG someone out there to do a Bumblebee with Spike and a Hot Rod with Daniel. C'mon. You know you want them too.
--AP
Harry Potter iPod


We love seeing weird licensed crap, which is why the iPod with engraved Hogwarts crest really struck a chord when it was announced this afternoon. It has a color screen, 20GB capacity, and apparently the complete Harry Potter audiobook series which it seems is pretty damned pricey. The 99 hours of digital media plus the pocket-sized iPod will set you back about $548, but hey, at least the shipping is free!
Something MORE of Interest on the PSP


Capcom is remaking the original NES Megaman (Rockman in Japan) for the Sony PSP. It appears the game is being redone in super-cartoony style, as seen in the screenshots here. It's really quite striking and while we initially had no interest in a PSP, this is the first thing we've seen that might convince us to plop down some money for one.
Almost Perfectish
September 9 2005
Palisades Brings Cliffjumper, Galaxy Force Dumping?


Aaaand coming in last on our countdown... it's Cliffjumper from Palisades! A bit of a surprise last-minute addition, Cliffy here will be exclusive to Non Stop Toys.
Also, we've been hearing numerous rumors that in Japan, Galaxy Force has had less than stellar performance. At Comic Con, import toys could be found for as little as $3 sealed in their boxes, and larger toys could be had at significantly reduced prices, far below their US equivalents. It seems they are, in fact, being blown out-- super reliable and awesome NCS had an interesting blurb today that makes it seem that the line isn't performing exactly well:
"Japanese toy suppliers have been holding mass sales of older stock in the past few days and we've been inundated with clearance offers. Sadly, nothing interesting has appeared at discounted prices yet but we'll post up any noteworthy photos and/or offers if we find any as the offers continue to roll in. We noticed a ton of Gundam kits and Galaxy Force Transformers toys at roughly 40% off regular wholesale prices. The cuts will probably deepen."
While this probably means absolutely nothing for the USA, it does seem to show that the rumors that the Japanese Galaxy Force range may end prematurely could have some substance to them. For now, we chalk it up to a "hmmm, that's interesting" but we won't be at all surprised to see the line make a hasty exit before early 2006.
--AP
Home Movies Volume III Dated, Art


The fine folks at TVShowsOnDVD.com have box art for Home Movies Season 3, a release date, and a price.
--AP
Jun Planning does Corpse Bride


Japanese ubertoymaker Jun Planning have announced three Japanese collector dolls based on Corpse Bride, and you can order them at Entertainment Earth. I saw these in San Diego in July and was floored-- I've got a Jun Planning Jack Skellington in my collection and it's one of the neatest toys I own, and these look to be made just as well if not better. Plus they're based on more complex and arguably nifty designs in some cases, just less monsterish.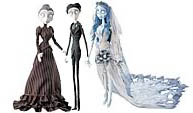 Each doll is about $100, but they're huge and filled with detail. Some of you are going "wow, what a great item for the price!" And others are going "Holy hell, you can't be serious!" Either way, it's worth seeing-- they're very cool looking, and arguably better than a similarly priced minibust or statue. These are being imported by Diamond, so they may show up elsewhere, but the Nightmare Before Christmas dolls were as well-- and priced similarly. So, if you want something nifty, this may be good.
--AP
LEGO 50th Bucket


Spotted at numerous local stores like Toys "R" Us, the new LEGO 50th Anniversary sets are also showing up online. Each bucket is $10 or more, has some special gold bricks, and a ticket for LEGOLAND California. All in all, not a bad deal, worth a look if you're a fan of the bricks which, if you consider yourself any sort of toy junkie, you should be.
--AP
Return of the Answerman


A good personal friend of ours from college and beyond is back writing for Anime News Network! Zac Bertschy is back writing his famous Answerman column, which you should read if you're at all interested in anime. If you're not, well, he posts images of a kitten. Surely you can appreciate that. So, welcome back to the best kind of journalism Zac, and that's web journalism!
--AP
See what I did there?
September 12 2005
Star Wars Q&A Updated at Galactic Hunter


Galactic Hunter has posted a Q&A column by yours truly. We look at all sorts of crap.
Just one update this week-- there's doings a-transpiring!
--AP
Armorhide Hits... all over


A number of Cybertron toys have been spotted at stores, so if you're still in the market for them, be sure to look for Armorhide, Brakedown, Undermine, Mudflap, and Leobreaker. (Although interestingly enough, while we spotted one lone Armorhide at a Wal-Mart here in LA, Brakedown and Undermine were not present.) To make a long story short, Armorhide is actually a pretty great little toy and we definitely see him as a worthwhile expense.
--AP
We Love Katamari OUT NOW


Thanks to a tip from our pal Zac, we found a copy of the new Playstation 2 game "We Love Katamari" at a local Target on Saturday. (And one of us already beat it.) It's $29.99 and reports say that it's being put out early by some Targets and Toys "R" Us stores. The actual release date is September 20, so if you want to get it early, get hunting.
The long and short of it is that in most senses, it's more of the same, but mixed up enough to seem like a fair sequel. It's somewhat like Sonic 2 to the original's Sonic, except these games don't suck and are actually fun five minutes after you've gone through them. There's a lot to unlock, and the level designs are, overall, more fun and rewarding to play through. The level selection interface is a little clunky, though, and the game is once again very short.
Still, at $30, you should get it. You can also load in your star data from the original Katamari Damacy for fun and profit. You can do much worse, the game's self-aware sense of humor is probably going to be the most enjoyable to those who have played a great deal of the original. $30 well spent, go get it.
--AP
TV Rumblings


Two things you may have missed this weekend. Well, technically more than two.
The first is the Sci-Fi premiere of The Man with the Screaming Brain, a movie you've no doubt heard about or perhaps so our pal Pete's article on the Q&A he went to with one Bruce Campbell. The two-hour movie is pure camp, and for the first hour and change, pure slowness. It comes off as a movie specifically designed for Mystery Science Theater 3000, except that unlike the recent Lost Skeleton of Cadavra, it's not constantly winking at you. The problem here is that the movie is practically devoid of any sense of fun, except for one or two key scenes, one of which involves Campbell dumping booze in his eyes. (It's funnier than it sounds.) This movie will probably appeal to Campbell fans and genre fans the same way horrible jazz music is seen as high art by people who enjoy fans like we enjoy toys. Worth seeing if you're a Campbell fan, just not worth seeing twice.
Second, and we're sorry we didn't give you a heads-up, new TV. Fox aired the season premieres of The Simpsons, Family Guy, and American Dad, and we're shocked to say all three were entertaining and funny. American Dad seems to be coming into its own, transforming the seemingly dead weight character of Klaus (the fish) into a beacon of irony in what is otherwise a pretty good second-fiddle to Family Guy. We mean, it had Patrick Stewart singing Oingo Boingo's "Little Girls." If you've been missing the show, we advise you start watching it. Then again, we were giant fans of Unhappily Ever After during its transformation to Married With Children rip-off with a gimmick into a show that constantly lamented its own life on television. So, yes, we had fun.
--AP
Beat the Boots
September 13 2005
Bootlegers Strike Again, Cybertron to move to Kids WB


Just when you thought it was safe to buy G1 toys. It seems another vendor in Asia has decided to make top-notch knock-offs of original American packaged Generation 1 Transformers cassettes. This thread at TFW2005 has images and info on these fakes and a few tips on how to spot them, but if this doesn't make you nervous about buying old toys, nothing will.
Also, reports around the web indicate that the reason the Cybertron animation on Cartoon Network has been removed from the schedule was because it's moving to a many-days-a-week run on Kids WB. We can most certainly live with that!! Good news indeed, even if the show is... yeah. Next subject.
--AP
Seinfeld 6 Specs


If you want to see the box art, mini Puffy Shirt, and other extras from the new Seinfeld box, it would seem TVShowsOnDVD.com has a story for you. Lots of pictures, information, and more for the reading.
--AP
Irregular Hunter X, Rockman Rockman Redux


Two fun things for Megaman fans today. First is this batch of info and pics at The Magic Box for a remake of Rockman X called Irregular Hunter X. Graphically, it seems to have received a heck of a facelift. Comparison shots show the original 16 bit (heh heh) game and that it too looks pretty awesome. Definitely worth a look.
The same site also added more images of Rockman Rockman, the super cartoony remake of the original NES/Famicom Megaman/Rockman game we mentioned earlier. Apparently it also has a construction mode to make your own levels. It just gets better! Page 3 has large images of the characters including Rockman, Iceman, Fireman, and Cutman.
--AP
No I Did Not
September 14 2005
Worst exclusive ever?


What's devoid of innovation, costs $15 and shipping, and is similar to a mountain of concepts Lucasfilm has rejected since the 1970s? Why, it's the new exclusive Holiday Darth Vader! We're working on some editorialish thing at the end of the next Q&A about it, but for those of you who AREN'T big on Star Wars, we felt you had to see the Fan Club's next exclusive for yourself as it's... unreal, to say the least.
--AP
Alternators Prowl, Decepticharge too! (And plugs!)


...sort of. At Entertainment Earth, we received several cases of the Transformers Alternators Assortment 11 yesterday! And it's in stock for ordering now! The case has Prowl, Decepticharge, Swindle, and Wheeljack. It's not an ideal mix, but for many fans of the line, that's three new figures. For most of us, it's two. And for the lucky swine that could actually FIND a Decepticharge, it's one. Either way, the case is in stock and ready to buy. (Buy it through the link and we get a nickel. It's our birthday, so buy two.)
Also back in stock, Legends of Cybertron Wave 2, which is actually the first 8 toys for $31.99. Not a bad deal, the going rate in stores is anywhere from $3-$5 a pop. The harder-to-find-for-now Jetfire, Evac, Scourge, and Leobreaker are all included, but sadly, the various other toys cannot add on to Optimus Prime like some of the Japanese Kabaya toys. Still, these are cool roughly Spychanger sized toys that would probably be a real hit at the likes of Wal-Mart and Toys "R" Us, and it's a bit of a pity that this line was determined to be a "market six" only item.
--AP
Sigma 6 is OUT!


...again, sort of. At Entertainment Earth, we received several cases of the G.I. Joe Sigma Six Commando Assortment yesterday! That's the good news. The bad news is we only got enough to cover preorders, but if someone opts out, well, that means they're out and up for grabs. So if you put in a preorder, you'll either get one of these cases or the first from the next batch. Or you can wait for Toys "R" Us. Either way.
--AP
Asssscat


In case you missed it-- like we keep doing-- be sure to check out Asssscat on Bravo. It's basically real improv comedy done by people who are, in fact, funny. It's on again in the middle of the night on the Wednesday/Thursday cusp, so check your local cable listings.
From Bravo's site: The fully improvised one-hour special features an all-star cast of founding members Matt Besser, Amy Poehler, Ian Roberts and Matt Walsh. Special guest performers include SNL's Rachel Dratch, Tina Fey, Horatio Sanz, and late Night with Conan O'Brien's Kevin Dorff and Andy Richter. (For those of you who don't know, all Improv Comedy is not always not funny. The former Comedy Central show The Upright Citizens Brigade is allegedly birthed of a few long form games that resulted in what most people assumed were actually sketches.)
They Make Me Feel So Bad
September 15 2005
Legends of Cybertron Overview


So I got my case of Legends of Cybertron Wave 2, the mini Transformers based on the big characters on the TV show but in a handy pocket size with a price to match. I already had a Skywarp and Optimus, but I got the whole case now and have been futzing with these for the better part of a couple of hours.
For the price, size, and what these are trying to be, it's a big thumbs-up. Each has a fairly simplistic transformation, and while some are far from perfect (Evac and Megatron), most are solid little toys in their own right. We're especially fond of Jetfire and Hot Shot in this size, and I'd buy another Scourge to keep on my desk at work in dragon mode if I could easily find another. These are far from perfect and could benefit from a few more paint applications, but it's hard to fault them-- they're like the world's finest Happy Meal toys, really. If you have kids, they might like them. If you need to stuff stockings or fill Easter baskets, these look good. And since there's supposedly going to be at least one more wave, well, it's a fine little collection as it should eventually incorporate most of the core characters.
In Japan, these are being used mostly as a freebie but also as their own line. Sort of. Repainted (and improved) Megatron, Starscream, and Optimus Prime were released and cost about the same as their US siblings-- appropriate, as they're on modified US packaging. Galvatron will be a magazine freebie, and he's rumored to come out in the USA anyway. Not rumored to come to the USA is the Metallic Convoy, a shiny repaint of Optimus Prime. This particular Cybertronian is to be packaged with Megalo Convoy, aka Metroplex. It's assumed (by us) that this may mean that in the Cybertron/Galaxy Force fiction, the LOC line is about scale to Megalo Convoy. If so, this has us extra giddy about this mini line, and for the upcoming Metroplex.
Also, the fine folks at Takara announced the Megalo Microns, a red, white, and blue series of repaints of the Destruction Team from Armada. Neat-o. There were other things too but not much of note other than the Police Gasket.
--AP
Advent Children & Famicom GameBoy Micro


If you have any interest in retro Famicom/NES crap or Final Fantasy VII, go check out yesterday's update at NCS. Lots of images, lots of news, lots of details. Some you may know, some you may not. Either way, it's a good recap and it may be the only look you will get at some pretty funky new game goodness.
--AP
Too Little
September 16 2005
Botcon Comic Preview


With the beginning of Botcon 2005 just days away, the fine promoters behind the show posted this preview page of the convention comic. In addition to a small army of toys and other goodies, apparently they all get a little story too. Not a bad package, and we still wish we were going.
--AP
He-Man & She-Ra Christmas Special DVD


Were we betting men, we'd have lost this one-- TVShowsOnDVD.com confirmed yesterday that the He-Man/She-Ra Christmas Special is coming to DVD and is loaded with extras. We're astonished. Read on.
--AP
Ducktales DVD Art


We're also happy to see that TVShowsOnDVD.com located and posted Ducktales Volume 1 art. Click and read, blah blah blah.
--AP
Buttload of Game News


First, a portable Katamari Damacy was confirmed. While one has been rumored for the Nintendo DS, it turns out it's coming on the Sony PSP instead. Gamespot has the scoop and a playable version will supposedly be at the Tokyo Game Show 2005. And of course, The Magic Box has several new screenshots.
And over at The Magic Box: Info on Xenosaga III (and Xenosaga I + II for Nintendo DS), Final Fantasy IV for GameBoy Advance, Taito Legends, and Europe, Japan, and USA Xbox 360 launch info, pricing, dates, and specs. Yowza. That's a lot of info.
--AP
That makes it even better
September 17 2005
Finally: Decepticharge, Prowl sighted in stores


It's been a while-- but after much brow-furrowing, they're here. I personally sighted one Prowl and one Decepticharge from Transformers Alternators at a LA area Target store here in California last night. (And yes, they're here with me now and very happy to be here.) So after months and months of worry, this figure has finally arrived at the brick-and-mortar stores from which we have become used to making our many purchases. Huzzah!

These are the last two releases in the current packaging. Starting with... well, these figures, you're going to see them ship in a new, mostly plastic package that better showcases the car, incorporates character quotes, and generally is more friendly to selling the product at retail. And as luck would have it, Sunstreaker and Prowl have surfaced in these new boxes-- however, while we hear Decepticharge will make the transition as well, we have yet to see him. Some new Cybertron toys are shown in-package as well, so check those out.
--AP
Rumor: Wave 2 Palm Talkers at Kmart?


RUMOR: Buzz going around the web seems to hint-- and this is TOTALLY unconfirmed-- that the popular Kmart exclusive super deformed Palm Talkers will see a second series in Revenge of the Sith packaging. Series I had Chewbacca, Darth Vader, R2-D2, and C-3PO. Series II is rumored to have Yoda, Darth Maul, Boba Fett, and the Stormtrooper. Yoda and Darth Maul were released in Japan by Tomy in 2000 and are somewhat hard to find, commanding a fair premium in their Japanese packaging. Boba Fett and the Stormtrooper were both released in the USA during Power of the Jedi and can be found fairly cheaply.
So for the record, if you're curious, there are 5 Palm Talkers that were released for Episode I in Japan, and 6 in the USA for Power of the Jedi. R2-D2 was released in both series, and as of now, it appears the only one not released in the ROTS line will be Tomy's Jar Jar Binks and Battle Droid, both of which are awesome. So, take that rumor as you will and keep a $10 in your wallet just in case.
--AP
Nintendo's New Controller


Nintendo finally revealed their new controllers today, and you can read more at Gamespot or any techie news site. Seriously, it's everywhere. News of game demos and the functionality of this remote control-turned-game controller is quite interesting and all over the place, so be sure to not miss out on it.
--AP
You want more of this?
September 20 2005
Star Wars Q&A Updated at Galactic Hunter


Galactic Hunter has posted a Q&A column by yours truly. Actually, it was on Sunday because we had to go out of town for a conference. But hey, there it is.
--AP
New Transformers Everywhere


First up: while in Santa Barbara, we spotted the complete set of Rail Racer, the Micromasters Trainbots set, for $3.99 a pop at a Kay-Bee. (It was the only toy store in the area so we felt we had to go.) So far, it's totally worth it, if for no reason other than it's a Cybertronian who isn't afraid tolet you know who's #1. (Just look at his hands.) Note: these were packaged in the "classic" Universe style, overseas it will be packed in more of a "Cybertron" style. (Note: This image stolen from Fan2Fan, click the link for a full gallery of the Japanese issue of this set.)
They're pretty much identical to the images we checked of the 2003 "Sixtrain" reissue in Japan, down to the faction logos and color choices. Also notable: the packages have a 2004 copyright, the toys have a printed 2005 copyright. We await the fourth team of Micromasters, Superion, with open arms and wallets at the ready. And we hope Kay-Bee and Hasbro (or Hasbro and someone else) continue the miniature Transformers line in some capacity, dagnabbit. These are fun.
While we have yet to sight them ourselves, we're also hearing Kay-Bee's Universe Downshift and Snowcat, both repainted Energon toys, are starting to show up. So, happy hunting!
Also, Tformers.com has some in-box sample images of Binaltech Asterisk Alert (Red Alert) and Sunstreaker, complete with drivers. We're pleased. We may have to buy these.
Finally, TFans has a thread up that has several images of what is presumed to be (duh) the 10th Anniversary Beast Wars Waspinator. Neat-o. It looks like a mostly improved version of the original toy with a giant Predacon logo and a nicely repainted face.
--AP
Mass Clearance of G.I. Joe, Transformers

KB Toys is offering a number of G.I. Joe: Valor vs. Venom items and Transformers Energon and Universe items at mad crazy clearance prices. Prices vary by store, but you can find G.I. Joe comic packs as low as $6, the Ninja Battles gift set for $10, and numerous "Ultra" sized Transformers for $10. Some prices are better than others, of course, so check your local stores for a lot of end-of-the-line items. (Note: no signs of Oktober Guard comic packs.)
--AP
GBA Final Fantasy IV in the USA on December 12?


We're scratching our heads, but we saw The Magic Box report that Square Enix has a GameBoy Advance port in the works of Final Fantasy IV, but here's the thing. They say it's coming to the USA on December 12. We're not sure if this is correct or what it means for the Japanese release, but if it does come out, we hear through other sites that it's slightly remixed and as we abso-friggin'-lutely LOVED the Super NES original, we'll buy it all the same.
For the record, if you didn't buy last year's GBA Final Fantasy I & II (Dawn of Souls) for Nintendo's handheld, you missed out bigtime. Go buy it.
--AP
Your majesty?
September 21 2005
New Transformers: Soundwave, Galvatron... in Japan


The Galaxy Force versions of Soundwave and Galvatron are out, and Fan2Fan has images of boxed toys and the imported toys for sale. US versions are coming in Cybertron eventually, but for those who can't wait, the prices are $30 and $46, respectively, which aren't too far off from what Kay-Bee would charge for these anyway.
--AP
New G.I. Joe Sigma Six: Kay-Bee, Toys "R" Us


Both toy stores have started receiving the new Joes, as has Entertainment Earth and a few other vendors. Kay-Bee is asking $19.99 per figure, and Toys "R" Us is charging $14.99 each. So far only the first five figures have been sighted. Happy hunting!
Also, read Shortpacked for today. That is all.
--AP
Shameless Plug: Star Wars Clone Trooper Evolutions Version 2 at EE


Who wants to see a shameless plug with boxed images of new white armored troopers? Is it you? If so, you're in luck. The repainted troopers are available in a single 3-pack or a solid case of 4 3-packs. Hasbro confirmed these are the new ones, so order ye some troops.
They also got in the Cobra Night Watch Action Figure Set, Master Replicas Signature Edition AT-AT, and new shipments of the exclusive Clones I helped develop. And on those last ones... uh... let's just say that it isn't likely another shipment will happen. End horribly shameless promotional message.
--AP
Castlevania: Curse of Darkness


Want to see some preview screens of November's (in Japan) new adventure for the Castlevania series? Sure you do. The Magic Box has three pages of screen shots of the new game for the perusing.

Also neat and new, there's Nintendo DS Bubble Bobble coming in Japan. No word of a USA release yet, but NCS has a preorder and a screen shot. It ain't much, but I'll take what I can get. For the record, Nintendo DS games aren't locked out by territory, so your US game can be played on a Japanese system or vice-versa. Also, these games are usually mostly in English. Unfortunately, the import is not cheap-- $49.00. Still... could be worse. I mean, we never got those cute Densetsu no Stafi games because Nintendo refuses to bring them out here. Swine. (Although we'd buy them if we could.)
If you didn't already get it, the US version of We Love Katamari is out on Playstation 2. If you have a PS2 you should get this game, it keeps wives distracted for hours while you update your 16bit.coms.
--AP
Gigantisaurus Revealed, Again
September 22 2005
New Transformers Announced, Released: HBS G1 Convoy, Snarl & Sideways


Even more shocking and arguably more interesting is another new G1 Convoy toy, courtesy of Fan2Fan and its full name is HBS-2 Hybrid Style G1 Convoy. Its full compliment of goodies has yet to be determined, but these items are usually smaller and stuffed with detail. Also announced, the EX-02 Sonic Convoy set with a Crystal Galaxy Force Convoy, a Fire version of Sonic Bomber, and a new Ramble repaint with a remolded head. WOW!
It just doesn't end! Cybertron Wave 3 arrived in the warehouses of Entertainment Earth. We cracked open the box and personally confirmed the mix, and Cybertron Snarl and Cybertron Sideways are both present. We're not sure about differences between the USA and Galaxy Force releases, but they do look most excellent. Get your preorder up as EE gets these delivered into their systems, or start hunting-- it's a tidal wave of new robots!
But there's more! TF proto hunter P Prime has supposedly obtained a fully boxed US reissue of the black and white G1 Astrotrain. Wowzers! More as it develops.
--AP
New Masters of the Universe Q&A


He-Man designer from the 1980s Roger Sweet answered over 100 question over at He-Man.org on the origins of numerous toys from Masters of the Universe and provided a lot of interesting commentary on the use of old molds and the development of new concepts. It's well worth the read!
--AP
Nintendo DS Nintendogs Bundles, New Consoles


Looking for a Nintendo DS bundle in a new color with a game? GameSpot has news of a new $149 bundle with a new version of Nintendogs, "Best Friends Edition, with a new screen cleaner, paw-printed skin, and more. Read on.
The sneaky swine at Nintendo also gave the GameBoy Advance SP a brand new screen, thus rendering our Famicom edition and NES edition SPs fashionable, yet obselete. IGN has an article with images showing how much brighter and better this new backlit screen looks, and it makes us sad. The new unit is available now, we sighted it at a few stores on last night's toy run.
--AP
Transform or Die
September 23 2005
New Transformers News Galore... at Botcon 2005!


It's going to be a busy weekend in Texas as news from Botcon 2005 comes rolling in. Continuing a proud tradition since the first Botcon, the staff of this site is unable to go. So we'll be linking to the coverage of people that actually get to go.
First up: Exclusives! There were no real surprises. In addition to the 7-figure box set, there's a $65 pack of Ratchet & Flareout and a $35 set of Insecticon Drones. Another Arcee redeco, Flamewar, is the freebie.
Ongoing news coverage can be found at this 2005 boards thread.
Also, an in-package shot of the US reissue of Generation 1 Astrotrain has been posted here. It certainly appears legit, so who's to know what the future of this item is? Well, odds are the person who knows is at Botcon and you'll know shortly.
--AP
Dragon Warrior VIII Coming to the USA in November... with Final Fantasy XII demo


RPG fans, mark November 22 on your calendar. Sure, it's the date the Xbox 360 is coming, but Square Enix is gifting PS2 owners with Dragon Warrior VIII, so says GameSpot. This is the first part of a one-two punch, the second part being a free bonus demo of Final Fantasy XII. Is there too much of a good thing here? Find out in November.
--AP
Fudding.
September 26 2005
Star Wars Q&A Updated at Galactic Hunter


Galactic Hunter has posted a Q&A column by yours truly. Enjoy!
--AP
New Transformers News A-Go Go


With panels galore and news that went from "ho-hum" to "holy mother of crap," Botcon 2005 seems to have done fairly well for itself under its new management.
The biggest and most exciting news is that Hasbro has plans for a retro G1 line in early 2007, to fill the void between Cybertron and the movie line. With highlights including a brand new Megatron that actually turns into a gun, this is sure to please many a newcomer and further annoy those who are sick to death of G1 themed everything. (Frankly, we're excited.) The only other confirmed toy was a new Starscream that turns into a modern jet, and reports indicate that these bridge the gap between Alternators and other toys. We also hear rumors early shots were revealed at Botcon but pictures are, unfortunately, unavailable. Boo, hiss.
We were fairly surprised to hear that Robot Masters is not coming to the USA in any capacity, but that they would make new versions of Optimus Primal and Megatron, both from Beast Wars, with all-new molds and Cyber Key slots. Interesting stuff, for sure, and we hope it means there's chances to do more new versions of popular and/or interesting Transformers as the line goes on. Cuz we're going to be pushing people over to get these if they're halfway decent.
New Alternators include Mirage and Optimus Prime and numerous recolors/tweaks of existing molds. On the whole, it's a mixed bag but as the early shots of Optimus' head seem to have a G2 comic feel, we're all curious and want one anyway.
For those of us unable to attend the show, the finest roundup of information, articles, and links can be found at TFW2005. Kudos to those guys for assembling a damned fine recap of what sounds like the finest Botcon we've ever had the fortune of reading about after the fact.
A convention Ramjet exclusive Legends of Cybertron figure was given away as well. If anyone got a spare... *cough*...
Finally, Toys "R" Us online and in-stores in the USA are having a buy two, get one free sale this week. This applies to G1 reissues, Cybertron, Alternators, the works. We presume it applies to leftover Energon BOGO packs as well. Check your local stores, and happy hunting!
--AP
G.I. Joe Duke's Blaster Out


The electronic blaster from G.I. Joe: Sigma 6 has hit Toys "R" Us stores. Based on how it looks and its electronic sounds, it isn't half bad. But as it's a role play weapon and we aren't 11-year-old boys, well, obviously we are not the target audience. No signs of the Ninja Lightning bikes yet, but it seems the line is selling fairly well so far.
--AP
GameBoy Micro This Week


Nintendo's newer, smaller, brighter screen GameBoy Micro hits American stores this week. This time around, the system is compatible only with GameBoy Advance cartridges, meaning that your old Gatorade-screen Tetris and your copy of Metroid II: Return of Samus flat-out will not work on this new unit. The smaller, sleeker unit is meant to capitalize on the "fashionable" end of personal electronics ala the iPod and has interchangeable faceplates which I guess are appealing if you're some sort of goof who likes that sort of thing. We'll keep our Famicom and NES edition SPs, thank you. Tuesday, $99 at a store near you, blah blah blah. Go buy Super Puzzle Fighter II Turbo for it if you can, it can still be found for a fair price.
--AP
White Claw or Polar Claw?
September 27 2005
New Transformers Prototype


Less than 24 hours after Botcon, a brand new prototype from Cybertron has already appeared on eBay. The boat is currently assumed to be a basic of unknown nomenclature, but hey, it's there at least. Some speculation indicated fans believed this to be the new tank Unicron, but, obviously, unless you've been sniffing glue you can probably tell that this is not a tank nor does it resemble Unicron.
Over at Newsarama, there's a very interesting article on the upcoming Beast Wars miniseries from IDW. From the sound of things, it'll be the same basic concept as the Dreamwave series, except this time the talent will get paid.
We're also seeing an abundance of Botcon exclusives showing up for sale at what seem to be somewhat crazy prices. While we're interested in securing ourselves a set of those bad boys, well, we're going to wait for price drops on the secondary market.
--AP
Short Corpse Bride Impressions


We neglected to mention we saw Tim Burton's Corpse Bride on Sunday and on the whole we very much enjoyed it. The film was a big step forward in terms of quality of stop-motion animation, although there was a real lack of monsters compared to the movie this will always be compared to, The Nightmare Before Christmas. Clocking in under 90 minutes, it's short for a feature. The music isn't exactly catchy, and while we lament the lack of a character smashing a rat into a delightful hat, it was still quite excellent despite having no obvious purpose other than being highly entertaining. Plus you get to see Danny Elfman as a skeleton sing the back story of Emma, the title character, and it turned out sounding like one of the songs he did with Oingo Boingo in Forbidden Zone. In short, if you read pages like this one and enjoyed NBX, this is a movie you owe it to yourself to see.
The movie came in at #2 this weekend and we believe this to be in part due to a lack of something most movies of this nature tend to have-- merchandising. You can't run out and buy Corpse Bride toys, shirts, games, or any of that stuff easily as of last week. McFarlane toys has numerous plush and plastic items on the way, and Jun Planning has some top notch collector dolls on tap (blah blah blah order some at Entertainment Earth) but unlike Nightmare Before Christmas a decade ago, it's not easy to run out and get stuff today. Which is a bit of a shame, but hopefully, unlike NBX, Corpse Bride wares will be spared the indignity of going on clearance in 15 minutes only to become highly sought-after collectibles six months later.
--AP
Family Guy Stewie DVD Today


A number of retailers are selling the new Family Guy DVD, Stewie: The Untold Story today, and some of them have good prices or bonus DVDs with other shows' TV episodes on it. Check your local stores for offers and whatnot and enjoy, as we hear it's good.
--AP
Junko in the trunko
September 28 2005
New Transformers Binaltech Asterisk Sunstreaker Revealed-- again!


The cats over at TFormers have an article with Sunstreaker and Junko from the new Asterisk line in and out of the packaging, and in both modes. Of note: the US Sunstreaker will not include Junko and will be painted differently, so variant-savvy transfans might want to pick this one up when it hits fine importers.
--AP
Toy Biz Marvel Legends Poll


Fans of super-line Marvel Legends may wish to participate in this poll at Marvel.com deciding the best fight scene and best cover in Marvel's history. They're looking at future products, so it's a good idea to check this out and put your two cents in. Werewolf By Night, baby.
--AP
Big sale at Toys "R" Us


Toys "R" Us is holding a big birthday sale online and in stores, with buy two get one free offers on a number of popular toys. Included in the mix are LEGO and Transformers, plus numerous other items from the pink aisle as well as additional discounts all over the store. If you buy stuff, it's worth a look as it seems they're not excepting any toys from the sale, assuming the brand is of course included.
--AP
Super Pilot X-wing GO!!
September 29 2005
New Seiken Densetsu (Secret of Mana)-- #4 and DS!


The Magic Box has two blurbs today. One is for a brand new Seiken Densetsu 4 for an as of yet unidentified console. It's a direct sequel to the third game in the series, which was never released in the USA. Seiken Densetsu 2 was released in the USA as the classic Secret of Mana and the first Seiken Densetsu was sold as Final Fantasy Adventure which was later revised for the GameBoy Advance as Sword of Mana. It's a fine lineage, and we have high hopes for this new 3D entry.
Also shown was Seiken Densetsu DS for Nintendo DS. Which is a 2D game for Nintendo DS.... no other details at this time.
--AP
New Sigma 6 Snake Cycle

Now available at some Toys "R" Us stores: Snake Eyes' Motorcycle. (We spotted it on Monday.) It has a lot of features, weapon storage compartments, and other goodies for $20 or so depending on where you shop. It's the first of two ninja friendly motorcycles on the way, the other belonging to, of course, Storm Shadow. Happy hunting!
--AP
Star Wars Transformers Clarifications


They're mechs. The point of the toy line was a little hard to determine, but after chatting with some people who know better at Hasbro, we have been informed that the point of these toys is that they are vehicles that turn into giant robots for tiny figures to pilot. So each one is driven by a little Darth Vader or Luke or whataver that's basically the same size and style as an Action Fleet figure. While it is unfortunate that it strays from the idea of intelligent alien giant robots, it's still pretty damned neat because in a way, this line does something that very few Transformers do, and that's have a pilot. (Exceptions, of course, include the likes of Scavenger/Treadbolt and Kicker with High Wire. And the Omega Supreme brothers and whatever his head was eventually called.)

Oh, and if you haven't seen them, the guys at The Allspark have some great Botcon galleries, including one showing the extensive, nutty, wonderful collection of M Sipher's Heroes of Cybertron Homebaked figures. Not only is Mr. Sipher a good friend of ours, we think, but he does top notch work. Well worth checking out. (We want his Stepper.)
Aaaand finally we're going to have information and case assortments on all the new Mini-Con 2-packs from Cybertron up tomorrow.
--AP
The Roof is on Fire!
September 30 2005
Gunstar Heroes returns to... PS2?


The Magic Box once again has news of a Sega Ages classics entry-- Gunstar Heroes! It's coming in Japan on December 22 and there's no other info yet, but that's pretty damned good news as that's a fine game from the Sega Genesis/Mega Drive days..
--AP
New King Kong Supplemental DVDs before Movie


Here's an odd piece of news from The Digital Bits-- apparently the first DVDs based on Peter Jackson's King Kong remake are coming out December 12, and are jam packed with the production diaries posted on "fan" site KongIsKing.net. It's also going to have special packaging, art prints, and other crap... read on before the story goes away!
--AP
Transformers Cybertron Mini-Con Wave 1, 2 Assortments revealed, preorders too!


As promised! Entertainment Earth added the Wave 1 Set, Wave 1 Case, Wave 2 Set, and the Wave 2 Case. While these first few batches are repaints, the cases are evenly packed and the sets have no duplicates-- plus these are Mini-Cons with Autobot and Decepticon logos on them, which is pretty uncommon for a Mini-Con toy! Preorder today, blah blah blah. It works out just over $5 per two-pack, and official Hasbro images of these items should be on these product info pages if they aren't already.
--AP
Click Here For News From August!