RIP Cokie Roberts
September 4, 2019
Star Wars Review: Stormtrooper (The Retro Collection)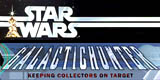 Via the Star Wars Galactic Hunter Figure of the Day Blog: Stormtrooper (The Retro Collection). It's a little different from the original, but close enough the kids won't know the difference without looking at the copyright marks. Read the whole review.
--AP
Kickstarter Beasts of the Mesozoic Ceratopsians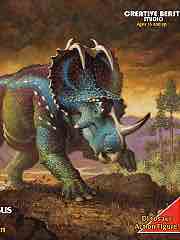 Via Kickstarter: Beasts of the Mesozoic: Ceratopsian Series Action Figures. It's already 33% funded after a few hours, so it'll probably be just fine. For the curious, the Creative Beast Monoclonius is a bit bigger than Tyco's Dino-Riders and Smithsonian Institution series animals.
I saw the prototypes for these at David Silva's booth during San Diego Comic-Con and they are gorgeous. Also expensive. The Kickstarter Exclusive Monoclonius is $50, but it's a hefty beast. Most exciting, perhaps, is that they got Dino-Riders packaging painter Ezra Tucker to do some box art.
If you're on the fence, take note - Zuniceratops is a smidgen smaller and significantly cheaper than the bigger trio. Zuniceratops is only $25... which is right about perfect if you just want one to hang out with your other toys.
--AP
Nintendo Entertainment System Reissue - 4 Flavors of Metal Storm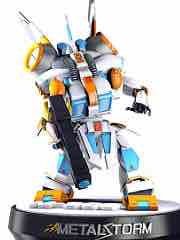 Via Twitter: Retro-Bit is preparing four flavors of Metal Storm for NES. Not only are there limited and standard editions, but four total cartridge colors will be run.
The limited edition with figures and ephemera runs about $69.99. The base model is $44.99.
Limited Run Games will be selling the Metallic Silver Collector's Edition.
Castlemania Games has the Galactic Blue Collector's Edition.
Exclusive to Europe, Dragon Box Shop will be selling a clear blue cartridge in their Limited Edition.
A cheaper standard edition with a black cartridge will be sold everywhere. It's significantly cheaper but lacks the pin, certificate, poster, and collector's figure - arguably the real selling point.
--AP
Candy Corn Warlords of Wor - Indiana Toy and Comic Expo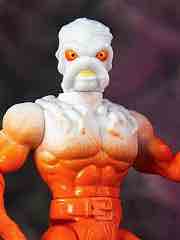 Via the Glyos News Dump: Warlords of Wor Evil Harvest Bog-Nar Brings the Candy Corn.
These will be sold at Indiana Toy and Comic Expo first, with leftovers online at a later date.
--AP
Catfished by an Eel
September 17, 2019
Review: Onell Design Glyos Gobon Renegade Hunter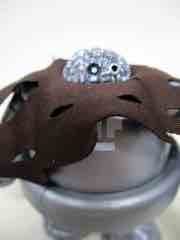 Something new every day-- unless it's old! Our exciting Figure of the Day continues for you lucky people! Is there anything we won't cover in this column? Probably not!
Ragged robot! The Onell Design Glyos Gobon Renegade Hunter is a Gobon enhanced - new head, new deco, and a new poncho for some reason. So read on, and come back tomorrow for more!
--AP
Jurassic World Short Film - Battle at Big Rock

Via YouTube: Battle at Big Rock | An All-New Short Film | Jurassic World. This is interesting - it's about 9 minutes with credit scenes of a post-Fallen Kingdom world with wild dinosaurs menacing a family on a camping trip. It would've been an awesome bonus short in the theaters.
It's sort of neat as a franchise extender, like those short Marvel movie things. It doesn't add much new other than some flavor to what wild dinosaurs could be like, but you could have easily told this same story with an escaped lion from a zoo. Still - it was really kinda cool and a good way to keep people interested (and sell some toys) between movies. After all, it has only been a year since the last film - it just feels like several.
--AP
ICYMI: Guerilla Toss 10/31/18 Show Download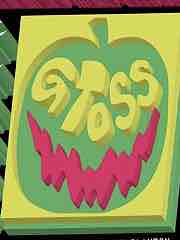 Via nyctaper: Guerilla Toss: October 31, 2018 Market Hotel. Like Southern Shelter before it, nyctaper is loaded with recordings of awesome live shows - including last year's Guerilla Toss Halloween show. It's an hour and twenty minutes, and it's a decent recording with vocalist Kassie Carlson mixed a little quiet.
If you've never heard them before, they're a weird and awesome act - plus you get covers from the Velvet Underground and Eno in there. It's a good one.
--AP
RIP Ric Ocasek
September 16, 2019
Star Wars Q&A at Galactic Hunter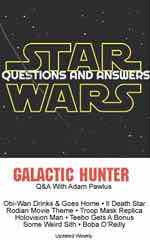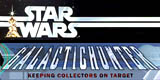 Galactic Hunter has posted a Q&A: Star Wars Screen Size Skirmishes and Speculations and Wishes! It's new! Be sure to click through and read up on the latest!
Be sure to send in your questions for the next thrilling update!
--AP
Analogue Goes Analog - DAC Converter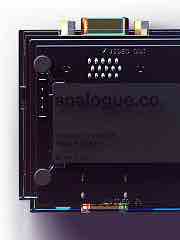 Via Analogue: Say Hello to Analogue DAC! This lets you connect your Mega Sg or Super NT to CRT and PVM screens. In short, it lets you play old games on old TVs, but with the new features - like Jailbroken consoles, the better sound chips, and so forth. Super NES games can easily and cheaply by connected to a CRT TV via existing cheap cables, but the Sega Genesis and Mega Drive require pricey mods for superior analog SD video - so this is for a very specific kind of Sega fan first and foremost. And remember, it's only an adapter - games and hardware sold separately.
Intriguing: "Pair DAC with Mega Sg or Super Nt for the complete experience in HD and Analog. Future Analogue products will support DAC too." I assume this means new NES or GameBoy-compatible hardware.
The gizmo is $80. I am presently on the fence leaning toward no, but if there's a new Analogue NES system or a good GameBoy Advance player I might snag it. If none of this makes sense to you, basically this is the video game equivalent of audiophile hardware and new production of old hardware, of sorts, provided you have the proper screen.
--AP
The Far Side Redux?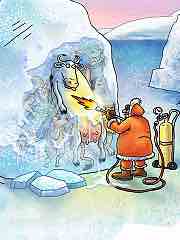 Via Gary Larson, presumably: Uncommon, unreal, and (soon-to-be) unfrozen. A new online era of The Far Side is coming!.
What this means remains to be seen - a daily calendar? Old content in color? New comics for the first time in over 20 years? The page was spotted Sunday and it's hard to know what might come of this.
--AP
Support 16bit.com and Galactic Hunter via Patreon

We're taking donations for server costs! Really. One of the rewards is Q&A a few days early - you can read next Monday's installment as soon as it's ready, which can be as early as 26:01 AM my time on Monday!
If you've got a dollar a month to share, please Visit the Galactic Hunter Patreon and help cover our server costs. I'll still put in hours of work, writing, photography, and research for you - I just need some help making sure that the site costs me only time, and hopefully not money. Thanks for your support!
--AP
Trial By Stone
September 13, 2019
Star Wars Review: Mountain Trooper (The First Order, Galaxy's Edge, The Black Series 6-Inch)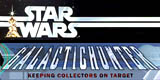 Via the Star Wars Galactic Hunter Figure of the Day Blog: Mountain Trooper (The First Order, Galaxy's Edge, The Black Series 6-Inch). It's a First Order trooper made of Empire parts. Read the whole review.
--AP
Siege Nemesis Prime a Thing, No Known US Release Yet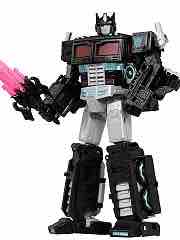 Via Takara-Tomy: Siege Nemesis Prime. It's unfortunately gorgeous. It also has a red sword from the Lio Convoy/Alpha Trion mold, without any of the battle damage we've been getting on US releases. I do not know yet if it will be distributed outside Japan - but I'm watching online stores.
--AP
Nintendo Switch This Week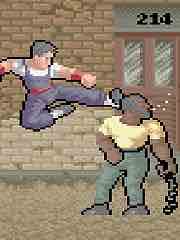 This week's batch of titles on the eShop: Arcade Archives VIGILANTE, Super Dodgeball Beats, Molecats, and several dozen others.
At retail: LEGO Jurassic World and Star Wars Pinball and some more.
--AP
Click Here for News from September!