Games? No. But We Have Junk.
January 11 2001: Launch Redux


Tryin' this again.

This is the third (at least) look for this site, which has never quite taken off despite being a pet project over the past three years. Now, however, we're trying harder. So bear with us.

NEW TODAY: Simpsons Toys (pics & reviews), series one figures.

OLD TODAY: Metal Gear Solid (pics & reviews). They've been up for a long time.

You might be saying "Adam," ("Adam," you'd say) "there's not much here yet." True. But we're busy little buggers we will work while you sleep so that you, the bored citizenship of the world, can have somethin else to read about during lunch hour. (After you finish up at I Am Happy Blue.)

Oh, and we penned an intro to the site in our new text area. It's boring. But if you read it, you'll be able to complain we didn't include any pictures.

--Adam

TransFormers PVCs
January 13 2001


I mentioned these over at Rebelscum and people seemed interested, so...

In Japan, Takara has recently released a series of TransFormers PVCs. Six characters are available in clear and painted varieties: Optimus Prime, Megatron, Arcee, Ultra Magnus, Starscream, and the Japanese character God Ginrai. Two chase figures were produced as well: metallic "More than Meets The Eye" versions of Optimus and Megatron, complete with energy weapons, are packed at a reported 1 in 120 cases. Each figure features a few points of articulation and is supposedly just smaller than a Star Wars or GI Joe: Real American Hero figure.

The figures are marketed as a sort of "trading kit." Much like trading cards, an individual figure contains one random character. The clear ones are reportedly more fragile than the painted ones, reports of broken Starscreams and Megatrons have surfaced in some collector circles. Contrary to what some on Ebay have been writing, the clear versions are no less common than the painted ones.

A case of figures typically includes one complete set of the painted and unpainted figures. In other words, a dozen. They typically sell for $5-$10 per figure via importers, and a case goes for $60-$100+. Japanese retail per figure is 480 yen, between $4-$5. These items are available at finer Japanese toy and Transformer stores online, everywhere.

Series II is scheduled for later this year. Shipping in clear and painted versions will be Optimus Prime (truck), Galvatron, Grimlock (T-Rex mode), Rodimus Prime, what appears to be Powermaster Optimus Prime, and Minerva (regendered and repainted as Nightbeat.) The chase figures appear to be a very nice Optimus Prime holding Megatron in gun mode and Hot Rod opening the Matrix.

16bit.com will be adding these figure to the archive as soon as we can obtain a set. We will also be following this line in detail as best we can, so if you're looking for a source of news for this line, you've found it.

--Adam

Related Links
Images of Series II figures: http://member.nifty.ne.jp/kogawa/sfes20.htm


Deep Discounts On Toys, Simpsons Wave III, and Other News
January 15 2001


For those that care:

Etoys has a variety of items on clearance, including Star Wars figures for $0.99, and the following TransFormers (amongst others):Optimal Optimus is $8.99 (well worth it, I got mine off Amazon in late '99 for $8), Primal Prime (a hard-to-find Op Op repaint) for $13.99, and of course, the gigantic Supreme Cheetor for-- get this-- $8.99.

If you're on the lookout for something, this might be a good site to check. I mean, Supreme Cheetor... that'd make a fine present for somebody's birthday or something.

A bunch more stuff should be added to the Simpsons area soon, and it looks like a TransFormers PVC section could be ready real soon. Like by the weekend if the 16bit.com office's caffeine supply stays high. Stay tuned for more.

...and in Simpsons news, word has it Wave III-- with Moe, Nelson, Sunday Best Homer, Millhouse, and Kamp Krusty Bart (which early pics show as being Red Shirt Bart with New Logo)-- could be out this month some time. We'll keep ya posted.

--Adam

Status Report & Fun Links
January 19 2001


We added the Toy Box area today.

The TransFormers Generation 1 PVC page is coming along, despite our not having the items to photograph. (Don't worry, they'll be here soon enough.)

Simpsons Wave 2, the Treehouse of Horror set, and a few other special items are being worked on as you read this. It's just a matter of formatting the images at this point.

Check these out for something to do while we work...

Rebelscum Q&A: Adam's column on Star Wars questions, updated early this morning.
Raving Toy Maniac's News Page: If you don't read this page, you should.
DVD Price Search: Searches the web for the lowest priced DVDs.
BWTF.com: Ben Yee's Beast Wars/Beast Machines/Car Robots TransFormers page.
Drudge Report: Because you are a unique individual that already reads it anyway, just like everyone else.

That is all. Go back to your lives, get some lunch, and send us some money.

--DS2

TransFormers: Generation One Super Collection Figure Archive Debuts
January 22 2001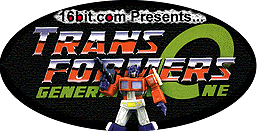 We've just added 16bit.com's look at Japan's new line of TransFormers: Generation One PVC figures.
Our archive features the 12 wide released figures in the collection, which are clear and painted versions of Optimus Prime, Arcee, Starscream, Megatron, Ultra Magnus, and the Japanese character God Ginrai. The "chase" figures, More Than Meets The Eye versions of Optimus and Megatron, have not been made available to us to shoot as of yet.
We included images of the individual box packaging, the cases in which the boxes shipped, and the typical images of each figure. From multiple angles. We even shot front and backlit pictures of the clear Optimus Prime. Because we're sad, sad people.
We hope you enjoy your look of this new Japanese toy line and find it as interesting to look at as we did. More new content... uh... soon.
It would've been up sooner, but Adam was too busy watching the Chico and the Man marathon on TV Land.
--16bit.com

Simpsons Update, Cheap-o Dreamcast Titles
January 29 2001


Simpsons Wave 3 is now available. (At certain stores.) A weekend rush through Phoenix Targets showed that each and every store we visited had at least one of the two new playsets (Krustlu Studios with Sideshow Bob & Town Hall with Mayor Quimby), and unfortunetely nobody on the 16bit staff (neither of us) found any of the new six figures, however we have received numerous email about Super K-Marts stocking them.

A Note On Kamp Krusty Bart: The pictures from Toy Fair '00 showed a plain first-series Bart with a KK logo on his shirt. The final figure has new accessories (imitation gruel, kids), some alterations to make his clothing tattered, and some war paint. (We're debating if he actually ever appeared on the show like this and leaning heavily toward "no.")

We will be updating our photo archive with the new playsets soon. We'd also like to warn you that every Town Hall playset we saw had some form of paint scuffs, usually on one of the microphones. But we got lucky. Adam's sample has a scuffed mic and a bunch of black marks on the back wall. But on a happy note, we'd like to give Krustylu Studios high marks before our official review comes in. Included accessories: cannon, bomb, knife, axe, "DIE BART" license plate, spotlight... that's it, actually. Adam's raving about the Bob sculpt so, as per usual he'll be writing the review.

Target has marked down a variety of games, including the magnificent Jet Grind Radio and the we-hear-it's-good-but-we-haven't-played-it Shenmue, to $19.99. Yes, for the price of about five and a half good cups of coffee, you can get what some say are two of the most innovative games in years. (Jet Grind is worth it.)

--DS2

Random News
January 31 2001

Toys

Rebelscum posted images of the next wave of Power of the Jedi figures as well as the first-ever shots of the POTJ Palm Talkers, which include a deformed talking Boba Fett. Too cool, be sure to check it out.

Toy Fair is just around the corner in New York, but goings-on in Hong Kong and London are already being reported at Action-Figure.com. They posted some pictures of American McGee's Alice figures today, based off of the unique designs from the PC game. Oh, and news of a new McFarlane figure of someone you may have heard of named Jerry Garcia. Vital's doing Devo, McFarlane's got Eminem and Kid Rock... so where are The Doors?

In addition to that site, Rebelscum, The Raving Toy Maniac, and your other favorite toy sites will be posting all sorts of news over the next few weeks. And we'll... uh... post the news where to look when news is posted elsewhere. So you can waste your time and come here for the "where do I look today?" news if you're lazy like us, and odds are you are.

Our Simpsons Treehouse of Horror toy section should be up later today, now that it's too late to do anybody any good. So it's anybody's guess when we'll get Sideshow Bob ready to go.

Darryl is thinking about doing a list of quotes each playset plays when each figure is placed on it, as well as a compatibility list for quick reference if anybody's interested. If you are, let him know.



Video Games
Reports on usenet and first-hand sightings show that the $19.99 Target Dreamcast sale is going quite well. Jet Grind Radio and Shenmue are in short supply.

In other Dreamcast news, apparently Sega's going to announce some price drop today. After the Sonic on GameBoy Advance and Space Channel 5 on PS2 news, could the $99 price tag be a reality? Has any system ever seen such bad press?? Will we ever add the video game archive to the site???



Episode II Trailer
TheForce.Net is reporting that Episode II's trailer might be attatched to July's Planet of the Apes film. They speculate on the validity of the tidbit, but they don't mention the roller coaster of which film will get the trailer and when we saw with Episode I until it finally came out in November '98 with The Waterboy and Meet Joe Black.



Martian Successor Nadesico DVD 3 Now Available
I love this show. It's a great little anime series, and if you're up for an entertaining show, do check it out. The first one, at least.



Site News
Despite having no audience nor a clear idea of what it is we're doing other than "whatever we damn well please," we do have some plans for the coming week. Our video game areas are done, but hey, we're not happy with the screen shot quality. So we're gonna do some of them over.

If anybody out there has anything they'd like to see here someday, let us know. We need inspiration and a longer "to-do" list.

--AP

Click Here For News From June!