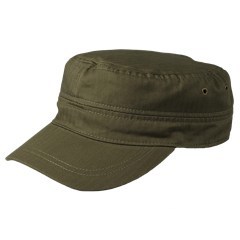 Every once in a while something so fantastically unlikely graces our inboxes that we just can't help but share. Things like this-- Metal Gear Solid Peace Walker Clothing-- just have to be shared.

While tons of cosplay-friendly, high-high-end clothing exists for Square-Enix games or other properties, it's expensive and showy. This is an unusual case of a licensor arranging to produce something that you could probably wear without anybody knowing that it's based on a popular (and arguably classic) video game series.

Produced by musterbrand, these hats, jackets, and yes, pants, can be yours through some online exclusive distribution deal. Odds are JC Penny or GameStop will not stock these fine items, and if you're anything like me, you've never heard of them either. Here's quote from their web site: "Our goal is to convert digital and virtual items into the real world and extend the virtual experience of brands into the real life by creating quality fashion, fashion accessories and life style products."

Here's hoping they tackle some other licenses, but as to what, well, who knows? We'll post more as we have it.

--Adam Pawlus

Additional Images

KONAMI ANNOUNCES METAL GEAR SOLID®: PEACE WALKER CLOTHING LINE FOR MEN

Available Online in North America Beginning April 11, 2011, Collection Marks First Complete METAL GEAR SOLID Clothing Line in Franchise History

El Segundo, Calif. - Apr. 4, 2011 - Konami Digital Entertainment, Inc. today announced a partnership to launch a branded clothing line for men based on KONAMI's METAL GEAR SOLID®: PEACE WALKER for the PSP®(PlayStation®Portable) system, released in 2010. This will be the first complete clothing collection for the franchise, allowing fans to show their METAL GEAR SOLID love by dressing the part from head to toe.

"Our partnership will give fans the opportunity to 'suit up' for one of the most successful video game franchises of all time, specifically for METAL GEAR SOLID: PEACE WALKER," said Careen Yapp, Vice President of Acquisitions and Franchise Development of Konami Digital Entertainment Inc. "The mass success and support for our latest METAL GEAR SOLID hit has allowed us to expand beyond what we've done in the past with the series, and we are very much looking forward to offering this new line to a global community of fans."

The clothing line was created in partnership with musterbrand LLC, a global design group focused on bringing digital creations to the real world.

"METAL GEAR SOLID is one of the longest running video game franchises with an incredibly dedicated fan base, making METAL GEAR SOLID: PEACE WALKER and KONAMI the perfect choice to partner with for a new collection," said Knut Bergel president and chief executive officer of musterbrand LLC. "The new clothing line allows fans to extend their experience with the franchise even further through a unique and fashionable style."

Available for purchase online in US and Canada beginning on April 11, 2011, the collection, featuring well-known PEACE WALKER images, will include coats, sweatshirts, pants, t-shirts and hats, all inspired by clothing worn by characters in game. Additional items in the clothing line will be released quarterly and surrounding certain special events throughout the year.

About METAL GEAR SOLID: PEACE WALKER

Featuring original game design, story, and scenario by Mr. Hideo Kojima - the mastermind behind the most successful video game tactical-espionage series of all time - METAL GEAR SOLID: PEACE WALKER picks up where METAL GEAR SOLID®3 for the PlayStation®2 computer entertainment system left off. Set in 1974, players take control of the legendary soldier Naked Snake as he builds an army in Colombia, South America in the shadow of the Cuban Missile Crisis. The game takes the series into an exciting new direction with its incredible visuals and unique new game system. METAL GEAR SOLID: PEACE WALKER is available now exclusively on the PSP®(PlayStation®Portable) system. For more information, please visit: www.konami.com.

About musterbrand LLC

musterbrand... is a contemporary licensing and merchandising company for digital entertainment brands and virtual worlds. It offers global, vertical integrated solutions for IP owners and virtual worlds that allow them to not only extend the reach of their brands into the real world but can also create valuable opportunities for new product categories. The company was established in 2010 by Hermes-OTTO International(H-OI), a sourcing and supply chain solutions provider with 40 years experience in fashion, accessories and home living. Hermes-Otto International is part of the OttoGroup, a global retail, logistic and financial services company with businesses in 20 countries.

About Konami Group

Konami Digital Entertainment, Inc. is a leading developer, publisher and manufacturer of electronic entertainment properties. Konami's titles include the popular franchises Metal Gear Solid, Silent Hill, DanceDanceRevolution and Castlevania, among other top sellers. The latest information about Konami can be found on the Web at www.konami.com. KONAMI CORPORATION is a publicly traded company based in Tokyo, Japan with subsidiary offices, Konami Digital Entertainment Co., Ltd. in Tokyo, Japan, Konami Digital Entertainment, Inc. in the United States and Konami Digital Entertainment GmbH in Frankfurt, Germany. KONAMI CORPORATION is traded in the United States on the New York Stock Exchange under the ticker symbol KNM. Details of the products published by Konami can be found at http://www.konami.com.

KONAMI is a registered trademark of KONAMI CORPORATION

"PlayStation", "PS" Family logo and "PSP" are registered trademarks of Sony Computer Entertainment Inc.