Review: Set 3170 Dino Discovery Team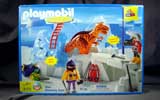 Our parent site 16bit.com updates today with a look at the slightly older, but still excellent,
Playmobil Set 3170
. The
Dino Discovery Team
(or Dinosaur Discovery) includes two figures, a play environment, one of Playmobil's first-ever dinosaur toys, and a couple of guys dressed for an Arctic chill.
Click through
to see what they thought of it!