Target Toys "R" Us Playmobil Sales This Week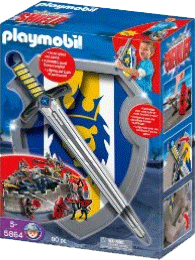 At Target:
The
Knights 5864 Roleplay Shield
is on sale for $20, normally $29.99, through Saturday. In addition to this, almost the entire Playmobil section is also about 10% off. The good news is you can save some scratch on new items, the bad news is that 10% off a $2.99 blister is probably not doing anybody any favors.
At Toys "R" Us:
Save 20% on select items. Specifically, items from the Nautical Expedition line and the Vet office theme. Good stuff, if you haven't yet got it, we suggest the whale.