Playmobil 2010 and 2011 Revealed!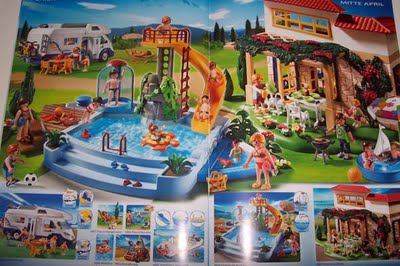 Fan forum Klickywelt.de has revealed a number of new sets for release in Germany in 2010 and worldwide in 2011, plus the new 2010 specials! Wow! Check out
this thread
(it's auf Deutsch, English speakers) for some images and links to the new sets. I pulled a couple of links for your perusal:
Family House and Recreation Sets
Includes an adult in a speedo, a woman in a bikini, a new pool, pool toys, a new camper, a new house, and a lot of other sets you may have never seen before.
New Zoo
Meerkats, Lions, Elephants, and Koalas! Some are new, some are old, but it's a good mix of critters.
Larger, better pictures-- including those of a new Spaceman and Mongolian Warrior-- can be found in the thread, so pop in, log in as needed, and check them all out!