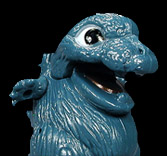 Godzilla Egg Review Capsule
The king of all Japanese monsters, now in post-fetus form. Godzilla pops out of his egg and walks away from the shells, and has a spring-loaded jaw and an articulated tail. It's a gimmicky toy, but one that's sure to please. Worth snagging if you can find one.
Introduction
There's really no lizard that's quite as big as Godzilla, nor is there a single movie monster that has quite the array of movies, merchandise, and more based on him. But before he fought Charles Barkley*, King Kong, and Ferris Bueller, he was a baby. And now, you can recreate that fateful moment where he... uh... had his egg wound up and popped out.
*- Yes, he did, they did a comic for it. Review to be created upon request.
Sculpt
As a toy that's nearly a decade and a half old, it holds up quite well. The little lizard is properly scaley, with a little more detail than I'm used to seeing on super-deformed toys.
Cute, eh? What you see is pretty much what you get. There isn't a lot of detail here, but there really doesn't need to be as it isn't meant to be an authentic replica for collectors. It's a wind-up toy for kids, and at that level the toy is a true wonder. His mouth pops open when he hatches, as it's spring-loaded... but it unfortunately does not open and close as he walks. You can put your finger on it so it closes and then pops back open if you're so inclined.
The tail falls down so it looks like it's dragging behind him as he walks, which is a nice detail and probably helps the little guy balance as he walks along your table or floor.
Here's the egg... it's an egg. A variant of this toy in different colored packaging comes in a different colored egg.
Packaging
This piece comes in a particularly nifty box with nice graphics that makes a great way to store the toy. It's also really distinctive and hard to miss on a shelf at a collectible store or show, which is good because you won't want to miss this if it's priced right.
The box shows four monsters from the Godzilla series, but we have yet to see evidence that Rodan, Ghidorah, or Mothra saw release in this series. You can see the art in the two pictures, which are different, even though they may not look like it.
Availability
It's an uncommon toy, but that's probably mostly because it's Japanese. The other toys in the series, as of yet, haven't been spotted by this reviewer but we're still on the lookout. If you want one of these, eBay is your best bet.
Fin
This is probably one of the most disgustingly cute toys in the 16bit.com archives, and we still love it. Odds are kids will have more fun with it than collectors, but it's just such a nifty idea to have an egg you wind up and a lizard pops out that it's really hard not to say "hey, everybody needs this." If it's cheap, you need to have one of these. If not, well, odds are you'll want it if you can spare the cash. It's just that nifty.
Reviewed and photographed by Adam Pawlus
Sample purchased at The Empire of Toys (now Toy Anxiety) in Phoenix in the 1990's
Reviewed on January 1, 2004.