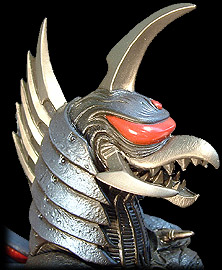 Godzilla Final Wars Gigan Review Capsule
Big, stellar, a total departure from previous versions-- mostly. Formerly a baby blue lizard with spike hands and a buzzsaw belly, those design elements were carried over here and amped up tenfold with new color, armor, and sculpting to give birth to a Japanese movie monster that really fits the description "bad ass." $16-$40, good for G-fans of all ages.
Overview
Gigan is one godzilla's less iconic nemeses, but an incredible example of character design done right here for Final Wars.
The huge monster includes no accessories and was packaged with only a tag. But just look at it, it's awesome.
The Figure
It's hard not to admire Gigan. There's organic bits, metal bits, alien-y bits, monstery-bits, power tool-bits... it's just freaking loaded with design coolness. It may suffer slightly from visual overload, but hey, simplicity be damned-- this is a hell of a monster.
The strange metallic blue works well here, and the pink really stands out-- while it seems like such an odd color choice, it's true to the original's eyes and it really does bring the wings popping out into the foreground instead of just fading away to look like some element of clutter. The spikes here are redesigned to look forged by some mechanical menace and not to look like they just kinda formed that way.
The head is mean looking, with a big beak filled with spiky metal teeth. Since beaks and teeth don't typically go well together, this could have looked much lamer, but thankfully it didn't. The head changes a little for the "powered up" version (see below) and here it's more organic in most places. The lizardness of the character comes through and his snarling visage is sure to delight fans of all ages.
It's a huge figure but could have had more joints. He's mobile at the shoulders, wrists, hips, and that's it-- his head, while a separate piece, cannot move.
Comparisons
Gigan comes in a normal and powered-up version, and they're pretty similar except for the head and hands.
The head has a new neck with armor on it, longer and more jagged spikes, and otherwise keeps the same basic look as the regular version. The hands have been changed from spikes to dual chainsaws, a decision which will no doubt wow the young and young at heart.
Some differences on the body from figure to figure maybe a result of light, molding, and paint irregularities. We do not believe these to be intentional differences.
Packaging
Gigan has a tag.
There really isn't much to it. I mean, it's a tag.
Fin
We dig it. While a lot of Final Wars monsters were fairly faithful upgrades of designs from years gone by, this guy is a real dynamo. Just look at the colors, the detail! It's a real shame the chances of this coming to the USA are slim to none, because it's quite large and quite menacing-- just the kind of thing you'd want sitting next to your computer if you have the room for such things. If you only get one monster from the line, get one of the two Gigans.
---
Text and photos by Adam Pawlus
Review posted on February 24, 2005
Sample purchased from a Japanese importer for roughly $18 in January, 2005.