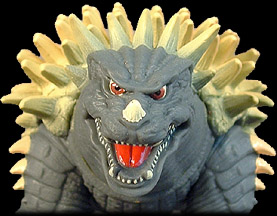 Godzilla Final Wars Angurus Review Capsule
While his name has been spelled many different ways, on his tag here they call him Angurus. This time, he's modeled after the 2004 design of the character, which is sure to pal around with the big lizard himself. We think. Movie isn't out in the USA yet. $10-$20.
Overview
Angurus includes no accessories, and is a small size toy from BanDai's Godzilla: Final Wars line. Currently exclusive to Japan, this toy has limited articulation and an excellent sculpt.
The Ankylosaurus includes no accessories and was packaged with only a tag.
The Figure
This Angurus is about the same size as BanDai's other figures in this line from the other films when he was sold as Anguiras, Angillas, and whatever other variants on the spelling you can find. This time around he still looks a little cartoony, but is an amazing update to the classic character with an incredible sculpt and top-notch paint ops.
Angurus is jointed at the shoulders, neck, and tail, making this one of the few figures in this line with as many joints as most action figures-- six. You can't really get a lot of poses out of the little guy as he's on all fours, but he can look around and be posed to defend himself against larger attackers.
With numerous skin textures, spikes, and scales this figure could have ended up as a messy blob of plastic like in the old days. Thankfully, the fine folks at BanDai went hog wild making sure that this figure had the finest expression that this character may have ever seen in plastic.
He's got individually painted teeth sculpted on his mouth, so they aren't sharp and don't protrude. His mouth can be pressed shut... if you hold it that way. The resulting look is cute and it's a bit of a shame that he (and the rest of the line) is unable to open and close their mouth with a joint of some sort. The detail is there, as is the personality-- it's not a fine example of monster toy making, but it's a great sign of how to do the rotocast style of toy extremely well. The soft construction won't hurt kids with all the spikes, it's durable, and it has an incredible level of detail that collectors should love... if they're fans of the character.
Packaging
Angurus has a tag for packaging, as the entire line of these large BanDai figures tend to have. As such, the figure will have a small, often invisible, hole where the tag went.
There really isn't much to it. I mean, it's a tag.
Fin
This may be our favorite non-super deformed version of this character ever. While he isn't the classic version of the character, the newly sculpted design looks much better and seems to evoke more personality with an increased level of detail. Making him the olive brown color makes him match Godzilla a little, and the final result is a monster for the ages. It's really easy to make a bad monster, and thankfully BanDai opted to make this one great. Well worth getting for the right price.
---
Text and photos by Adam Pawlus
Review posted on February 7 2005
Sample purchased from a Japanese importer for roughly $9 in January, 2005.