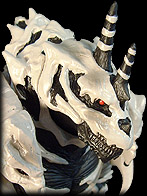 Godzilla Final Wars Monster-X Review Capsule
Huge. And he looks kinda like the Star Wars Expanded Universe characters from the new novels. He's large but lacks a lot of detail in the way of paint, but has a nice sculpt-- and kinda looks like he might be a minion of Rita Repulsa. $16-$40, for Kaiju completists only.
Overview
Monster-X is a really large figure, along with Godzilla, Ghidorah, the two Gigans, and Mothra. Of course, size isn't everything-- when the design is bland, the toy isn't going to be any better because it's bigger. While he has lots of detailing and looks especially mean, Monster-X isn't much of a high point in the line due to his being less than exciting.
The giant monster includes no accessories and was packaged with only a tag.
The Figure
While large, the figure is lacking in articulation and fine detail. He isn't a bad figure, he's just not as impressive as some of the other items in the series, nor is he a face that's friendly to fans of the series.
Since it's the first time this character has been released in this scale (or perhaps any scale), one wonders if Monster-X needs to be cut some slack. We don't think so. He has numerous areas of decent detail, with lots of lines, spikes, and other protrusions that show a lot of work went into making the figure look more ferocious then the end result seems to have turned out.
The textures are widely varied and the colors, while bland, are a little random. It's not so much a classic Japanese monster as it is some sort of large pumpernickel beast, albiet one with many ferocious teeth. It's obvious that this is meant to look scary, and while it seems that their intent may have been to scare small children I think they probably missed the boat. New versions of Gigan and Ghidorah look a little more frightening, although not by much, and this figure just kinda seems like dead weight on the mythos as far as his appearance goes.
Aside from the black and white, there's red in his eyes. And that's it.
With joints at the shoulders and tail, you can get some decent movement out of the guy. The waist joint doesn't help much, but all three of his "heads" can move just a smidgen each-- they're a little restricted, but they can move a little, which means this guy has more joints than a lot of other figures in this line. Still, the joints aren't exactly free to move as you may hope, and as such the figure cannot assume many a pose.
Packaging
Monster-X's tag is his only form of packaging, which is just as well as he fits in with the rest of the line.
There really isn't much to it. I mean, it's a tag.
Fin
Monster-X fails to excite, mostly because he's a new character that, like Alien-X, seems to come from the Sentai villain school of design. While this isn't necessarily a bad thing, it doesn't seem at home with the camp aesthetic of Godzilla, and as it really isn't some sort of lizard-like monster, it feels out of place here. It's not terrible, and fans of Final Wars will undoubtedly want to add this to their collections, but Godzilla fans will likely wish they spent their scratch elsewhere. It's worth it for cheap, but we would not advise you pay the current importer asking prices for this piece.
---
Text and photos by Adam Pawlus
Review posted on February 19, 2005
Sample purchased from a Japanese importer for roughly $18 in January, 2005.