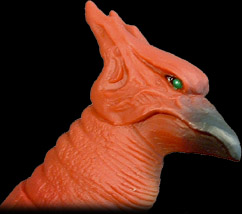 Godzilla Final Wars Rodan Review Capsule
Sure he's practically unposable, but the ancient monster Rodan looks great in this 2004 revision. Unlike previous versions, the head is more fleshed out and the coloring makes him look a little more fierce and a little less goofy. $10-$20.
Overview
Rodan includes no accessories, and is a small size toy from BanDai's Godzilla: Final Wars line. Currently exclusive to Japan, this toy has limited articulation and an excellent sculpt, easily our favorite so far.
The birdlike monster includes no accessories and was packaged with only a tag.
The Figure
Rodan is one of the smaller sized figures from this line, and it's also practically unposable, which is a shame because if you take a good look at it you can see seams that look like potential joints.
This time around, Rodan's neck is stationary, but you can pose his legs-- they rotate at the knee. As such, he may as well be unposable, but including these joints was a great move by BanDai so you can adjust him to stand on surfaces that aren't necessarily level. The lack of articulation makes it feel like a cheap toy, but that's OK-- because in Japan, this is a cheap toy.
The textures aren't as varied on Rodan as on other Final Wars toys, nor is the paint. Only a few colors and a leathery and feathery pattern really stand out, and odds are if this figure were even smaller, very few details exist to be lost. It appears to be a fair representation of the character, but it still feels a little cheap.
His piercing green stare looks fantastic-- the only problem with it is that the stare is straight ahead and there's nothing you can do to mix up the figure's appearance on a shelf. It would be nice if you could make him look like he was flying, or perhaps looking to the left or right, but it was not meant to be. Still, he looks good-- the dark beak stands out against the rusty skin tones, and it's a big flying lizard monster of sorts and that's hard not to like.
Packaging
Rodan's tag is his only form of packaging, which is just as well as he fits in with the rest of the line.
There really isn't much to it. I mean, it's a tag.
Fin
Rodan doesn't tend to get a lot of good toys made of him. Sometimes this is because of the character design, other times it's because he's just the weakest of the lot. This time around, he's one of the weaker figures, arguably the weakest in term of the play value and in terms of his shelf presence. Even Minilla has a little more "zing"-- but Minilla sucks, so we still like Rodan a little more. There's not a lot else you could do to bring play features to a rotocast flying lizard, making Rodan a great character that's only hurt by the materials used to bring him to you, the Kaiju Otaku.
---
Text and photos by Adam Pawlus
Review posted on February 17, 2005
Sample purchased from a Japanese importer for roughly $9 in January, 2005.